Discover more from Volatile Weekly
Interviews in the music industry from around the world
Interview: 5 Crumbs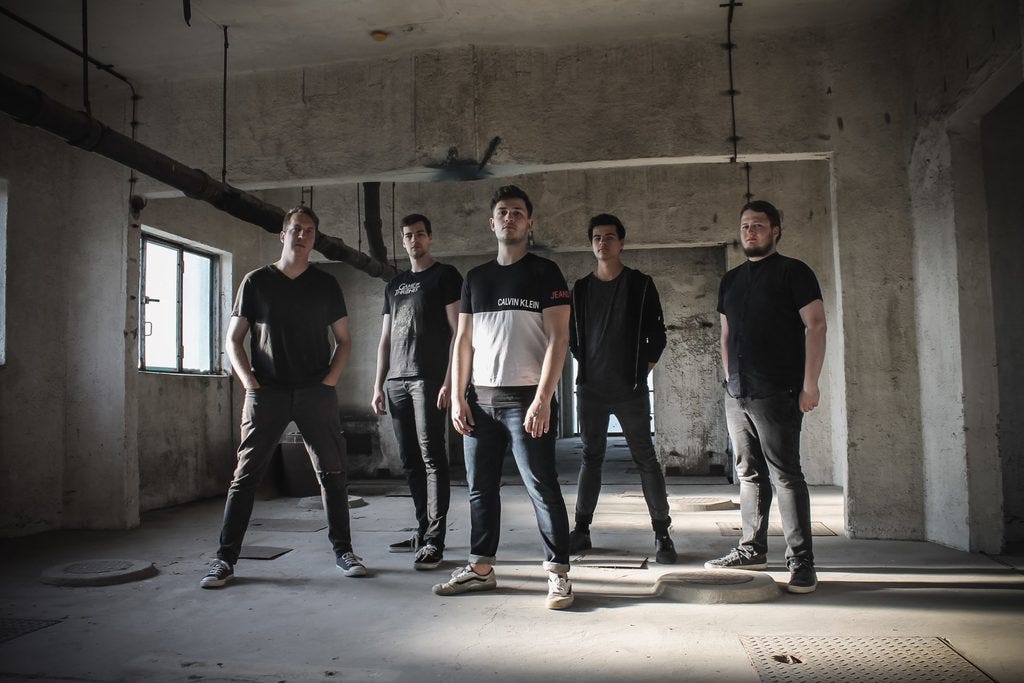 The questions were answered by Markus Schukowski, the lead guitarist of the alternative rock band Five Crumbs. 
What got you into music, and if you had not gotten into music what would you be doing today? 
To me it was seeing Linkin Park's "Somewhere I belong" video back when it aired on MTV. The whole atmosphere of that song was so different to anything I ever heard before at that time and it really got me into the whole rock and metal world. If I had not gotten into music, I would have become an author maybe. Having a creative outlet has always been important to me. 
What do you like to do when you're not playing music and how does that influence your creativity? 
I really like to read and watch interviews and speeches of all different kinds of people. It just fascinates me to hear about what other people have experienced in their lives and what keeps them moving forward. There are so many stories floating around - whether they are by famous people or not - and I want to hear and learn from them. I think new perspectives are really great for your own creativity. There's always someone you can learn from. 
How long has your band been around? 
We were founded in December 2017 so not all that long, but you can be sure that there will be a lot more music coming your way to enjoy. 
Where are you based out of and how did that influence your music? 
We're from Greifswald, Germany. It's a student town full of young people so there is a wide range of music scenes. You can draw inspirations from other musicians around here and it's just a great place to be in general. 
How did you come up with the name of your band and what does it mean to you? 
We are five completely different personalities. On our own we are just small fragments - crumbs, if you wanna put it that way - but together we become this band that's so passionate about music and that really wants to transfer the passion to their listeners. It's not really your typical rock band name but we identify a lot with it. 
Tell me about the best and worst shows you have played. 
Our worst show was in Stralsund at a graduation party where very few people cared about rock music. We were even asked by a strange lady to play something by Helene Fischer, a famous Schlager singer here in Germany. The best show was at a club called "Kiste". The crowd went wild, sang along to our songs (even though there have been only some demo songs around at that time) and it was just an awesome evening all in all. 
Tell me about your favorite venue to play at, and do you have any places you want to play that you haven't already? 
It's been a real pleasure to play at the very big beach stage in Göhren. You have an awesome view from up there and the stage itself looks absolutely beautiful. There are many great venues in Germany and the list would be too long but our absolute dream would be playing at Rock am Ring one day. 
If you could play any show with any lineup who would be on the ticket? 
Rock am Ring, together with Papa Roach, Shinedown, Breaking Benjamin and Royal Republic. 
What is some advice that you would give to someone who is just getting into playing in a band? 
It will be very hard at times but definitely worth it in the long run. Just keep going! 
If you could go back in time and give yourselves advice, what would it be? 
Sleep is important! 
Of your songs which one means the most to you and why? 
That would be "Smoke and Mirrors", because we all go through tough times and sometimes the view is so clouded with problems and fears, that you can't see where you're going with your life. But once you fight your way through it and finally see the bright side again you realize the negative things were nothing but smoke and mirrors. 
Which songs are your favorite to play and which get requested the most? 
Sleepwalking and House of Cards are my favorites for live shows. While Sleepwalking is very fast and energetic and gets the crowd moving, House of Cards is very calm and you get to see some lighters in the air. Both songs also get requested the most. 
What is the creative process for the band, and what inspires you to write your music? 
It's mostly Richard or me coming up with a chord progression, then we build around it, show the rough idea to the other guys and combine their ideas too, until we're completely satisfied with the instrumental. It also happens that Richard is just humming some notes and I write a riff out of that. That's the way the main riff for Sleepwalking was created. After the instrumental is done, we write lyrics and add the vocals to the song. We're influenced by other artists like Linkin Park, Papa Roach and Shinedown and inspired by things that happen in our lives or different feelings and situations we experienced. 
What kinds of messages do you like to get across in your music? 
Dealing with your inner struggles is a very important issue that we sing about. It's often hard to talk about them and often times you don't even know who to talk about it. But music is our way to let people know they're not alone and that it's okay to feel not okay. 
Do you ever have disagreements in your band, and how do you get past them? 
Yes, we do, and it can be really frustrating but if there's something seriously wrong we all meet in person and talk about the problems/disagreements face to face. 
What are your plans for the future, and do you have anything that you want to spotlight that's coming up? 
We're currently working hard on releasing a new EP and want to tour when gigs are possible again. There's a new single coming out in August, 28th and we can't wait to let you hear it!