Discover more from Volatile Weekly
Interviews in the music industry from around the world
Interview: Abysmatic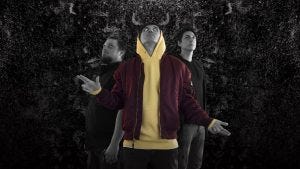 Answered by Dennis Nikov (producer, singer, songwriter) from Abysmatic.
What got you into music, and if you had not gotten into music what would you be doing today?
Well, the reality for most middle tier artists is that you shouldn't really quit your day job as the music industry is tough, especially for niche alternative bands such as ourselves. That's why all of us actually have separate careers in software engineering, graphic design and finance.
What do you like to do when you're not playing music and how does that influence your creativity?
My time is basically spent entirely either coding some game or app or working on some sort of art. Outside of music and programming I love doing graphic design and video and photography work which ties nicely into my other ventures. Hristo, our guitarist, loves riding motorcycles and Dodo, our drummer, is currently a dad in his spare time.
How long has your band been around?
Abysmatic had its first official release in 2013, however, the current lineup has been together for about 4 or 5 years.
Where are you based out of and how did that influence your music?
We're from Sofia, Bulgaria and our entire new album is actually in Bulgarian. We've had releases in English before, but we felt it's time to give something back to our community.
How did you come up with the name of your band and what does it mean to you.
Abysmatic is a combination of the words "abysmal" and "automatic" and sort of refers to the Fibonacci sequence spiral, which in turn could be seen as a symbol for the passage of time and the inevitability of death. It also obviously refers to the depths of hell and has some Satanic overtones.
Tell me about the best and worst shows you have played.
Supporting Combichrist and Leeroy Thornhill (ex The Prodigy) in our hometown were some of our best shows. One of our worst was a long time ago when we were mistakenly booked to play this really chill and posh coffee shop, they thought we were some sort of ambient acoustic band.
Tell me about your favorite venue to play at, and do you have any places you want to play that you haven't already?
Terminal 1 and Mixtape 5 are some of the best clubs in Sofia and we love playing there. We're hoping to play some festivals abroad soon.
If you could play any show with any lineup who would be on the ticket?
I'd love to see Abysmatic on a festival bill with the likes of Nine Inch Nails, Pendulum, Bring Me The Horizon, Death Grips, and let's say Limp Bizkit. Maybe throw Die Antwoord in there as well.
What is some advice that you would give to someone who is just getting into playing in a band?
Do it only if and because it's fun.
If you could go back in time and give yourselves advice, what would it be?
Practice more.
Of your songs which one means the most to you and why? 
Every one of our singles that we shot videos for. Obviously they're some of our best songs and they all capture a certain period in the band's journey.
Which songs are your favorite to play and which get requested the most?
We love playing tracks with infectious beats that get people moving and those usually dominate our setlist. Otherwise "Hands In The Air", our first official single from 2013, gets requested a lot lately.
What is the creative process for the band, and what inspires you to write your music?
Usually, I'm the one who comes up with the song ideas which we later develop with the band live, however lately Hristo, our guitarist, has been the backbone of a lot of our material, giving it a more metal edge.
What kinds of messages do you like to get across in your music?
Our most recent album's lyrics actually have a common concept. They're supposed to sound kind of pop-y but with a nihilistic twist and are mostly dealing with the notions of duality, individualism and believing in one's own worth.
Do you ever have disagreements in your band, and how do you get past them?
The three of us are often on entirely different pages, however, we have a certain hierarchy that saves us from what I like to call "voting majority hell". Basically I'm the tiebreaker.
What are your plans for the future, and do you have anything that you want to spotlight that's coming up?
We're currently working on a couple of new singles and videos and are hoping to hit the festival circuit this summer. Follow us on social media for the latest around Abysmatic!