Discover more from Volatile Weekly
Interviews in the music industry from around the world
Interview: Across The Dawn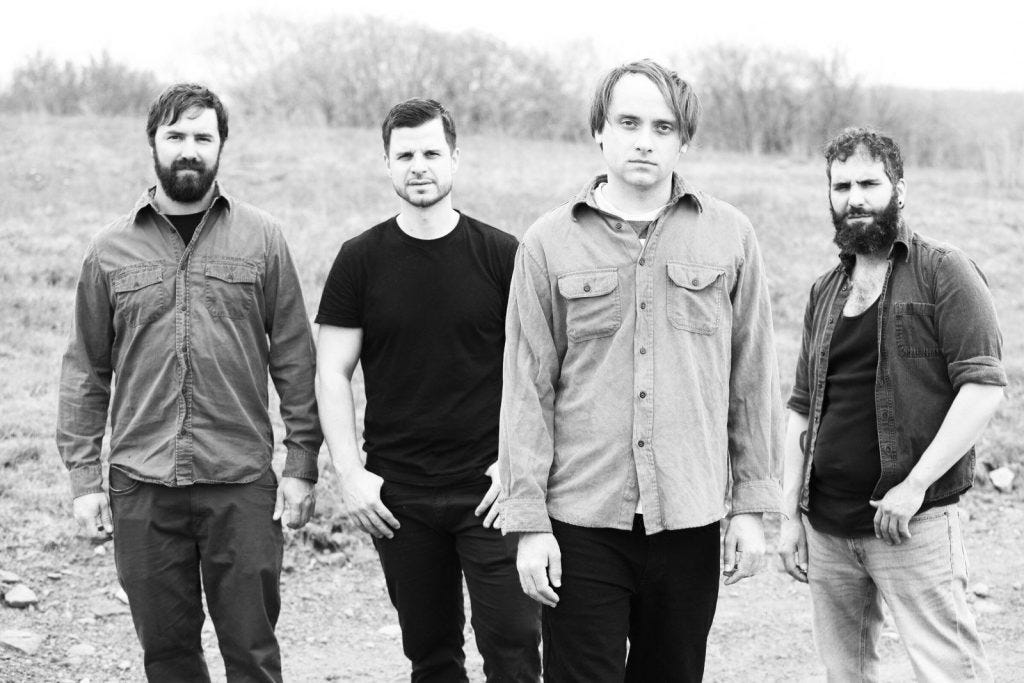 What got you into music, and if you had not gotten into music what would you be doing today?
Hey, this is Shawn from Across the Dawn, music is a huge part of my life, I would have to say my friend from childhood first introduced me to KoRn and it opened the way I listened to a song. It was no longer one dimensional - just hearing everything up front as one big sound. My friend showed me how to hear all of the intricate sounds and details that were playing individually and being able to dissect the music and appreciate the song on another level.
If I had not gotten into music I would most likely still be in the Navy and sailing around the world, searching for purpose. One of the main reasons I left the military was to return to the life I once had with my friends creating music together and feeling that "click" that you get when you are playing music with the right group of friends.
What do you like to do when you're not playing music and how does that influence your creativity?
Mountain biking and rock climbing are two main activities that I have picked up on not long ago. Just being outdoors in the mountains and feeling free. No lines of people waiting, no money being spent, just being way out on a mountain somewhere and enjoying its natural features and the scenery all along the way.
My creativity thrives because of it. The wonder, the views, the calm - it's all very good for the soul. It cleanses my mental stress and allows me to meditate in a way. All of those things keep my mind at ease and when we are writing music, I think of the atmosphere and how it's so endless, how a sequence of sound could paint the same picture and transfer that energy to the listener.
Also, the adrenaline that goes into those activities fuels my need to throw some punch into the song when it comes to our aggressive side of writing.
How long has your band been around?
Our band has evolved a few times with different members stepping in and out of the picture. We do not cut ties with any of the former members, we keep them a part of the band in a way because they have contributed to what we are today. When we recorded our album some of the songs were written 10+ years ago, resurrected and polished up some and made it on the album. The members who wrote those parts are also the ones who recorded them and are featured in our album. We are all a piece of it if I had to put a real number on it, I would say since 2003 is when it all started.
Where are you based out of and how did that influence your music?
We are from Uniontown, Pennsylvania - south of Pittsburgh. Our little town has its ups and downs, all which paint an image to both positive and negative tones. Some parts of the town are - in a way decaying, which give that dreary vibe. Other areas are majestic and beautiful and massive. We have a lot of hills and overlooks to where you can see for miles, and that can captivate your mind.
How did you come up with the name of your band and what does it mean to you.
Josh and his cousin Johnny came up with the name and I believe the meaning behind it is the image that there is always a new beginning just over the horizon, and dawn is the start of a new day. So you are looking out across the dawn to your new fate. It symbolizes hope and strength to those who search for something more, something that has to change.
Tell me about the best and worst shows you have played.
Well since its plural I guess I won't narrow it down to one and one. At some of our best shows, we had plenty of time to set up, get focused and have fun with it. When we are really connecting up there and the crowd can feel those vibes, and you are all kind of riding the same wave. That's what it's all about.
Worst shows, on the other hand, are those "Battle of the Bands" shows that entertainment companies basically have all of the bands do the grunt work and sell tickets and promote their events with little to no support from their side besides booking the venue and making a flyer for us all to share to our respective fans. We have been used like this a few times and it seems like whoever sells the most tickets is the winner. Those are the very worst. They overbook the bands to where there is little to no time to set up and get in the zone it's just "Get up there, hurry up and set up, play 5 songs and get the hell out of the way for the next band."
Tell me about your favorite venue to play at, and do you have any places you want to play that you haven't already?
Our favorite venue is a local bar called Bar None here in Uniontown. It is owned by a kickass lady named Misty and she has brought life to our little town by giving it a legitimate venue. She has tribute bands and bands that tour across the country play there and it allows a lot of local musicians and bands to network and connect with each other and set up new shows and expand. We always feel right at home, the atmosphere is perfect and all of our friends are usually there. We have been wanting to play some more shows in Pittsburgh. We have played at a number of venues there, we just want to keep it consistent so that we have a presence there and people will recognize us.
If you could play any show with any lineup who would be on the ticket?
ANY LINE-UP?! Jeez... Alright, if I am picking the lineup myself it's going to be Nine Inch Nails, Stabbing Westward, Smashing Pumpkins, and Deftones. Those are key influences on some of our writing process.
What is some advice that you would give to someone who is just getting into playing in a band?
Give it your all, to really succeed and make something of yourself in a band, you have to put in the time. You have to WANT it. It can not be forced. Practice as much as you can and write as much as you can, even if it's just some dumb little ditty you come up with, it may have a place in a song down the line. But you have to be all in. Otherwise, you will let the band down by not playing to your full potential. All of you need to connect, share ideas, everyone gets to have a voice. That one man running the band stuff is for the birds. To really connect and collaborate and vibe with each other, you must share ideas and be open to each other.
If you could go back in time and give yourselves advice, what would it be?
Get guitar and piano lessons. I guess it's never too late. But on a more serious note, I'd say to take more leaps and stop playing it safe. Life is about spontaneity, to conquer the unknown, what lies ahead. You'll never discover anything if you don't go looking for it.
Of your songs which one means the most to you and why? 
"No Matter Where" is a song that hits me deep inside every time we play it. I actually wrote the lyrics to the first verse in the song. When writing those lyrics, I wrote them for my son. We have been separated for a long time and we have actually just reunited for the summer. The song is about losing someone in your life, or not having them with you but they are always a part of you and they are your strength to push on through life.
Which songs are your favorite to play and which get requested the most?
I honestly love our aggressive songs the most. If you see us live, you'll know why. I can't stop moving. The music moves me, I can't be that guy standing still looking bored and cool. I move with the vibe of each song. That being said Into the Unknown - Zero Gravity - Blue Decay - Porcelain - Waiting for Tomorrow.
We don't necessarily get requests at shows, but it seems a lot of our fans really like "Amaranth", "Porcelain" and "Horizon"
What is the creative process for the band, and what inspires you to write your music?
Well, we are actually starting the creative process all over again now that we have completed our album which is exciting. We get to connect with our newest members and allow them to put their touch on our sound. For the most part on my account, it would just be Josh and I sitting around playing stuff until we go "whoa, what was that?!" then we build off of that and kind of get a foundation for a song. Then we would send it via email out to our friend Derek in Illinois to write drums to it. We get a rough demo going then we make some touch ups and changes here and there and then it would become finalized. A lot of songs have changed dramatically from when they were first written.
Now that we have a full band (full-time drummer and bassist) we will be able to just sit in together and collaborate ideas until something clicks. New songs are my absolute favorite thing about being in a band.
What kinds of messages do you like to get across in your music?
We want to reach those that are in need of hope and strength. We put our hearts into our songs, and we want others to feel the depth that we try to reach within ourselves to rise above, overcome, and push forward as well as cherish those moments that resonate deep within ourselves and make life a beautiful place.
Do you ever have disagreements in your band, and how do you get past them?
We have disagreements, yes, who doesn't? We have names for some of us that relate to a common household. Josh would be the band "mom" who keeps everything moving and the glue that keeps us all together moving forward with kind thoughtful words. I am told to be the band "dad" who gets straight to the point, cutting through all of the "beating around the bush" regardless of how someone may feel. I like to enforce things that need to be said and done. I don't do it in the healthiest of ways but we usually argue for 10 minutes and get over it and move on without problems. Mike would be the band "Uncle" who always keeps us laughing and keeps the mood light and always has some quick-witted remarks that keep you guessing what he will say next. He has stepped up in his role as our bassist and keyboardist and really grounds us at times. Smitty is our drummer and he could be considered our band "distant cousin" because he is the busiest of us all and is hard to keep track of. He always has a good time trolling us at practice and keeping us humble with ourselves by pointing out common mishaps and never letting us live it down. He keeps us entertained during practice and shows but has a professional approach to how he works with the band. 
All in all, we are brothers and look out for one another and really come in clutch when the time calls for it. I love these guys.
What are your plans for the future, and do you have anything that you want to spotlight that's coming up?
We are currently looking to start booking shows now that our album is out there. We want to spread our sound to the world. Touch those who are looking for something along the lines of our music. We will be focusing on writing new material and releasing singles as they come about so that we aren't waiting for a few years to have everything complete. That way our fans have new songs popping up more frequently and can follow our progress as a band.