Discover more from Volatile Weekly
Interviews in the music industry from around the world
Interview: Ali In The Jungle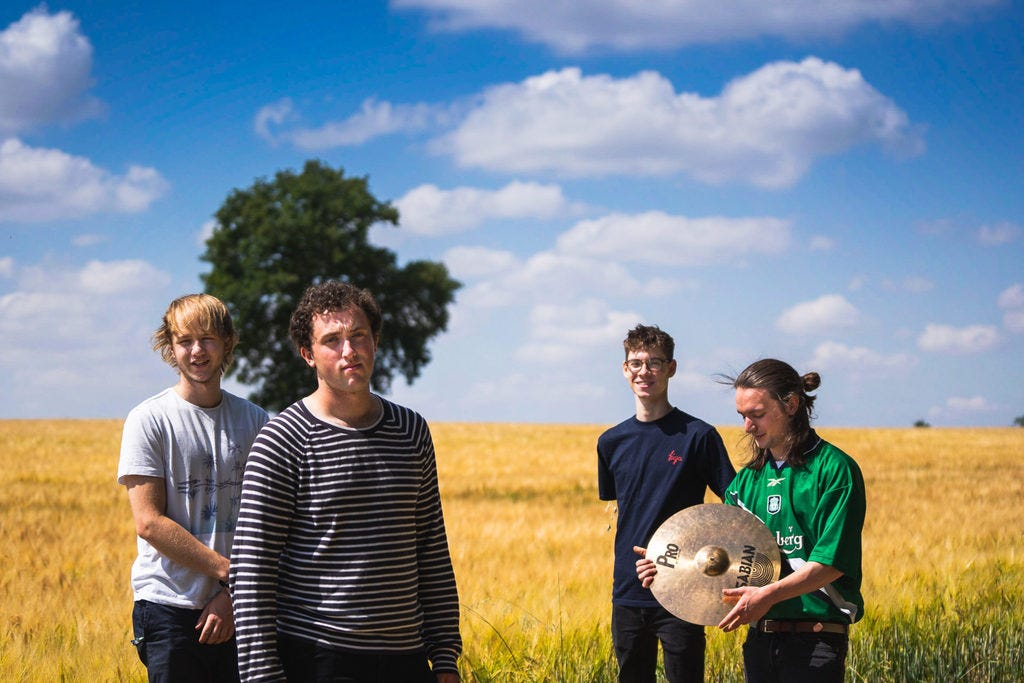 What got you into music, and if you had not gotten into music what would you be doing today?
Some of my earliest memories are listening to music in the car with my Dad. Loads of it is music I've rediscovered as an adult and now adore. OK Computer (Radiohead), Definitely Maybe (Oasis), Parachutes (Coldplay), Revolver (The Beatles). There's probably a developmental reason for that.
But I've always felt I have an outlook that isn't always shared by many people, and have found music as the best, most concise, but also most primal way of communicating this outlook. When I discovered that I could change minds with music as a teenager, and that the piano lessons my parents had made me take up were actually useful, I just became obsessed.
If I hadn't gotten into music (which is unimaginable), I'd probably be doing the 'proper thing' in my family and I'd be an English teacher. Or I'd be a struggling actor; I love performing so it may have taken this form. I've acted before and love it, but I'm not great at accents, so I end up putting across variations on myself, which is what I do in Ali In The Jungle songs anyway, some of which are quite theatrical.
What do you like to do when you're not playing music and how does that influence your creativity?
I'm mad into films. Loads of our songs are influenced by movies. 'You Make Me Feel So Alive' from our EP 'Anyway' had me digging through my collection of American mobster movies for ideas. I wrote the last line of the song "a wise-guy waiting for the bar to close" while watching Donnie Brasco…
We've also got songs inspired by Nightcrawler, Mud, Se7en, Battle for the Planet of the Apes, the original Wicker Man, and we've got a song about trouble in Hollywood called 'Star-Strangled Hanna'.
How long has your band been around?
Since late 2012 (8 years!), when we were about 14, but it's only recently we've been in the right place in our lives for us to give the band our 100% focus, and we're loving it!
Where are you based out of and how did that influence your music?
We're from a town called Newport Pagnell on the outskirts of Milton Keynes; (it's mentioned on the Hot Fuzz DVD menu, and it's where the DB5 for Goldfinger was built)! Our branding guy reckons "Milton Keynes is representative of the duality in our bands style", which is true I guess because as a 'garden city' it's a mix of the rural and the rough. You are influenced by the geography around you. Our musical style is full of opposites; really serious themes put to positive music; harsh guitars with soft rock piano…
In addition, we've a very close knit community in Milton Keynes where everyone knows each other, which has been great in regards to gigging and getting awesome local support.
How did you come up with the name of your band and what does it mean to you?
We got the name from a song by The Hours, which was about Muhammad Ali and how he didn't give up against the odds. It's a good mantra to take on. Also our drummer's called Ali so we thought that was fun!
Tell me about the best and worst shows you have played
We've done loads of amazing shows, but warming up for popular 'drunk folk' artist Beans on Toast at MK11 in Milton Keynes was really special. I remember the evening being so vibrant and visceral, I savoured the whole thing like it played out at half speed. It was also our last live gig pre-lockdown! (You can watch the live video on YouTube at Ali In The Jungle Music)…
Our worst gig was in London. We were headlining but the band before us ran over by 20 mins, so we had all these fans from Milton Keynes and only got to play for 15 mins. Very awkward but we'd still go back.
Tell me about your favourite venue to play at, and do you have any places you want to play that you haven't already?
Again, it'd be MK11 in Milton Keynes. They've been so supportive to us so that's one thing, but their stage is incredible. It's huge! You have so much room to act like a stadium rock band and give a huge performance; it's lovely to give your music that treatment, and you always get a great crowd too. The sound quality's so good that on stage, you don't really have to wear earbuds. I imagine we'll be seeing more and more big acts there.
Please #saveourvenues and support them through the COVID-19 crisis: https://www.crowdfunder.co.uk/savemk11
The list of places we want to play is huge. We want as many people to hear us as possible. I think going up North and playing around Liverpool and Manchester would be awesome, at venues such as Band on the Wall, which looks like a cool place for a gig.
If you could play any show with any lineup who would be on the ticket? The Strokes, Vampire Weekend, Interpol live in New York. That'd be the best holiday ever; maybe cos we're the only ones not from NYC there'd be some outsider syndrome, but honestly I'd be so excited I wouldn't care (and they all seem like nice guys anyway).
What is some advice you would give to someone who is just getting into playing in a band?
An important choice for us starting out was saying "NO COVERS!" We've always created an atmosphere that puts our own songwriting and creativity first. It's a tough margin to tread between learning from another artist, and glorifying them to your own detriment - there's nothing stopping you from being better than all other artists. So my advice would be to focus on what you're doing and what your vision for your music is.
If you could go back in time and give yourself advice, what would it be?
I'd tell myself to talk to more artists at gigs. I used to be nervous about it - probably because I was focussing on doing well on stage and I didn't want any distractions. Now that I'm older, I've learnt that I do better if I'm relaxed. Hearing from other artists and getting on with them in the community is so important, and younger me should've done more there.
Of your songs which one means the most to you and why?
Maybe this is lockdown blues speaking but: 'People Change'. Songs like 'Drunk Generation' and 'I Don't Even Know You' come from moments of loneliness and feel extremely personal in that sense, but I will always associate 'People Change' with the ecstasy of us four writing and playing together, and I'll forever love it for that.
Which songs are your favourite to play and which get requested the most?
I really love playing all the songs, but really it depends on how the fans interact with them then and there. 'People Change' does well, especially as I'm wearing 3 jumpers at the start and 1 by the end. This and 'Drunk Generation' are often requested, and we tend to finish on 'Drunk Generation', which is great because there's an anticipation from the crowd, who know it must be coming at the end! Otherwise there's some fan favourites we haven't released yet, such as our dramatically sad piano ballad 'Shine & Punishment.' We used to play this all the time and people who came to our early shows remember it and ask for it.
What is the creative process for the band, and what inspires you to write music?
Sometimes sections for songs come spontaneously through jamming, or one person brings an idea to practice and we'll see if something comes of it. We're aware that we need to always keep the creative process fresh so that no two songs sound the same, so we sometimes swap instruments or write songs with the electric guitar as the leading instrument rather than the piano for example.
The songwriting process is an exciting and inspiring thing in itself. It's like being an explorer addicted to the hunt for treasure; the next big find could be round the corner at any point, and in a way, it's that feeling that inspires you. Everyone gets off on taking that moment out from their lives to escape or reflect on it in music. It's a really important catharsis.
What kinds of messages do you like to get across in your music?
We often use word play and bad jokes with upbeat music in order to put across serious messages and points, and perspectives (via dramatic monologues). For example 'Drunk Generation' touches upon the down sides of drinking, but it's full of jokes and is conflated with happy music to show the incredible elation that comes from drinking.
To paraphrase a line from Doctor Who: "I'm very serious about what I do, but not the way I do it".
Do you ever have disagreements in your band, and how do you get past them?
Yeah of course; you'd be pushed to find a band that doesn't. We've been called "too democratic", but we find it's our disagreements which make our songs all the more interesting. We're complimentary musicians for one another and we're happy to tell each other when a part of the song is boring, or if someone's part isn't up to scratch. The process of eventually agreeing with someone else, or working hard to prove them wrong, often leads to a better piece of music. You need to be honest.
What are your plans for the future, and do you have anything that you want to spotlight that's coming out?
We'll soon be releasing two more music videos from our debut EP, for our songs 'I Don't Even Know You' and 'People Change'. We've already released a video for 'Drunk Generation' so check that out on our YouTube!
Otherwise, we had a mini EP tour with some awesome festivals booked before the lockdown happened. A lot of it's being rescheduled so we're really looking forward to that going ahead. We're also looking ahead to another EP, and are hoping to be signed to a label to record more and more of our music.