Discover more from Volatile Weekly
Interviews in the music industry from around the world
Interview: Am I Dead Yet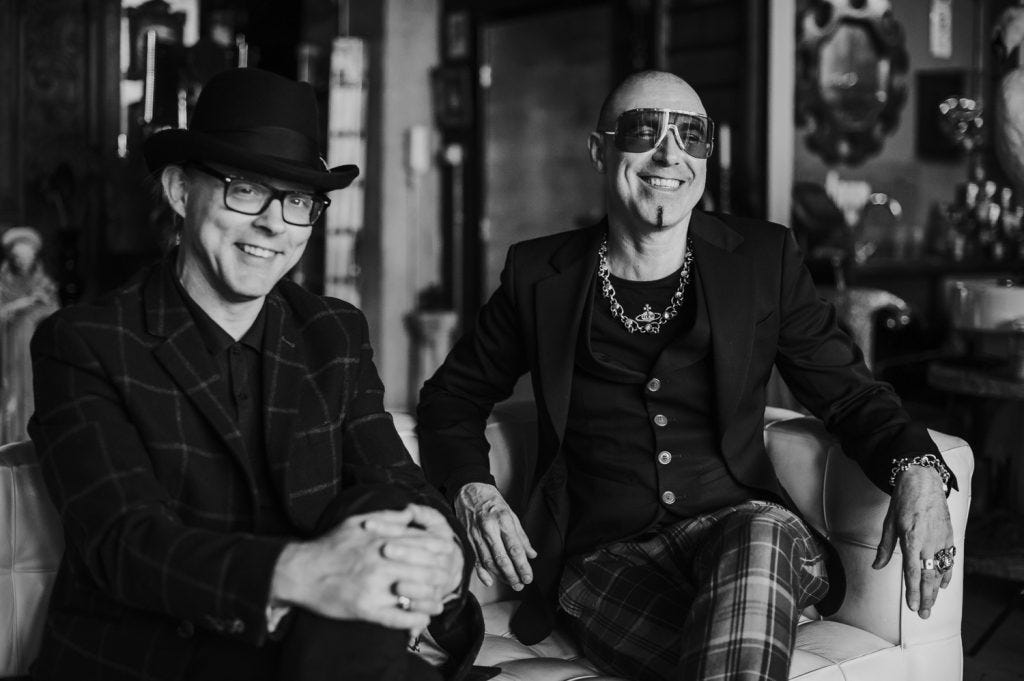 What got you into music, and if you had not gotten into music what would you be doing today?
Mary - I always really loved music and I loved performing, I did a printing apprenticeship for 4 years and knew that wasn't the life for me. I started my first band Gaye Bykers on Acid and miraculously we were successful (actually we gigged constantly for at least two years, so to be fair we put in the hard yards) Luckily I've been involved in writing and performing music ever since. I can't begin to imagine what I'd have ended up doing if I wasn't doing this!
Noko - to quote Morrissey, "I've never had a job….never wanted one" I'm utterly unemployable, so if music hadn't come along, the only other thing I'd ever been interested in was birdwatching, so I'd have been a daft survivalist ornithological loner living in the forest somewhere and gradually I'd have lost whatever social skills I've got.
What do you like to do when you are not playing music and how does that influence your creativity?
Mary- I like watching movies, reading, going to gigs and to the theatre, I live in Brighton we have plenty of things going on culturally.
Noko - I love gothic revival furniture and art nouveau ceramics: surrounding myself with all this beauty makes me think I'm still living at the decadent end of the nineteenth century - this helps no end with the music.
How long has your band been around?
Mary - Am I Dead Yet? has been an entity for about 2 years, When we started I was living in Brazil and we were working remotely. I moved back to the UK about a year ago so that accelerated the process of writing enough material for a whole album.
Noko - We first worked together when I produced Mary's first post Gaye Bykers On Acid album "Metaphasia" in 1992. There were some moodier noir-tinged songs that we'd enjoyed doing and we vowed that one day, we'd make a whole album in that direction - it took us til now to do that!
Where are you based out of and how did that influence your music?
Mary - As I said I'm living in Brighton I really love it here the cultural diversity here seeps into the music plus it's only an hour on the train to London.
Noko - I'm at the other end of the line in London E5. Back in 2005 I collaborated with some local MCs and made a quite cinematic grime album - maybe it's time I brought some of that sound to the Am I Dead Yet? table? Album #2 : this is where you heard it first!
How did you come up with the name of your band and what does it mean to you.
Mary- The name of the band comes from a painting "Am I Dead Yet?"(2015) by Deborah Griffin and forms the basis of the sleeve artwork of our album It was on the wall, in the background in the studio throughout the time we were writing and recording the album and kinda chose itself. I'm really interested in the idea that a lot of people are just on cruise control and treading water not really living life to the full, just existing until their last breath as it were. Just asking the question Am I dead yet? I think, is a cool concept.
Noko - since we started making Am I Dead Yet? T-shirts and I've seen them on lots of different people, of different ages and backgrounds, I've come to realize that the name travels well and is quite a universal existential question.
Tell me about the best and worst shows you have played.
Between Noko and I and some of the bands we've been involved with, we've played some very interesting shows good and bad!. I've played some pretty Iconic venues over the years, My 7th ever gig was at the original Marquee on Wardour St, I've also played at CBGBs in NYC, Tipatinas in New Orleans, Glastonbury, the Felt Forum the list is endless! With AIDY? we've only played a handful of shows but our recent London show at the Islington was great as it was the first time we played as a 4 piece band, we've augmented our live line up with Cliff Hewitt from Apollo440 on drums and Derek 'Hoodlum Priest' Thompson on the bass and they've added an exciting new dimension to the proceedings.
Noko - I played a gig in the Princess Charlotte in Leicester in 1985 to one person…..it was absolutely soul-destroying when they left halfway through!
At the other end of the scale, Apollo 440 guested with Jean Michel Jarre at "Nuit Electronique" in 1998 in front of the Eiffel Tower in Paris on Bastille Day, the day after France had won the World Cup - we played to over 100,000 people, who'd been up all night celebrating. You scale your expectations up or down and make the best of every privileged opportunity to play your music to people.
When we crowd-funded our album, one of the high-end packages we offered, was that we'd come and play a gig in your living room….2 people took us up on this and we're really excited about bringing a more intimate, stripped-down version of the Am I Dead Yet? live show to places as diverse as St. Leonards in UK and Hamburg in Germany!
Tell me about your favorite venue to play at, and do you have any places you want to play that you haven't already?
Mary - I really like playing the Shepherds Bush Empire and the Metro in Chicago.
I'd love to play at the Royal Albert Hall or on the Moon!
Noko - I recently had the good fortune to play the Indra Club in St. Pauli, Hamburg with my old friend, Japanese 'Kill Bill' gtr superstar, Tomoyasu Hotei. This was the first club that The Beatles played when they arrived in Germany - that was a nice little historical connection with my Liverpool roots. Apparently, the decor hasn't changed much since 1962! I'm playing gtr at the Pete Shelley Memorial concert with the remaining Buzzcocks and a long list of guest vocalists singing Pete's songs at the Royal Albert Hall in June, so I'll get to tick that one off the list.
If you could play any show with any lineup who would be on the ticket?
Mary - That would be comprised of mainly deceased artists and bands Leonard Cohen, The Walker Brothers, Led Zeppelin, us, Nick Cave, The Doors, Jimi Hendrix.
Noko - sounds great….but imagine the arguments about the running-order!
What is some advice that you would give to someone who is just getting into playing in a band?
Mary- Just to be yourself, stick at it and have fun, as soon as it ceases to be fun move on.
Noko - sound advice.
If you could go back in time and give yourselves advice, what would it be?
Mary- Just to be yourself, stick at it and have fun, as soon as it ceases to be fun move on!
Noko - Say it again!
Of your songs which one means the most to you and why?
Mary- All the songs on the AIDY? mean a lot to me as I'm really proud of what we've achieved, but if forced to pick just one at this moment I'd have to say Solid Gone.
Noko - it's a tough one…they're all so fresh right now and every time we play them, they take on new twists of meaning….ask me in 10 years. I love the delicate slightly bitchy, love/hate atmosphere of "Wasted On Me" - it's got some nice chord-changes in it too
Which songs are your favorite to play and which get requested the most?
Mary- I Love to play all the songs, we haven't really played enough to get requests!
What is the creative process for the band, and what inspires you to write your music?
Mary- there are so many ways of writing a song, so the creative process is always different. On this record we explored various ways of writing, starting with a full lyrical idea with no music to having a piece of music with no lyrics and just a mood. The times we live in are pretty crazy and provide plenty of themes to write about, there's some pretty dark stuff going on that seems beyond our control. The role of technology and social media in manipulating and shaping the political narrative is proving to be pretty scary, as is the emotional effect it has on people's relationships and happiness.
Noko - indeed, we're at a new stage of human evolution where the way technology in general, and social media in particular has affected the psychological make-up of a whole generation or two - the way human beings relate to each other and their emotional expectations have changed for ever and there's no going back.
What kinds of messages do you like to get across in your music?
Mary- The message, is probably that you're not alone in feeling confused and frustrated about what's going on in the world right now!
Noko - we're mad as hell and we're not going to take it any longer!
Do you ever have disagreements in your band, and how do you get past them?
Mary- Noko and I are very open with each other so if we don't like something each other has done we say what we think, have a brief discussion and move on. Everything goes through the shit filter until we both agree!
Noko - yeah, believe me, not all musical collaborations are like this!
What are your plans for the future, and do you have anything that you want to spotlight that's coming up?
Mary- We're starting work on a new album as I type and our hope is to escalate the live side of things. So basically writing, recording and playing live! If we can carry on doing that adinfiiatum then we're doing all right!
Noko - I'm really pleased at the way we got this album finished to our satisfaction without anyone else's input: we defined stage#1 of our aesthetic pretty clearly and came out the other side in one piece and I'm really excited to see where we'll take it with the next one.