Discover more from Volatile Weekly
Interviews in the music industry from around the world
Interview: Antlerz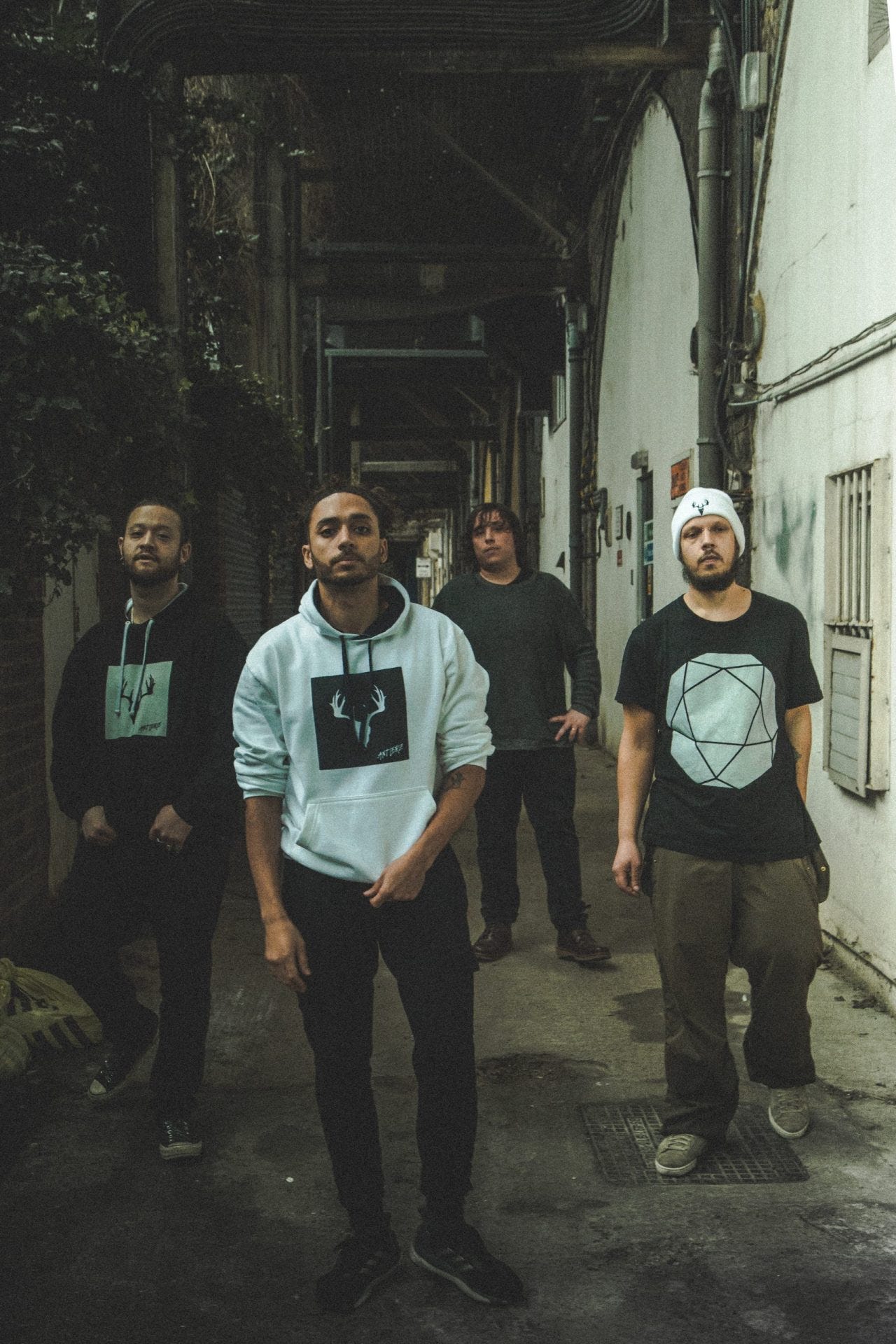 What got you into music and if you weren't what would you be doing?
Steph: I grew up with rap and hip hop, that's what really got me into music. I was part of the early grime scene back in the day and I started up my own studio with some pals, so I've always been into making music. If I wasn't doing this right now, I'd probably be traveling.
Mickey: My dad got me into music, I remember watching videos of Jimmy Page and Stevie Ray Vaughn on VH1 with him. If not music, then probably carpentry, or something with my hands.
Neil: I was into music pretty early, I played drums in school and was in bands from 13 years old or so, then guitar later. If not this, I'd be an astronaut, obvs.
What do you do when you're not doing music?
Steph: I'm partying bro.
Mickey: Steph gets noticed by fans and girls. I get noticed by security and the police.
Neil: Cook, work, smoke herbs.
How long has the band been around?
Steph: 2 years.
Where are you based and how does that influence your music?
Steph: I grew up in London in an inner-city school and was there when grime started, so being around that taught me how to write lyrics, create flows, the nuances that go into this style of music. My sound is very much influenced by where I'm from.
Neil: I live in London now, but I played in the underground punk scene in China for years, that's where I learned the four-finger death strum.
How did you come up with the name?
Mickey: It comes from Steph and my family name: Deer. We are cousins and somewhere up the family tree we come from Scottish stock. And deers have antlers, hence Antlerz.
Best and worst shows you've played?
Steph: We played a gig for a skate park and brewery in Bermondsey. The set up was really stripped bare. Amps on the floor, concrete everywhere, under the railway arches, that kind of thing. But we crushed it, and had everyone going nuts. It was for good cause as well, to help keep the skate park open for the community. The worst gig I played was nearby at a venue that will remain nameless. Not many people showed up, so I went out and freestyled to drum up some interest. It worked because all these people turned up, and the place was full. So I'm on stage, trying to hype the crowd up, but only the front row is getting involved. Turns out for the whole show, only the stage monitors were on! Sounded great on stage but no one else could hear us!
Neil: Amersham Arms in New Cross was awesome when we recorded the music video for Sole Survivor (https://www.youtube.com/watch?v=J4TTMnoJLXs). Golden Beach Music Festival in China. Yantai in Shandong Province, they know how to party. Filled the whole place. Small venue. Absolute riot. Worst gig? I blacked out on stage after turning up too early for the soundcheck and getting hammered and forgot what song I was playing. I came back to myself after 30 seconds and everyone was looking at me like, "WTF are you doing?" Not my finest hour.
Mickey: One time another guitarist didn't turn up because he got arrested for armed robbery.
What's your favorite venue and where would you like to play?
Mickey: O2 Academy in Islington is a great venue, but personally I would love to play Download.
Steph: I'd love to play the Whiskey a Go-Go, just for the credibility factor. Every rock band has to play the Whisky a Go-Go!
Neil: It's a shame the Borderline closed, I would have liked to play there. I ran a small venue in China before, we used to get all the local indie and punk bands in back in 2007-2013 or so. It was in an old textile factory so we used to do whatever we liked. This was back in Hu Jintao's days, China was a lot more cuddly back then.
If you could play any show with any line up who would be on the ticket?
Mickey: Mastadon, Pantera, Stevie Ray Vaughn.
Neil: Pantera, Slayer, Dimmu Borgir. That would be a good night.
Steph: Pantera, Hopsin, Aerosmith. But I'd want Angus Young to be there, just for a 12-minute solo.
What advice for someone starting in a band?
Mickey: Understand your place in the band, understand what your instrument brings to the song, understand the overall song structure. Sacrifice your ego to what the band is about. Forget yourself, understand what the other people are doing so you can complement what they are doing. If it's about you, then it's a solo project, a vanity project. See the bigger picture. For me, no band embodies this ethos more than Rammstein.
Steph: Don't kid yourself. Do the music that you really like. Don't try to make something that everyone else will like. I've done a lot of projects where we tried to do what people liked, but it didn't feel real. It wasn't what I wanted to do, and music is all about honesty. Find the people that like what you like and bring it to them. Maybe you aren't going to be the next Kanye or RHCP, but that's not why you're doing it. Be there for the people that are there to listen to you.
If you could go back in time, what advice would you give to yourself?
Steph: Be more selfish. I stopped doing this for years to live a life I thought I should live. Before you make commitments to someone else, you've gotta make sure you already fulfilled your commitments to yourself.
Neil: Do it all again Neil. I've got no regrets. I'm genuinely a pretty happy guy.
Of your songs, which one means the most to you and why? 
Steph: Definitely Sole Survivor - it's the story of my own internal battles and it's the first song I wrote since I got back in touch with Mickey. Everything in it is from my heart. All the bullshit I was going through, the voices in my head telling me negative shit. But there was one voice in there that was positive and kept telling me to keep going and stick with it - that's what I mean by 'sole survivor'.The only voice that survived was the positive one. And now I'm in a much better place - that's the story of Antlerz for me.
Neil: City Lights has a killer riff and Facing Away is proper epic. But we haven't released them yet… so stay tuned for them!
Which song is your favorite to play and which one gets requested the most?
Mickey: Skinwalker. There's just so much pace, and I'm up and down the strings all the way through. It's just a constant assault of music.
Steph: I think my best in terms of lyrical content and songwriting performance is All For Me.
What is the creative process like?
Mickey: One of us will have a riff.
Steph: Shut the fuck up.
Mickey: OK I will come up with a riff.
Steph: Shut the fuck up.
Mickey: OK I write the whole song.
Steph: Yeah you come up with the guitars, drums and bass and then send it round, and if I can rap over it, we use it.
Do you have any disagreements in the band and how do you get past them?
Steph: Yeah of course, we argue a lot. But you've got to work at it, you've got to really want it. You've got to stay inspired and keep wanting to work at it. But yeah it's true, sometimes I just can't let it go. We definitely need better ways to get out what's in our head. We are better at getting past our arguments since Neil joined the band - he has become the deciding vote.
Mickey: Actually I get past the arguments by ignoring Steph. There's a treasure trove of stuff in the back catalog that we never finished because we kept fighting over it.
What are your plans for the future and do you need to highlight anything that's coming up?
Mickey: We are in the studio at the moment working on a new EP - three tracks of twisty, angular metal-tinged nastiness.
Steph: And the current one is sick, we are in the process of releasing that. We've got one song and video out, but altogether there will be 5 tracks of balls-to-the-wall, hip-hop-influenced rock n roll.
Neil: Check out the new video here (https://www.youtube.com/watch?v=J4TTMnoJLXs) and subscribe to our YouTube channel mofos!!