Discover more from Volatile Weekly
Interviews in the music industry from around the world
Interview: Artyfiction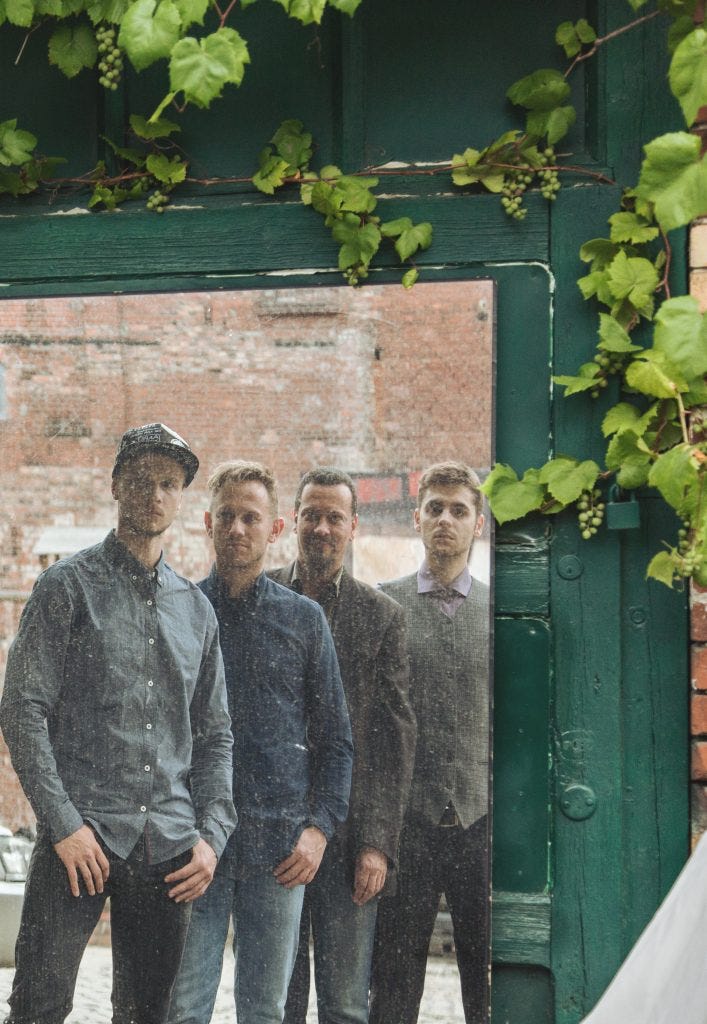 What got you into music, and if you had not gotten into music what would you be doing today? A: At the beginning, when you're child, sooner or later you encounter music. It's all about what music you've heard and if it moved you enough to plant the seeds. We're moved by many styles - classical, grunge, progressive, jazz, electronic even, and the melodies and music just flows and plays a major role in our life. We can't really imagine putting off the instruments, suppress the music in our brains, but if that'd happen, we'd probably live pretty casually, focusing on business, family, maybe some noncommittal hobby, visiting places. But the emptiness caused by lack of music would be overwhelming.
What do you like to do when you are not playing music and how does that influence your creativity? A: We read a lot. Fantasy, crime fiction, novels. There's always something that inspires you when reading, especially reading carefully. Some parts may not be that obvious, sometimes, imagination just draws the pictures and you follow it. It's surprising how you can interpret the story and create your own twists, thus having material for a song. We also carefully observe all the things that happen around. It's not easy, as in today's world you can easily be distracted or follow the herd of people with their phones glued to the hand. The trick is to look on it broader, sometimes they look like files on a spiders web, victims of technology. Read and observe. Think about it. Share your thoughts and that's how it goes.
How long has your band been around? A: In 2014, Darek (keyboardist) joined a group of friends that wanted to play uncommon stuff. That'd be the beginning of this band. Sometime later, the band was gradually changed - Mirek (bassist), then Pawe? (former drummer) joined. At the turn of 2017/2018, Wojtek (guitarist) joined and in this shape the band recorded "Preliminaries" - the first LP, published in 2018. Then we turned to compose and record "Firing Line" which is already recorded and will be published to the world in September 2019. Recently, Kuba (drummer) replaced Pawe? and thus we completed our squad. There were vocalists et cetera, but that's another story. Our serious activity as a band started in late 2017.
Where are you based out of and how did that influence your music? A: We're all moved to Wroc?aw, but come from various cities of southern Poland. What is great about this country is its openness to various music. Obviously, the blues and rock are very popular here, but this music was too repetitive, too limited and eventually too boring for us. We have quite developed Slavic folklore in Poland, but you won't hear it's influenced in our music that much. From time to time Wojtek brings in some acoustic folk melodies to the table, but we didn't utilize them yet to compose a piece. In Poland, rock music was especially important in the 80s, where we were occupied by communism and this music was a freedom cry. In the times of political correctness and repression, that was uniting the people. This way we got influenced by our parents who were listening to it.
How did you come up with the name of your band and what does it mean to you. A: We worked around the word "Arfiticial". This term perfectly fits the world we live in. Fake friends, fake news. Bended reality. We have put two words together – "arty" and "fiction". "Arty" is the irony part. We are surrounded by repetitive tunes made for money that has nothing to do with art. We also have a lot of so-called artists that tend to produce tracks that only show off their skills or techniques. In our humble opinion that has nothing to do with art as well. We want to create music. Above genres, types or general moods. That's what we call "art". "Fiction" element points out that music is not necessarily connected to the real world. Terry Pratchett has created his Discworld. A lot of science-fiction writers imagined their own idea of the future. We are imagining music. And that's what we give out to the world. We even thought about using the same way of writing our name as in "science-fiction"  - "Arty-Fiction". But we're losing the relation to "artificial" word then.
Tell me about the best and worst shows you have played. A: We do not recall the best or worst shows, to be honest. We play exclusively in Poland for now and things that matter for us are how the audience reacts and how much the energy we can induct. We have had some pretty good shows, here in Wroc?aw, where all just went great. People dancing to our quirky ? and going nuts - when you see it, your heart just grows and that's our gratification for all of the hard work we put in. If there are energy and good vibrations, all just go out fine - the solos, complex parts, stage image, and everything. It's all about the people and how we interact. There were obviously some bad shows, we recall much more good ones than bad ones, but we remember the particular one. The keyboard was flooded with beer, there was no place for the instruments and all was just thrown together a total mess. The cable has been damaged and it refused to send a signal, so for a minute or so, there was no guitar whatsoever. A small scene, three bands, mess, bad sound, no soundcheck and audience far away - that one was the worst. It's not purely about technical issues too - we had a concert with two power outages, but the fire was there and we just improvised and the audience took it and we carried out very well. People were amazed by how well we managed to overcome technical issues - just drums and pantomime, but that was all about the great audience that cooperated and supported us there.
Tell me about your favorite venue to play at, and do you have any places you want to play that you haven't already? A: We like to perform at Czasoprzestrze? (Wroc?aw). There's a nice stage there with drums on the pedestal and a lot of space for the people. The feeling of this place (old tram station) is unique and yeah, we do love to perform there. We'd like to hit a bigger stage though, some of the biggest rock festivals in Poland as well as we'd like to perform abroad. One cool stage that comes to our mind is Prog In Park (Warsaw) stage - it's just a parking lot, but great music and great people are there when the time comes.
If you could play any show with any lineup who would be on the ticket? That's a good question! We do have our music heroes, but we think that'd be great to play with Opeth. For the sake of Mikael's charisma and personality and the other band members brilliance. We like to meet interesting people, talk with them to various things we observed, not particular about the music. Being on some of their concerts, they do a great show and it's natural with the chat in between of songs. Pink Floyd and Tool too. They put on a great show, fantastic visualizations and it all is just like a ceremony to the fans. We would try to avoid fully progressive line-up if possible and try to put some jazz or post-rock band in, too.
What is some advice that you would give to someone who is just getting into playing in a band?
A: Most of the people advice to practice a lot, all the time. While this is partially true, the most important is to express yourself properly. To remember the reason you're playing and what do you want to share with the world. It's all about it - Dream Theater needs a lot of skill and practice to express themselves properly, but Pink Floyd plays simple, yet incredibly touching. I can't imagine David Gilmour sitting there in a dressing room and play arpeggios all the time :) Know yourself, hear the music within you, play it out and see what amount of practice do you need to express yourself. Be humble with other musicians and respect them, but know your value on stage. Remember that band is stronger than single-member and united band is the strongest, stronger than any side project. Do not hesitate to sit there in your room in silence and focus. The best melodies come in silence.
If you could go back in time and give yourselves advice, what would it be? 
A: Be more humble, go out and see that you're not the fastest gun in the town, the best guitarist ever. Find and keep with interesting, inspiring people, avoid go down with losers. Hear more within you instead of pure technical practicing. Respect your teachers and more wise people, take the wisdom and use it when composing the songs. Make your music meaningful, and be serious. Answer yourself if music is your way and stay dedicated.
Of your songs which one means the most to you and why? A: We have more suggestive songs on "Firing Line", which are not all public yet, they mean the most to us. "On death and dying" is about five stages of emotional state before dying. The song starts very calmly as it's dejection. This piece was also experimental and means a lot for us as we were learning ourselves and cementing together when composing it. Everyone added his part to it and that's why it's important. From first album we liked "Scamper" for its energy and "Moment of Revelation" for the feeling. On "Firing Line", we plan to publish music video with another song and you'll get why we think it's important in the appointed time :) 
Which songs are your favorite to play and which get requested the most? A: The new ones played from "Firing Line" is popular. From the older material, again "Scamper" is the most requested, as we also enjoy to play it live, a good song about energy for life. We like to play all of our songs, "Inflamer" for example gives a lot of energy and may replace "Scamper" when we'll play it live more frequently.
What is the creative process for the band, and what inspires you to write your music? A: We compose together. It usually starts from one's idea, riff or melody that gets the attention of the rest of us. We then catch it naturally and extend to make it complete. We use Slack to communicate, share our ideas, stubs and the idea behind them. As mentioned previously, we read books, observe the surroundings and think about it all. Sometimes it comes from no particular place really, just flows in and you know instantly that it's gonna be good.
What kinds of messages do you like to get across in your music? A: We suggest the emotional change using seaboard here and there or putting samples of a baby. The goal is to prepare the listener for the things that'll emerge in a moment. We constantly think about what else can we use to enhance the music and make it more suggestive. For now, it's mostly about solos and melodies, but in the future, we will certainly enhance the music with more addons :)
Do you ever have disagreements in your band, and how do you get past them? A: We do. Usually, it is because of overwork. Besides of music, we have our normal lives with business/jobs, families and other responsibilities. We try to handle them all, but sometimes it's just too much for a person. We have no time for being lazy at all and that's not good too - having some time for yourself is a luxury and you shouldn't be over-productive all the time, as you may burn out. When there are problems with people, living, money and so on, it impacts us as we are normal people. Then we meet to play and compose and sometimes it's just too much, leads to disagreements. We support each other as much as we can and treat ourselves as family, that's our best way to overcome the trouble and know each other better.
What are your plans for the future, and do you have anything that you want to spotlight that's coming up? We are about to publish "Firing Line" to the world. Prepare for September, as we think, we've done well on this album. We plan to add visualizations to our shows and book even more shows than we have currently, publish the music video and evolve further. On the horizon, there's a concept album, but this is the future thing. There's a lot of stuff to do right now, enhance the graphical part of our shows and our art as it's somewhat lacking. Playing live as much as it's possible, so people can hear what we have for them. Also, going abroad is the goal, we need to do it sooner or later. Thank you for the interview and great questions.