Discover more from Volatile Weekly
Interviews in the music industry from around the world
Interview: Aspherium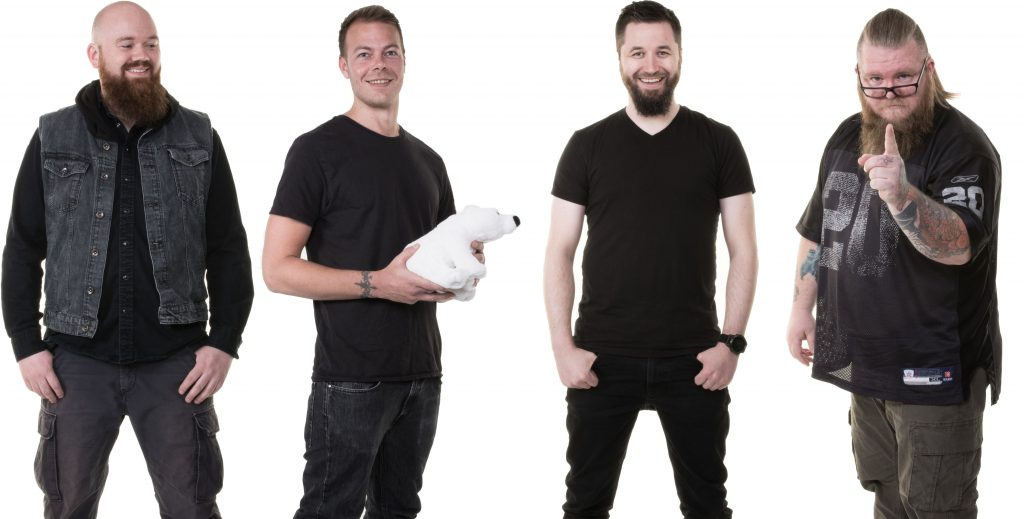 What got you into music, and if you had not gotten into music what would you be doing today?
I've loved music since my early childhood. My parents love music, so there was always music playing on the stereo in the house. I have fond memories of hearing Stairway to heaven and Bohemian rhapsody, and other great music. What got me to want to play guitar was hearing Metallica. I had played keyboard for a little while but wasn't really feeling it. When I got my first guitar at age 11 I was all in. 
If I didn't play music, I would probably do something with video or photography or perhaps video games. Something artistic at least. 
What do you like to do when you are not playing music and how does that influence your creativity?
My biggest hobby outside of music is video games, and the fantastic worlds and stories that are created there have had big influences on me and our music. Specifically, Halo and Mass effect have had big influences on the way we do concept albums. And just playing video games usually make ideas pop into my head. Just now recently playing Outer Worlds by Obsidian, there have been so many ideas popping into my head. It gets the creative spark flowing, I also love being out in nature, and that also boosts my creativity in a big way. 
How long has your band been around?
We started in 2007, and made a demo pretty quickly. We couldn't find a second guitarist until 2009, so that's when we started playing live. And we released our first album in 2011. 
Where are you based out of and how did that influence your music?
We are from Norway, and we have some pretty big Norwegian black metal influences. Also, Norwegian nature is a pretty big influence, and that goes hand in hand with the black metal of course. 
How did you come up with the name of your band and what does it mean to you.
The name came about when I was trying to find an original name by combining different words that I thought were interesting. I think there was a sphere, atmosphere and a bunch more. It somehow morphed into Aspherium, and I thought that was pretty cool, and it wasn't taken by anyone else! To me, the name means that feeling I get from our music. It takes me on a journey and creates these vast images in my head. 
Tell me about the best and worst shows you have played.
There have been quite a few bad shows, but the worst show may have been in Milano. Nothing seemed to work right, we got served horrible ice-cold plain pasta, in Italy, and the whole show was a mess. This was on a European tour with Blood red throne, and we played for one person. That one guy got free merch from all the bands, so he was pretty happy at least!
The best was on the same tour but in Paris. Really small venue, a bunch of French people that had no idea who we were. It started out with the crowd skeptical and totally quiet but ended up with mosh pits and crowd surfing, it was awesome! 
Tell me about your favorite venue to play at, and do you have any places you want to play that you haven't already?
I think my favorite right now is Flytten in Haugesund, Norway. We get treated so well there, and we have a great fanbase there! 
We have mostly played in Norway, and a bit in mainland Europe. We would love to play the UK, and also get out of Europe. Australia, Japan, and the US would be awesome. South America would be cool too! We would love to play anywhere, to be honest! 
If you could play any show with any lineup who would be on the ticket?
I think if there were bands that I love, and whose fans would also dig what we do, I think we should play with Gojira, Devin Townsend, Machine Head, and Opeth. That would be a sick show!
What is some advice that you would give to someone who is just getting into playing in a band?
Don't waste time talking about doing stuff, just do it. Start making music, start uploading stuff, make YouTube videos, upload songs to Spotify, etc. Get out there and play. I think we spent way too much time discussing what we should do, and then end up not doing anything for a long time. That's something we still struggle with, honestly...
If you could go back in time and give yourselves advice, what would it be?
I would tell us to start the band way earlier, and we should have started being really active on social media and YouTube right from the start before it was so oversaturated like it is now. It would've been easier to stand out. 
Of your songs which one means the most to you and why? 
Reality unfolds. It's a great song, and it was the first song that people actually started singing along with. Something we aren't used to, so that is very cool. It's a song that people seem to really love. 
Which songs are your favorite to play and which get requested the most?
Right now my favorite to play is The beckoning spire, from our new album. Some of the new songs I still have to think a lot about what to play and sing, so they don't flow as naturally as the older songs yet, but this song is pretty easy to song and play, so this one feels great to play live! And the other new ones will feel like that once we've played them a few more times I'm sure. The most requested from the hardcore fans is Fury of the flesh from our first album. It's a great song, but it is nine minutes long and exhausting to play, so we don't always play it…. People are very happy when we do, though! 
What is the creative process for the band, and what inspires you to write your music?
There are a couple of different ways we write. The most common is that I write a demo of a song with my riffs, and perhaps with riffs from Morten and other ideas from Bjørn Tore. I put an arrangement together and then send the demo to Bjørn Tore and he programs drums. Some ideas start out when we are jamming, and some songs have started with a drum idea or synth idea. 
There's just something in me that needs to get out, and my outlet is music. I get so much joy out of making music. But inspiration comes and goes, I can go a long time without writing anything, but then suddenly I write a whole bunch of stuff in a short time span. Inspiration can come from just going for a walk in nature, watching a movie, playing a game or reading a book. Or just playing guitar and having an awesome guitar sound. 
What kinds of messages do you like to get across in your music?
Our songs are usually about pretty bad stuff that is going on in the world, but the message that is always there is that even when things are looking really dark, there is always hope. We can get through the bad times together. 
Do you ever have disagreements in your band, and how do you get past them?
Sometimes, but nothing bad honestly. Bjørn Tore and Torgeir probably get into small arguments the most, because they can both be pretty moody, while I and Morten are very chill and laid back. But there hasn't been anything serious. Me and Bjørn Tore disagree and drum beats sometimes, but we always find what works the best for the song. 
What are your plans for the future, and do you have anything that you want to spotlight that's coming up?
We have a new album out called The Embers of Eternity! So I would love if everyone would listen to that on Spotify or your preferred platform. It is also available on CD and vinyl for those who still love the physical format. We will be doing more live shows in Norway next year. Follow us on social media, and let us know what you think about the music!