Discover more from Volatile Weekly
Interviews in the music industry from around the world
Interview: Attic Choir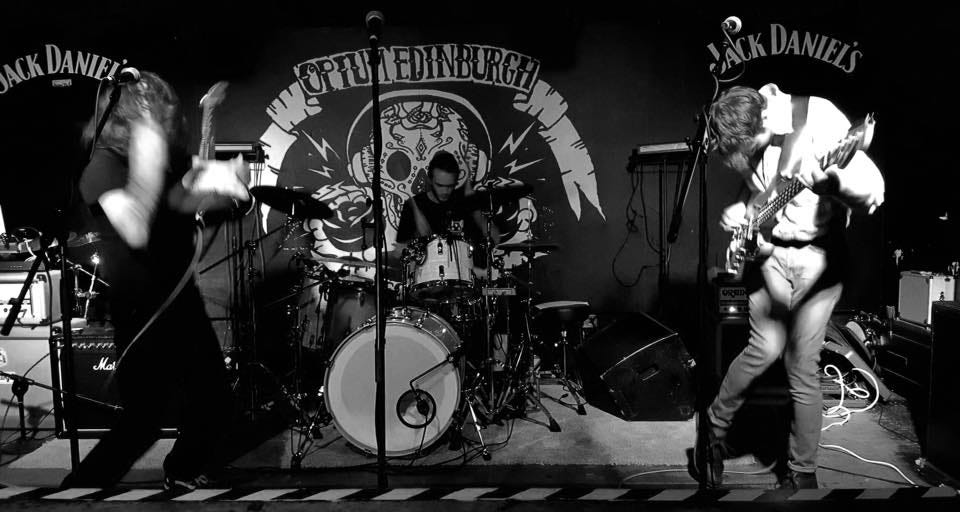 What got you into music, and if you had not gotten into music what would you be doing today?
Andrew: I was just drawn to it from a young age, hearing all kinds of music on the radio, then stumbling upon rock music and opening up this whole new exciting world, it was amazing.  At the same time, though, it seemed unobtainable, when I saw bands on TV and things like that. Especially when a lot of the bands I saw were from the US, or even just places in England.  It wasn't until I came across a lot of the Scottish bands who influenced me in my teens I realized it was something I could actually do. It's hard to imagine my life without music, but I suppose if I hadn't gone down this route, I reckon I still would have ended up involved in the arts in some way, or literature.  I'd definitely be a writer in some form or another.
Evan: My dad got me into music.  Otherwise, I'd probably be painting.
Dillion: I've been into music as long as I can remember.  I started learning to play the kit because it seemed everyone I knew played guitar or bass or had a great voice, but nobody seemed to want to get on the throne.  I was always a techy guy, so if I wasn't in music I probably would have continued in software dev or something like that.
What do you like to do when you're not playing music and how does that influence your creativity?
Evan: To be honest, when I'm not playing music I'm usually listening to it, which definitely influences what I write.
Dillion: I'm perpetually listening to music, I love video games, board games, movies, TV. I like to kick my feet up and do loads of nothing. Lets my mind wander, so I can play with beats in my head and see if I can further improve the way I play.
Andrew: I'll normally be listening to music as well — as obvious as that is — reading a book, watching TV, or something like that.  Standard stuff. Although, as a joke, I once said in a job interview I like cartwheeling in my spare time. I actually got that job.  All these things inspire you in some way or another, even subconsciously, so it's important not to deny yourself the opportunity to delve into other things and take a break from being creative.  You need to know when you've gone too far down the rabbit hole and when to go out, get some fresh air and see your friends. I'm still trying to get better at that.
How long has your band been around?
Andrew: Evan and I started the band late-2015, but it wasn't until Dillion joined the following year we made ourselves properly known to everyone, and we played our first show at the beginning of 2017.  Slow and steady wins the race.
Where are you based out of and how did that influence your music?
Evan: Being Scottish I think it's quite common to write melancholic music, and we're no exception.
Andrew: Yeah, I think it's hard for your surroundings not to affect your music.  We can be a bit negative and cynical, mostly because the weather's usually awful, but there's also a sense of unity, which definitely comes across in our music to an extent.
Dillion: Scotland has a history of pride, romance, poetry, and violence, and I think all these things are part of the people, and by extension a huge part of the music that comes from here.
How did you come up with the name of your band and what does it mean to you.
Evan: We spent a long time coming up with the name.  In the end, Attic Choir represented our music taking on a larger and more meaningful voice despite it coming from a dark and secluded place.
Andrew: Yeah, it was a lengthier process than you'd expect, but it was worth the wait.  I also just love the flow of the words. To me, it's kind of like 'cellar door'. We probably should have just called ourselves that.
Tell me about the best and worst shows you have played.
Dillion: I feel every show we have played has been better than the last, as we rehearse more for every show, and feel better about the music we perform every time.
Andrew: We've had lots of belters, so it's hard to pick.  It's the crowd that always make it. We just recently had our EP launch show at The Hug and Pint in Glasgow.  That was great. Everyone was very lovely and gave us a kind response. A lot of the time, I'm bad at gauging how a show is going until we leave the stage, but there are very few shows I would say we've had that were downright bad.  We did have a show in Edinburgh at some point in 2018, though, where we got heckled by one particular audience member. We didn't think too much of it. They were clearly only in it for the band we were supporting and they were also off their face, so we didn't take that too personally.
Tell me about your favorite venue to play at, and do you have any places you want to play that you haven't already?
Andrew: We seem to be playing at Sneaky Pete's in Edinburgh every other week, so I guess that's a venue that stays close to our hearts.  A lot of great times there. Otherwise, I would say my favorite of the places we've played is Broadcast in Glasgow. Just a great sounding venue with an almost homely feel to it.  I think we're all dying to play at King Tut's. We've been to so many great gigs there and it kind of just speaks for itself. I'd also love for T in the Park to come back so we can play there.  Probably the greatest hardship of my life so far.
Evan: Sneaky's is my favorite.  I'd love to play Barrowlands.
Dillion: Sneaky's has always been a friendly, familiar venue, that we shall never shy away from returning to.  I'd love to play places like The Garage or the QMU, in Glasgow.
If you could play any show with any lineup who would be on the ticket?
Evan: For our band, it'd be a dream to play with Manchester Orchestra, and personally I'd love to share a bill with Julien Baker although that might be an odd mix. Also Slow Mass for sure.
Dillion: Attic Choir/Manchester Orchestra/Biffy Clyro.  Something like that.
Andrew: We've joked before about playing a show where we play multiple sets; the same set but two or three times at different, extreme speeds.  We've genuinely rehearsed all our music at both double and half speed, so it would be a shame not to have the opportunity to have Attic Choir, with Attic Choir + Attic Choir.  I'd go to that.
What is some advice that you would give to someone who is just getting into playing in a band?
Evan: Practice, then practice some more. It doesn't matter how good you are individual if you aren't well rehearsed. And you're only as good as your weakest link!
Dillion: Just do it, get together, get some songs, play them, write some, speak to venues for a support slot, play the most nerve-racking first show of your life and feel the rush of being on stage.  From there it'll be hard for you to give it up.
Andrew: Try not to think about it too much.  I was a chronic worrier in our early days, and it almost always turns out fine.  I'm a bit more mellowed out now and have much more fun. Also, make sure you like the people in your band.  Things can get heated at times, and if there's not true friendship at the core, you won't survive it.
If you could go back in time and give yourselves advice, what would it be?
Andrew: I'd probably give myself the same advice and try to relax a bit more.  Mistakes are inevitable, and naivety is all part of the experience.
Evan: Playing in your room is not the same as performing in front of a crowd, you need to practice that too.
Dillion: Practice different styles of music, and practice with a metronome. 
Of your songs which one means the most to you and why? 
Andrew: As much as I hate to pick between my babies, if I had to choose just one I'd say 'Bleeding Grounds'.  It was the second song I ever wrote, and it really boosted my confidence in going forward with songwriting.  It's not a complicated song and it's quite short, but it helped me to really trust myself when it came to writing, and knowing I'd always be able to make the right call in what a song needs.
Evan: 'Lessen Everything To Nothing' means a lot to me, but Uneven Two from our debut EP I feel represents us coming together as a band and really creating something to be proud of.  I feel a lot of love for that song because of the journey it's taken us on.
Dillion: I have a particular love for some of our newer songs, such as 'Gaslight' or 'Disaster Artery', as they're just so much fun to perform, but from our debut EP 'Bleeding Grounds' is probably my favorite of our songs.
Which songs are your favorite to play and which get requested the most?
Dillion: I'll go with the aforementioned 'Gaslight' and 'Disaster Artery'.
Andrew: 'Bright Black Morning' and 'Disaster Artery' are some of my favorites to play.  They're pretty fierce. They can be quite challenging vocally, but that only adds to the intensity for me and for people in the audience who haven't seen us before, I don't think they're expecting us to come out with those songs.
Evan: I love playing the slow ones; often it's the faster and more aggressive songs that get requested!
What is the creative process for the band, and what inspires you to write your music?
Evan: Andrew brings the songs to us, mostly realized and we craft them a little further. I write my own vocal parts and the bass lines, but really it's Andrew that creates the songs and Dillion and I polish.
Andrew: Yeah, the songs always seem to come about in the same way.  It normally starts with me just aimlessly noodling about on the guitar or piano or something.  Once I've hit upon a melody, I'll just work on it until I've got basically the whole song there.  Once I'm happy with everything I show it to the guys and we start working on it in the practice room.  Songwriting seems to be a very fundamental part of my life. I always try to stay inspired by just experiencing new things, whether it's new music, art or media, or going out with friends.  I think the act of writing is an extremely therapeutic process for me and it makes me a much happier person. I've noticed when I'm a bit of a slump and not writing much, I tend to be quite miserable.
What kinds of messages do you like to get across in your music?
Andrew: I think if people were to take anything away from it, I'd want it to be that you don't need to dress things up to be better than they are.  Sometimes things are bad, so it's fine to acknowledge that. You're allowed to feel bad, and you can't expect every waking moment to be profoundly positive, so don't be so hard on yourself.
Evan: It's ok not to feel ok, negative emotions are an important part of life and music is a tool to work through those feelings.  And also, music doesn't have to be either pretty or angry, it can be both.
Dillion: Music is a feeling, and is cathartic.  I use it like that, and I feel like the music we perform and write is pure catharsis sometimes, and that's what I want.
Do you ever have disagreements in your band, and how do you get past them?
Andrew: Definitely.  When you're doing something you care about, it's inevitable.  I think we have fewer disagreements now that we've been together a while, we know how we all operate, and we know how we work together as a team.  We sometimes just need to take a step back and remember what we're doing and how amazing it is to be in this position.
Dillion: We just have to remember that we are all there for the same thing, to have fun and perform together and that everything we do is in service of the songs, not ourselves.
Evan: As long as we all love the music we'll work through whatever disagreements come up.
What are your plans for the future, and do you have anything that you want to spotlight that's coming up?
Dillion: We just released our debut EP 'Internal Wound Management' on all the usual platforms, so please check it out!  We've got a brief hiatus in the summer for the birth of my daughter, but we'll be back in full swing very soon.
Evan: And it'll be time to play it in every location imaginable!
Andrew: Yep, just gig upon gig upon the gig, whilst behind the scenes, we keep working away on some exciting new things.  Stay tuned.