Discover more from Volatile Weekly
Interviews in the music industry from around the world
Interview: Attrition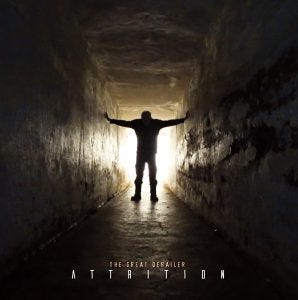 What got you into music, and if you had not gotten into music what would you be doing today? It was punk rock in 1977… I was already into music but this just blew me away at the time… I realized then I had to do music myself…  at the time I was at art college… and although I mostly gave that up I still get involved in visual arts… I think that's what I would have pursued… I started a music fanzine first in 1979 – Alternative Sounds - and then started ATTRITION in late 1980…
What do you like to do when you are not playing music and how does that influence your creativity? A lot of things… hang out with my kids or girlfriend… I love to travel whether I'm on tour or on holiday… although whenever I'm away I always look forward to coming home… I love working on my house and making food here…. Creative things in a different way… a nice balance… 
How long has your band been around? the first show was on the day John Lennon was shot… December 8th 1980, in our hometown of Coventry. It's been a while… but there is so much more to do…
Where are you based out of and how did that influence your music? Coventry, England… It had an influence of course… a fairly industrial town with remnants of its historic past… the home of the Specials and Two-tone… and a lot more… although my brand of electronic music really didn't sit well here back in the early eighties so I moved to London and later to Holland for a while… which worked well… but I eventually returned and have been here since 1990… it's a good place to be…
How did you come up with the name of your band and what does it mean to you. The band name was taken from "War of ATTRITION" a description of the first world war…a gradual wearing down of sides… My Grandad was wounded at Ypres on the western front in 1917 and I always had a strange fascination with that war…. I even created an album of War poetry (from all sides) which I released in 2015 – "Millions of The Mouthless Dead"…
Tell me about the best and worst shows you have played. There are so many different reasons for "best" and "worst"…and some of them are just based on our own perception of the night…I have played all over the world with ATTRITION and have so many "best" ones… the first tours in Europe in the eighties…the first shows in the USA in the mid-nineties… then Russia…even Siberia… Brazil, Mexico, Hawaii, New Zealand, Transylvania… Japan last year…. It's been a wonderful ride…. "Worst"… well, we all have awful sound and awful venues or awful attendance over our careers… I try not to let that bother me … there's always something positive in playing a show…
Tell me about your favorite venue to play at, and do you have any places you want to play that you haven't already? I don't really have a favourite venue…its more about the atmosphere on the night… and the same venue can have a different feeling the next time round…. And at the same time I don't really have any I want to play… there are a few famous ones I am pleased to have performed at… The Roundhouse and the 100 Club in London…. And the worst one was CBGB's in New York when it was around…we played there in 1999… still… kind of glad I put up with it for one night ?
What is some advice that you would give to someone who is just getting into playing in a band? Believe in yourself. And be prepared to work so bloody hard for what you believe in. It's really hard and at times seems impossible… but persevere… things will come to you in time and the rewards are so so worth it…
If you could go back in time and give yourselves advice, what would it be? Keep on going the way you are…
Of your songs which one means the most to you and why? I have written so many… but I always love the sentiment in my 1985 song, "Fate is smiling"…I has a positive message… a note to myself if you like… https://attritionuk.bandcamp.com/track/fate-is-smiling
Which songs are your favorite to play and which get requested the most? Live I prefer the upbeat songs… just a better buzz onstage for me.. even though I have performed our horror film score a few times (Transylvania being the most memorable)… I try and ignore requests… our most famous song in probably "A girl called harmony" (1991)… but I rarely perform it live these days… maybe did it once too often…
What is the creative process for the band, and what inspires you to write your music? In all of my work… regardless of the final piece or style… I start with abstract atmospherics… electronics usually… and gradually rhythms and melodies emerge… alongside the words if there are to be any…. Much like order from chaos….  I believe in that… I write the basics of a song myself and then bring in guest musicians if I need them….it keeps it flexible and creative….
What kinds of messages do you like to get across in your music? I think when I started out I had more defined messages…. In my punk/post punk mindset… animal rights, anti-racism anti corporate capitalism…. As I have moved on my subjects have been a lot more involved in personal politics… my surroundings… philosophy, religion…. A lot of inspiration comes from my subconscious and my relation to this strange world we live in…
Do you ever have disagreements in your band, and how do you get past them? haha… well not too badly… probably as I am the main man if you like… it seems to work out well enough…. 
What are your plans for the future, and do you have anything that you want to spotlight that's coming up? We have just released a new single The Great Derailer, on CD single, download and streaming… https://attritionuk.bandcamp.com/album/the-great-derailer it's the first from the new album, The Black Maria, to be released later this year… I'm setting up shows in support of the release… lots to do on that front but so far we have… April 3rd: The Tin, Coventry, UK June 13th: Woodgothic Festival, Sao Thome Das Letras, Brazil June 17th - Gothic Ba, Buenos Aires, Argentina June 19th - Producciones Mortem Collections, Santiago de Chile June 20th - Tumbas Eternas Producciones, Lima, Perú August 19 - 22– Feketa Zaj festival, Hungary August 30th – Infest festival, UK November 28th: Winter Ghosts Symposium, Whitby, UK Looking forward to another great year…I'm also busy producing and mastering other bands in my studio here, The Cage (my day-job as it were)… Thanks you for the interview! Martin Bowes, Coventry, England. February 2020 www.attrition.co.uk
www.facebook.com/ATTRITIONMUSIC
http://attritionuk.bandcamp.com/
www.youtube.com/user/attrition
https://twitter.com/attritionuk
www.thecagestudios.co.uk