Discover more from Volatile Weekly
Interviews in the music industry from around the world
Interview: Avalanche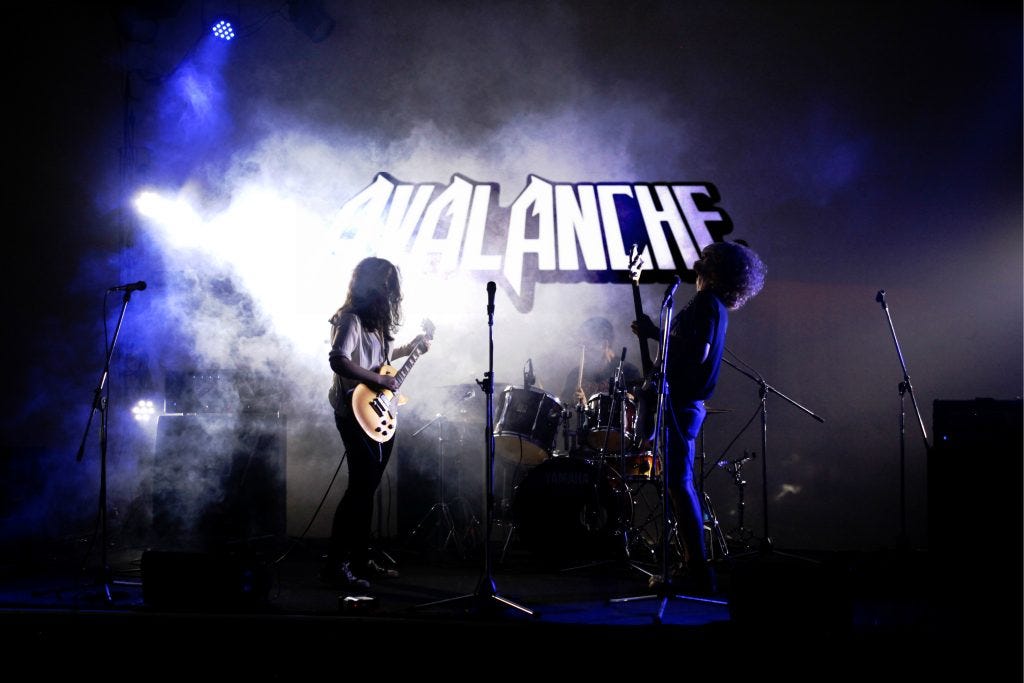 What got you into music, and if you had not gotten into music what would you be doing today?
Steven Campbell (lead vocals/bass): I've always been a creative person, I used to spend a lot of time when I was young writing, stories mostly, I actually wrote a full novel by the time I was thirteen, and eventually I started music and kept doing as much creative stuff as I could, if I hadn't done music I'd probably be doing something else creative like writing and drawing.
Veronica 'V' Taleski (lead guitar): I don't really know what I'd be doing to be honest, after I saw AC/DC on the Rock or Bust tour in 2015, I decided I wanted to play guitar for a living and I didn't really do much else from that point. I'd played a little bit before that but never took it seriously, until I realized that they're just a bunch of dudes from Burwood in Sydney, a couple of suburbs down from where I live, and they managed to conquer the world, it just made me think I could actually do something with it. And I thought if I could learn to play at least half as good as Angus and Malcolm then I would've accomplished something with my life. So for the last few years, I've been playing guitar for hours on end each and every day, I don't really know what else I'd be doing with my time if not this.
Ryan Roma (drums): What got me into music was the AC/DC live album at Donington that my mom would always play around the house from when I was 5 years old, I just got really into it and all I wanted to do after that was just play drums. If I didn't do music at all I probably would have done agriculture or something but, yeah I don't know what I'd do if I didnt have music in my life.
Arthur Divis (Rhythm Guitar): Listening to Mum playing Guns N Roses as a kid in the car probably started it. Motivated me to give it a go and pick up a guitar. I honestly couldn't imagine my life without music now, it's a necessity.
What do you like to do when you're not playing music and how does that influence your creativity?
Steven: Well I spend a lot of time on roofs cause I'm a roofing contractor, I can't say it influences me a whole lot but it definitely has its bit.
Veronica: When am I ever not playing music? Haha, well apart from my 9-5 job, I also work as a roadie, so it's pretty cool to be behind the scenes at a lot of concerts and events and be the one helping set everything up. It's always good to go too as many gigs as you can as well, I always feel more energized and inspired in my own playing after I've been to a really good gig.
Ryan: I'm still in high school so there's that, but when I'm not playing music I normally would buy an album or listen to an album that looks and sounds awesome and try and get some ideas
.
Arthur: I'm an architect, so a lot of my time is spent designing shit haha.  it's good in terms of creativity as it pushes you to think outside the box constantly and come up with something different and unique. The same approach is used in terms of music.
How long has your band been around?
Steven: We've been together for roughly a year and a half and we've been gigging around Sydney since October last year.
Where are you based out of and how did that influence your music?
Steven: We're based out of Sydney and I guess you can say it influenced us a bit. There's a lot of things about Sydney that can help shape you, musically as well as a lot of other ways, especially Western Sydney where we're from, a more working-class industrial area. I mean, we used to rehearse in an old steel factory, and we'd always play in all the local pubs around the area to the locals. So yeah.
How did you come up with the name of your band and what does it mean to you.
Steven: My Dad Adrian Campbell was actually in a band called Avalanche in the 70s and the 80s, they used to belong to the same management company as AC/DC, they have even played with them and some other major bands at that time, we thought it was an awesome sounding name and wanted to keep the rock and roll family tradition going so after going through a lot of other names, we decided to name our band Avalanche.
Tell me about the best and worst shows you have played.
Steven: Well I guess for the worst show, it's always hard when you're playing to like 4 people, but we believe you always gotta make each show the best show possible, because those 4 people still deserve an awesome time.
Tell me about your favorite venue to play at, and do you have any places you want to play that you haven't already?
Steven: We've played at a few pretty decent places, The Music Foundry in Wollongong, The Bull, and Bush in Baulkham Hills, The Captain Cook hotel to name a few, we also love playing to the locals at Panania hotel and Plumpton hotel as we've got a small fan base at those venues. There's a place called Frankie's Pizza in the city that we haven't played yet, awesome rock and roll venue, they pretty much only put on rock, metal and punk bands, they've had some big names play there and some awesome local acts so it would be great to play there sometime soon.
If you could play any show with any lineup who would be on the ticket?
Steven: AC/DC, Motörhead, Airbourne etc
Veronica: Maybe AC/DC, Airbourne, the Rolling Stones, and Alice Cooper.
Ryan: Definitely AC/DC, Motörhead, Slayer, Judas Priest, and Iron Maiden.
Arthur: Gunners, Metallica, AC/DC.
What is some advice that you would give to someone who is just getting into playing in a band?
Steven: There's only one thing you need to know about music, what you put into it, is what you get out of it if you're willing to put in the time and the effort, in all areas, it will end up taking you places you never thought you could go. Just stay persistent, and always keep learning.
Veronica: I think something that helped me was, that if there's a particular player or band you want to sound like, don't just listen to them, but listen to what influenced them and learn to play that first. If you can learn to play what your greatest influences learned to play then you're a whole step ahead of what everybody else is doing, and you're more likely to find your own style rather than just copying your main influence. In my case, don't just listen to AC/DC, for example, listen to the Rolling Stones, the Who, Chuck Berry, and the blues, learn where the riffs came from.
Ryan: Don't over complicate your playing. Play what suits the song.
Arthur: Stay persistent. Try and practice a little bit each day and in no time you'll see the improvements.
If you could go back in time and give yourselves advice, what would it be?
Steven: Don't smoke.
Veronica: Pick up the guitar already.
Ryan: Get your life sorted cunt.
Arthur: Stay with the guitar.
Of your songs which one means the most to you and why?
Steven: I think for me it would probably be Run Like Hell just because it has a lot of meaning to me lyrically, it was about a few different issues I was facing at the time, but yeah it definitely has the most meaning to me.
Veronica: I think, Head First In Hell, which is the first single we released of our debut EP, Sent From Hell, means the most, it's still my favorite recording that we've done so far, and it was one of the first songs that I put together for the band. I had the lead riff and built this whole song around it, I wanted to write something as epic and dynamic as AC/DC's Riff Raff or Number or the Beast or Whole Lotta Love so you might be able to hear some of those influences in there and I'm pretty proud of the end product.
Ryan: Definitely Get Back (to Fuckwit City), that one means a lot to me because of its just a simple way of saying 'fuck off cunt'.
Arthur: Have to say Get Back as well. Find it such a catchy yet simple riff to listen to. It's also very fun to play.
Which songs are your favorite to play and which get requested the most?
Steven: I think Get Back has the best crowd response and it's definitely one of my favorites, it even has quite a lot more streams than other songs we have out atm. Sold my Soul, which we usually open with is also really good at getting the crowd going and proving quite popular, but a lot of people also say that On Your Back is one of they're favorites, it's probably our most simple song and also a bit slower than the rest but a lot of people dig it.
What is the creative process for the band, and what inspires you to write your music?
Steven: Usually one of us will come up with a riff or a title or some kind of idea and bring it into rehearsal and we'll then work on it with the rest of the band. Sometimes it's very spontaneous and we can work out a whole song together on the spot at rehearsal, other times, Veronica and myself will go off and work on it or she'll structure it in her own time and then we'll bring it back to the band to complete. But either way, there is still always a lot of thought and care put into it, we try to make every song the best song it can be, why write filler material?
What kinds of messages do you like to get across in your music?
Steven: I think for the most part we just want people to have a good time when they listen to our music, and to release any frustrations they may have. I think when people hear our music they'll probably feel a mixture of humor, excitement and raw energy.
Do you ever have disagreements in your band, and how do you get past them?
Steven: Everyone has disagreements I think the main thing we remember is that we're all best friends wanted to do the same thing so sometimes we just need a bit of a reminder I feel.
Ryan: We get past them. And when we can't, we just do what makes V happy
Arthur: 100% there are disagreements but that's just normal when it comes to a creativity-driven industry. Everyone is going to have different tastes and ideas and when they clash you've got to be fairly critical. If someone has a better idea than you, don't be too proud to go with their idea, it'll work out better for everyone in the end.
What are your plans for the future, and do you have anything that you want to spotlight that's coming up?
Steven: We've just released our debut double EP 'Sent From Hell' on May 1st, a mix of 4 studio recording and 4 multi-tracked live recordings, and were gigging relentlessly for the next few months to promote it. We're booked out with gigs until July for the EP release and are constantly booking more gigs so if you're in Sydney be sure to catch us at one of our shows! You can also buy the EP on iTunes and Bandcamp and stream it across all streaming services. Beyond that, we're already working on our next release, as well as some more out of town shows, and soon enough, an interstate tour. Cheers and rock on! - Avalanche