Discover more from Volatile Weekly
Interviews in the music industry from around the world
Interview: Bangover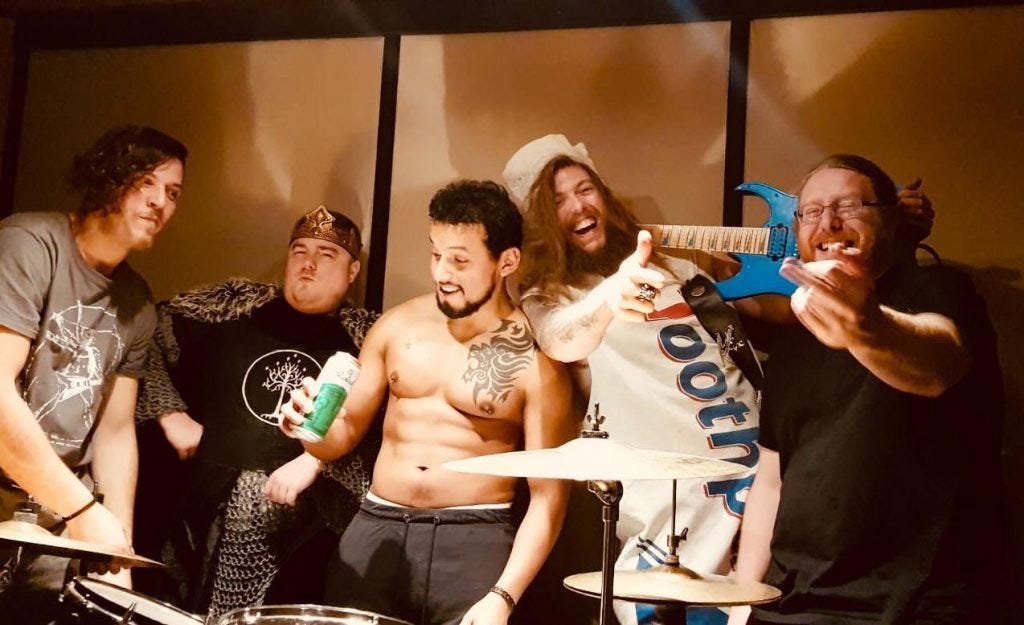 What got you into music, and if you had not gotten into music what would you be doing today?
Hearing Metallica for the first really changed everything for me, they had everything that made a lot of sense to me. From there I just branched out to other bands and started learning the guitar. If I hadn't have done that, I have no idea what I would be doing ahah. 
What do you like to do when you're not playing music and how does that influence your creativity?
I'm big into video games if I'm not practicing I'm usually playing something. You can find creativity in loads of things, I've come up with titles for songs from playing Metal Gear Solid or Doom for example. You can be lazy and productive at the same time! 
How long has your band been around?
We've been around since 2011, I (Scott) joined sometime in 2013. 
Where are you based out of and how did that influence your music?
The band is from London and there is a thriving metal scene, as we discovered when we played Metal 2 The Masses (A competition run by Bloodstock Festival for a chance to earn a slot on the bill). We played the competition about 5 years in a row and eventually earned ourselves a place on the bill in 2017. Check out the footage on YouTube! With that level of competition, we knew we had to keep practicing and write music that people could really get into but at the same time, staying true to what we want to do musically. 
How did you come up with the name of your band and what does it mean to you.
The name of the band comes from a Municipal Waste song, it means having a sore neck after too much headbanging the night before. To me it symbolizes what we do, the music is heavy and you can't help but enjoy yourself when you come to our live shows. 
Tell me about the best and worst shows you have played.
The best gig would have to be our Bloodstock set in 2017. We played the Jagermeister stage and had a circle pit AROUND the tent, that was insane. We've had too many bad gigs to name one I'm afraid ahah.
Tell me about your favorite venue to play at, and do you have any places you want to play that you haven't already?
If you could play any show with any lineup who would be on the ticket?
Kiss and Metallica would be just grand for me, but I can't say for the rest of the band ahah.
What is some advice that you would give to someone who is just getting into playing in a band?
Believe in what you do, stick to your own rules and just enjoy what you're doing. 
If you could go back in time and give yourselves advice, what would it be?
Pick the guitar up a lot more! 
Of your songs which one means the most to you and why? 
I can't pick a specific song but if I had to pick, it would be Palindrome. I contributed a couple of riffs to that song and it feels good when people know what song it is by hearing that first riff. 
Which songs are your favorite to play and which get requested the most?
Grand Moff Tarkin is my favourite to play, people seem to like the Star Wars themed lyrics. The riffs are really cool, it has a great melody to it and it the changes flow so well. We don't get so many songs requested but we do occasionally. 
What is the creative process for the band, and what inspires you to write your music?
Jack is very very good at coming up with complete songs and proposing them the band. 9 times out of 10, not a lot changes are made but we all contribute as and when we need to. We're influenced by just getting together and playing some heavy thrash shit!
What kinds of messages do you like to get across in your music?
Just have fun and be careful while you do it. We aren't a joke band but we don't take ourselves too seriously either. 
Do you ever have disagreements in your band, and how do you get past them?
Yeah we've had disagreements and you generally get over them by just talking about it and listening to each other. If someone wants to run with something and no one has any issues, you want to support the idea and do what you can with it. 
What are your plans for the future, and do you have anything that you want to spotlight that's coming up?
We just plan on playing more gigs and look at some new songs we're planning on writing. Keep practicing, keep going and eventually become the biggest band in the world. Simple right?