Discover more from Volatile Weekly
Interviews in the music industry from around the world
Interview: Bison Face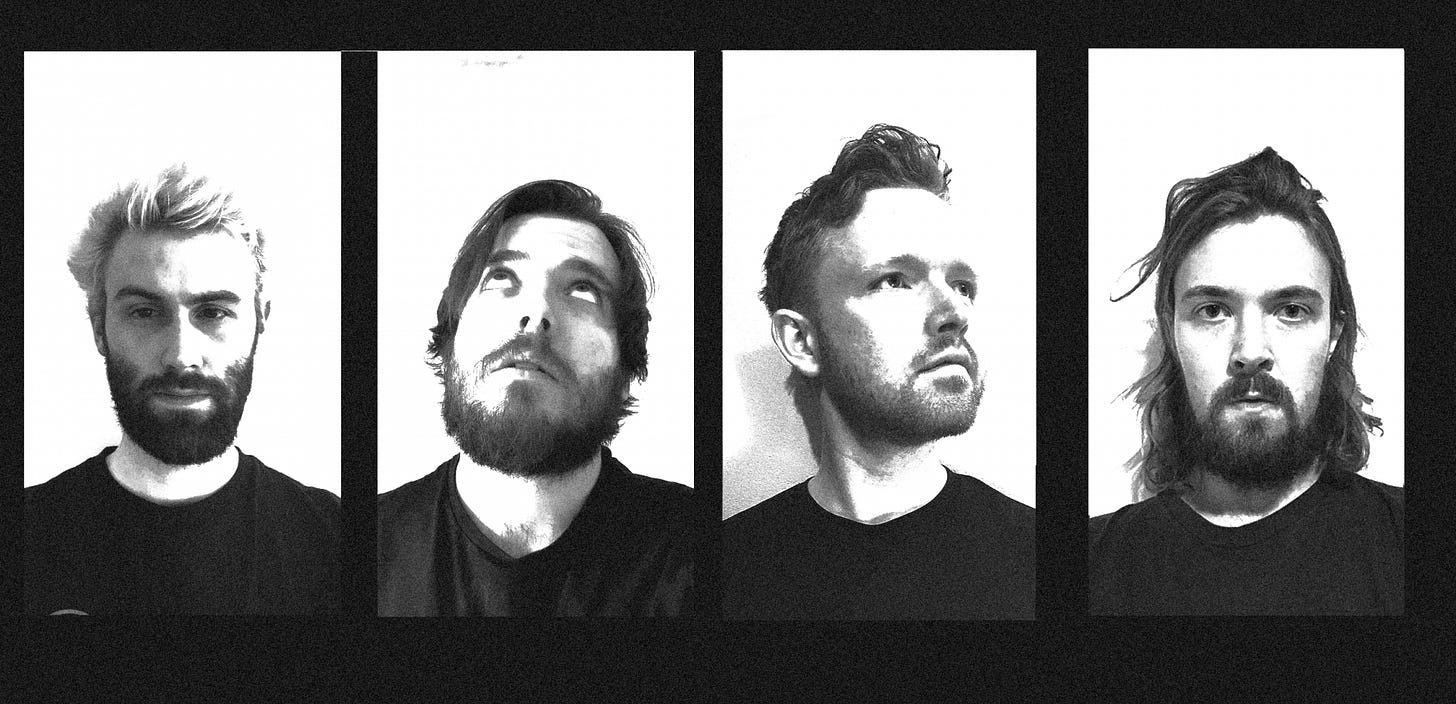 What got you into music, and if you had not gotten into music what would you be doing today?
I watched School of Rock when I was about 10 and remember wanting the soundtrack for 'Immigrant Song'. I asked for it and my Dad said he'd get me a few albums instead. 'Nevermind', 'Zeppelin III' and 'Raw Power' were the ones and I literally listened to those on a constant loop. It was those and 'Best of Blur'. I haven't looked back since. It's cliché as shit but Nirvana did just open my mind to a whole world of music. 
What do you like to do when you are not playing music and how does that influence your creativity?
I enjoy being outdoors, feeling that sense of space and freedom helps to get your mind away from your day to day; If I had the money and time I'd travel a lot and see more of the world. 
That and a lot of whiskey…
How long has your band been around?
I started this band in about April last year, our first show was June '19. But I've had the songs floating since January 2019 ish.
Where are you based out of and how did that influence your music?
We're all from St Albans, so we've grown up with an incredible scene of local Hertfordshire bands that have skyrocketed and, being right on the doorstep of London, I spent my teenage years on the train to gigs pretty much constantly. We're very lucky to live so close to so many venues, we spent a lot of money on tickets and tinnies growing up.
How did you come up with the name of your band and what does it mean to you.
I used to draw and write stories constantly, Bison Face was the name of a character I created when I was younger, and subsequently the nickname I gave my cat. 
No one else had it and we all liked it so it stayed!
Tell me about the best and worst shows you have played.
We opened for Fangclub when they rolled through town, and they've been a big influence on me musically and just their work ethic. Absolutely lovely guys, they killed it and it was a huge show for us so that's special for me.
I haven't hated any shows, I love playing live. I did an acoustic solo gig last summer that was completely out of my comfort zone so I guess that was the most stressful so far.
Tell me about your favorite venue to play at, and do you have any places you want to play that you haven't already?
The Horn in St Albans is our hometown stomping ground, it's got such a rich history for local artists and hosted bands like Gallows and Enter Shikari when they were gestating, so it's always a blast to play there.
I'd love to play a show at King Tuts or somewhere like that, small and rowdy with a massive history. Or just anywhere in the US. Seattle dive bar.
If you could play any show with any lineup who would be on the ticket?
All day outdoor show:
Foo Fighters
Queens Of The Stone Age
Biffy Clyro
Dinosaur Pile-Up
Us
What is some advice that you would give to someone who is just getting into playing in a band?
Stick with it and don't copy anyone else. You'll have more fun making the music in your own head than trying to live up to your heroes. 
Also don't waste your effort on people who won't give you theirs.
If you could go back in time and give yourselves advice, what would it be?
Stick to the advice above way earlier than I did. And find all the guys in the band now about a year earlier.
Of your songs which one means the most to you and why? 
Releasing soon, I'd say 'The Catford Clown' has a lot of emotional weight behind it, it's mainly about some not so great memories I have from growing up, but it's a cathartic song.
All my lyrics usually have a deeper meaning than they do at first glance, and it's all pretty personal to me, just thinly veiled enough to make it accessible. Hopefully anyway!
Which songs are your favorite to play and which get requested the most?
I love playing 'Mallrats' because it's just frenetic, Alex's favourite is one called 'Treason'. I think at gigs everyone seems to love 'Heathers' the most, they somehow know the chorus and it's not out yet so that's always super fun to play live. It changes show to show.
What is the creative process for the band, and what inspires you to write your music?
Up to this point I've written everything and Alex has thrown a few lead parts over the top on a couple of tracks, but now there's a solid lineup I'm looking forward to writing more as a band and expanding the sounds a bit. The other guys are incredible musicians so I'm stoked to see what we can come up with together. 
The songs that became Bison Face were my one introverted creative outlet. Writing music was the only way I felt like I could express myself, and it's just snowballed. At least I was prepared for the current isolation situation…
What kinds of messages do you like to get across in your music?
It ranges from dystopian esque stress and mental health to something as simple as doing that extra shot you really shouldn't have or falling out with someone over something shit and stupid. 
Things that affect everyone and no one at the same time. 
I think I write the kind of music that I want to hear when I need music. Hopefully it helps someone out.
Do you ever have disagreements in your band, and how do you get past them?
We've had our fair share, as any group of people will I think. The band has finally got a solid, committed line up now, and it feels like a new page. It's exciting as hell. I think communication is key, and just being professional. Treating it like a job if it's what you want to do - that's important. Everyone in the band now feels the same about that.
What are your plans for the future, and do you have anything that you want to spotlight that's coming up?
Well we just released our debut single Ladybird, which is on all the digital platforms. 
There's a lyric video for that which will be up very soon.
I've gotta finish recording the EP once the world is out of this lockdown, but while we can't get to studio I've been writing at home, so there will be new music out really soon, for sure. Then there's some touring in the pipeline after all that, so just watch this space!