Discover more from Volatile Weekly
Interviews in the music industry from around the world
Interview: Bleeding Raven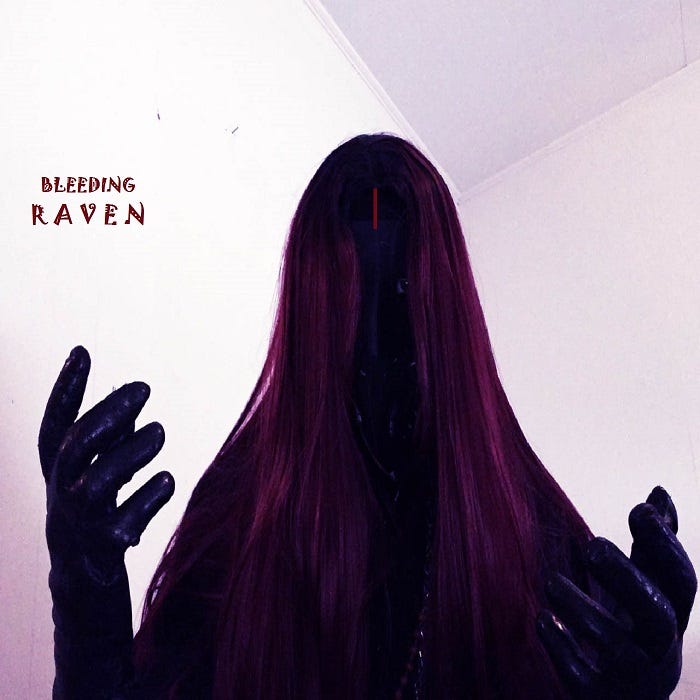 What got you into music, and if you had not gotten into music what would you be doing today?
My dad was a bass player in a band even before I was born. He also taught music at home when I was a kid. He taught guitar, bass, and accordion. So music was always in the 'air' so to speak. I apparently loved to sing as a toddler even. I'd hear music on the radio and would belt it out from my crib. But later in life, I believe it was Gary Numan that truly inspired me to consider the possibility of pursuing music. As a teenager, still in high school, I set out to record a single called "Dark Hallway" and "Golgotha" on the B-Side.  
https://www.youtube.com/watch?v=p05YqqTOS_M
https://www.youtube.com/watch?v=047Pk2GhPnY  
I did that single, very much still a huge fan of Gary Numan, even though this was more 'metal' and even pre-grunge. In later years, more recent that is…I have been very much inspired by acts like Ministry, Type O Negative, Skinny Puppy, Fear Incorporated, CRIX IIIX, Psyclon Nine, Die Sektor and so on. I also have to mention Global Citizen. They got me fired up to do recording back in 2012. As well, I need to mention Zardonic. I LOVE this guy's sound. Raw and abrasive and absolutely off the chart!  I purchased one of his loop libraries from "Future Loops" a few years ago and have put some of them through my juicer to add an edge here and there. Finally, I ALWAYS mention The Doors, especially Jim Morrison as a very profound inspiration for me personally. 
As for the second part of the question, music isn't my livelihood. So, I have a professional life…a career and music is a hobby that landed me a contract with one of the coolest labels around—Cleopatra Records. Actually, other labels as well like KL Dark Records, Throne of Bael Records and Nowhere Now Records. 
What do you like to do when you're not playing music and how does that influence your creativity?
I like to feed the squirrels and play backgammon with them sometimes. Hahahahaha Ok. That's not true. Well… I do feed the squirrels actually. I have the fattest and fluffiest squirrels in the city man. FLUFF DADDY SQUIRRELS Hahahahahahaha  No but, actually, I like to read, mostly non-fiction. Most of the stuff I read is in the realm of philosophy and religion. 
How long has your band been around?
Well, "Bleeding Raven" is a new project. That said, I started, as I said, back as a teenager with that single as "Dean Mason". In 2012 when I returned to trying to organize noise…I launched the "Lonely Ghost Project" but that was short lived and I changed the project name to "Gnostic Gorilla". So, most of my career has been with "Gnostic Gorilla". 
That said, I think "Darkness Consumed" by Bleeding Raven (very aggortech in style) will be my last project. In early October I lost—completely—the hearing in my left ear. Gone. Hearing aid won't work. We don't know what it is. Could be a virus or worse. More tests on the horizon. Point is, that's it. So, unless someone else takes over "Bleeding Raven"… it's over. 
Where are you based out of and how did that influence your music?
I make my home in between Montreal and Toronto and close to Ottawa. (Canada).  I don't think where I live influences my music. At least I don't see it. 
How did you come up with the name of your band and what does it mean to you?
"Bleeding Raven" is a name I chose based on Indigenous (Canadian) lore and spirituality. The Raven is quite common in the literature and stories of many tribes. The Raven can be seen as a trickster who in a backhanded way teaches a lesson or even a symbol of a soul being carried back to the Great Spirit. It depends on the community. The idea of a "Bleeding Raven" is a reference in a way to a suffering people or person. 
Tell me about the best and worst shows you have played.
I don't do live shows. And since my impairment…that's even less of a possibility. 
If you could play any show with any lineup who would be on the ticket?
Oh man. You mean like opening for or working with? Well, if it's the latter, I'd say it would be cool to work with Zardonic and Numan and Ade Fenton and possibly someone like Al Jurgenson from Ministry. That's more studio I guess. But I'm not actively looking for that. If you mean opening up for someone? That would be either Numan or Ozzy Osbourne. Again…that's not going to happen but hey…you asked probably aware that it's all fantasy anyway. (speaking of fantasy…a  studio project with Numan, Zardonic, and Ade Fenton would be cool…but of all of these…I'm the unknown soldier…they are celebrities) 
What is some advice that you would give to someone who is just getting into playing in a band?
Ok. Here is my speech again. Lol. Yeah, so…if you're a young new artist just starting out…focus on the heart of the art. I know that sounds like hippie bullshit but it's true. Don't set out to be a "big star". Express yourself wholeheartedly and be true to yourself in all aspects of the creative process. Never approach your craft with a sort of "if I do this I will be famous" type attitude because you're betraying yourself in a way and not allowing your true self to shine forth. If your 'hobby' becomes more than that…great. If not, you've still got a lot to be proud of if you did it with passion. When someone is true to their inner artistic 'spirit' if you will…it will impress and attract someone. Yes, people like to be entertained…sure. And the 'show' is a part of it. Absolutely. But if you're only an attention whore with no other desire than to be 'adored' by millions you will deceive yourself. 
If you could go back in time and give yourself advice, what would it be?
Um…man. I don't know. I probably would say to 'myself'… "…don't take that first drink...EVER"! But I'd probably laugh at myself and tell myself to piss off!  hahahahahaha
Of your songs which one means the most to you and why? 
From Darkness Consumed? I'd say… "Cry of Simeon" and "Pontiff's Nightmare". Both are powerful songs in many ways—including the lyrical approach. 
What kinds of messages do you like to get across in your music?
I don't actually like to preach or anything. I'm not trying to convince anyone of anything…so that needs to be said. Even my lyrics are done in a very mysterious and poetic fashion so that the listener/reader can decide for themselves what it means. That's where the Morrison influence comes in. (I don't write like him…just the idea of being poetic and mysterious) That said, I often write about the tendency of human beings to hate and of injustice in many forms. I deplore racism and bigotry and all the LGBTQ phobias and also any sort of religious 'tribalism'. Actually…you can add  radical atheists to that 'tribalism' thing. Let's all leave each other the fuck alone man! 
Do you ever have disagreements in your band, and how do you get past them?
I'm a one man outfit and I disagree with myself all the time. Hahahahahaha I never get past it. hahahahahaha
What are your plans for the future, and do you have anything that you want to spotlight that's coming up?
Future? Well, I'm going to promote what I have done thus far. I have a significant discography between Gnostic Gorilla and Bleeding Raven. I have just finished (before the hearing loss) a sort of dark space ambient or BM Ambient EP with Marcel Lecker of Battlemoose. It's called, "Das Probleme des Bösen". https://lunamelancholia.bandcamp.com/  We used the project name "Luna Melancholia" which was also the name of one of my dark ambient albums I released as Gnostic Gorilla. I may do a poetry/lyric book come summer time and that will most likely close my so called venture in this industry. 
Thanks for the interview mates. Appreciate it.