Discover more from Volatile Weekly
Interviews in the music industry from around the world
Interview: Bloodmares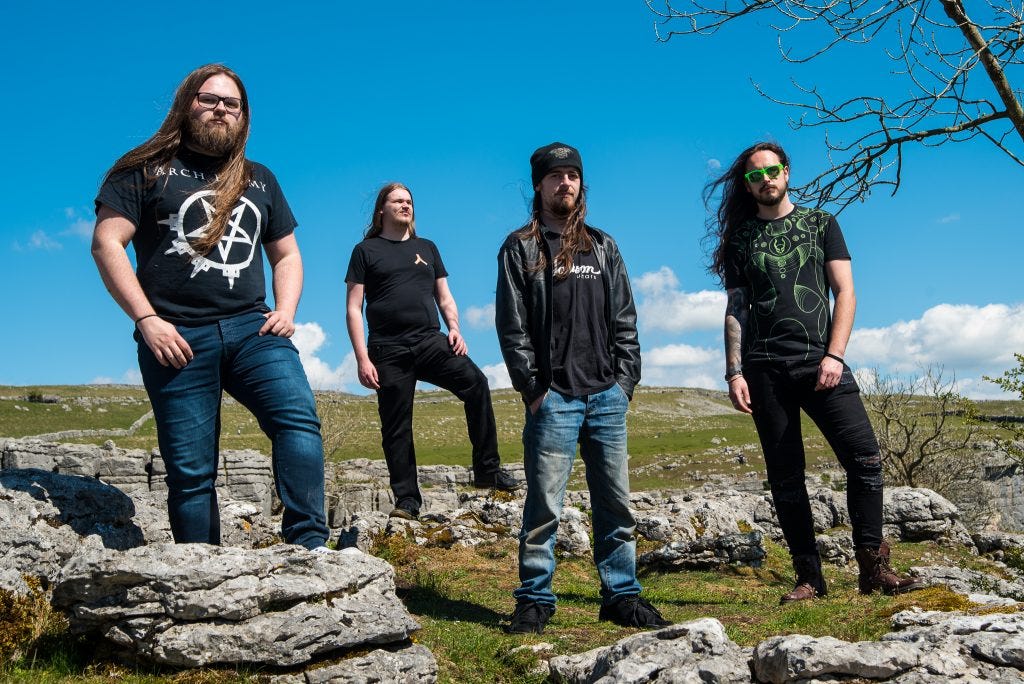 What got you into music, and if you had not gotten into music, what would you be doing today?Alex (Guitar/Vocals): For me, it started with Nightwish. I wasn't too into music at first, and only really knew whatever was on the radio, or tracks that I'd heard in video games, until I discovered Nightwish, midway through high school. They're still my favorite band now, but obviously my overall music taste has gotten a lot heavier since then, which started with Children of Bodom. I heard their first album, Something Wild, and tracks like Deadnight Warrior, and Touch Like Angel Of Death, instantly gripped me, with the speed of the drums, and the intensity of the guitars, and then my taste in metal just sort of evolved from there.If I hadn't gotten into music, I guess I could still have been into art. I'm far from a professional artist, but I've done bits of concept art for Bloodmores before now, and helped with ideas for the design of our debut album cover, so if I wasn't doing music, I could be more focused on that, I suppose.

Richard (Guitar): I can't remember what specifically got me into music, because as far back as I can remember, music has always been around me. The earliest moment I can remember that got me into rock/metal was when I was about 7/8 years old, and I walked in on my dad watching Bon Jovi's "Lay Your Hands On Me" video, I remember being fixated on it, and it was pretty much game over from there. It sounds cliché, but I honestly don't know what I'd be doing if I hadn't gotten into music. Music has pretty much shaped the entire person I am today, so thinking about what I'd be doing if I hadn't gotten in to music would be like trying to reconstruct every atom of my being from the ground up.

Connor (Bass): The first exposure that I really had to music was just on journeys in my dad's car, which I could take or leave when I was very young, however I took an interest when he started playing Linkin Park and Nickleback, probably when I was about 9 or so. This was really the start of my journey into discovering metal, for which I am grateful. Music is an integral part of my life and I spend most of my down time listening to music while I'm doing something else, although I listen to very little outside of metal (yes I'm a bit of an elitist).

What do you like to do when you're not playing music, and how does that influence your creativity?We all attend quite at lot of other band's gigs, that we aren't playing ourselves, whenever we get the chance. Right now I (Alex) think I've got tickets for around 6 or 7 shows, taking place over the next couple of months, and I'm always looking at more that I might like to go to too, and I find that seeing so many other bands helps to motivate us to write more of our songs too. I remember me and Richard seeing The Black Dahlia Murder, in Manchester, when were still writing our debut album, and the whole time I was watching them, I was just thinking to myself, I can't wait to do this for myself.

How long has your band been around?Only for around 10 months, and we've only been performing live together for around 6 months. Me, Richard and Connor wrote our debut album, The Seeds Of Seasons, together, and then found Chris at a later date, who nailed learning the tracks we'd written, and joined us on drums.

Where are you based out of, and how did that influence your music?Me and Chris live near Blackburn, but Richard and Connor live near Blackpool, so we all rehearse our own parts for the set at home, and then meet up together to play everything together every couple of weeks, or so. There's more of a metal scene near to Richard and Connor, in Blackpool, than there is near to me and Chris, but the real bustling metal scene nearby to us is in Manchester, where there's a number of great venues, and always gigs being put on.

How did you come up with the name of your band, and what does it mean to you?So the word 'Mores' is used to describe like a trait of a society, or community, and so Bloodmores is supposed to be like our way of naming, or describing, a self destructive, or self sabotaging, trait of society. We spent forever trying to come up with a name that we all agreed on, so in the end, we decided it was best to use our own, made up word, so that we'd also not have to worry about coming across any other bands already using our name, and then have to think about changing it in the future.

Tell me about the best, and worst, shows you have played.One of our best was definitely the first time we played at a place called The Alma Inn, in Bolton. It's a smaller venue, but the crowd were just going wild, and there were some really intense pits going on, especially when we played our debut single, As Mercy Renders You Senseless. One guy even dived off of a flight of stairs, into the pit, in the stage area!At the opposite end of the scale though, one of our worst was a few months ago. We played at a really great venue, but it was just empty, not even the organisers of the event turned up, and the handful of people that we'd brought as our guest list made up at least 50% of the entire audience. I'm sure every band has had a show like that, early on in their career, but we felt it was especially uncool that even the organisers of the event weren't there, and so we'd definitely think twice about booking with them again in the future.

Tell me about your favorite venue to play at, and do you have any places you want to play, that you haven't already?There's a place in Preston, called The Ferret, that we've played at a few times. The sound quality is always good there, and it's not particularly far from home for any of us, so we always have a good time when we play there. For future shows though, there's nowhere that really springs to mind specifically, we just like travelling to new places, playing new venues, and meeting new people, so we're happy to go wherever there's a crowd that wants to see us.

If you could play any show, with any line up, who would be on the ticket?Alex: Ideally, right now, I'd love to be an opening act for a band whose fans would also enjoy us too. Bands like Hypocrisy, At The Gates or DevilDriver spring to mind as ideal ones for us to gig with.Richard: Any 80's Metallica or Megadeth show, but if we're talking modern bands though, Warbringer would definitely be on there, as they're one of the most savage bands that I've seen yet. I'd also have Death Angel on there, as well as Hypocrisy. My gig would be more like a festival with the amount of bands I'd want to put on the line-up though haha

What is some advice that you would give to someone who is just getting into playing in a band?Practice as much as you can on your own, and practice to a metronome as much as possible, but also, when getting into performing live, try to find a balance between having fun, but also remaining tight in your playing. It's great seeing bands that are clearly enjoying themselves on stage, and bringing lots of energy to their performance, but, as obvious as it may sound, the most important thing is to make sure you sound good while doing this. Jumping around, or trying to show off, should never detract from the quality of your performance, but at the same time, it's also boring to watch a band remain completely motionless while they're playing too, so, as I say, try to find that balance between enjoying yourself, but remaining professional too.

If you could go back in time and give yourselves advice, what would it be?Just persevere, keep going, keep practicing, and you'll get to where you want to be in the end.

Of you songs, which one means the most you, and why?Alex: I'd have to say our album's title track, The Seeds Of Seasons. We never set out to create an almost 15 minute progressive metal epic, it just sort of happened. It's the only track on our album that uses 7 string guitars, and so we had a lot of ideas to work with that we couldn't use in our other tracks, as they were all using 6 strings, so as we were writing the title track, we'd just keep on adding new parts, like "oh, and it could do this next, and then change to this, and then go in this direction" and before we knew it, the song was over 10 minutes long, and we knew we had to bring it to a close. It was a very ambitious track, and it took a lot of work to get it all recorded, but I'm very happy with the outcome. We are yet to perform it live, as it would obviously take up a large portion of set time, and it's also a huge amount of work to get such a song rehearsed and tight enough to perform publicly, but I'm hopeful that we'll get there one day, maybe for a special event, or a future anniversary show, or something.Richard: For me "Metamorphosis" means the most. It was something that I'd written when I was 16, and just starting to get into writing music, so I think it was one of the first five songs that I'd ever written, if I remember right ,so I'll always have a bit of a soft spot for that one, plus people seem to dig it when we play it live, so that's a nice bonus.

Connor: The song that means the most to me is probably As Mercy Renders You Senseless, as it's the first song we made a music video for, and was released first. Me, Richard and Alex had been working on our album tracks for a long time before we eventually found a drummer for the band, and it was a great feeling of satisfaction to release one of our tracks to the world.

Which songs are your favorite to play, and which get requested the most?Alex: My favorite to play would probably be either Save Your Prayers, or A Monument To Illusions, and I'd say one of our most requested would probably be The Circle Of Betrayal, which wasn't originally part of our regular set, but a number of people at our shows asked about it, and for a while it was our most popular track on Spotify, so we had to add it to our set as soon as possible.Richard: They're all my favorites, I love every song we've got, so I can't really pick a favorite. I'm not too sure which ones get requested the most, but I know " As Mercy Renders You Senseless" gets played at a local rock club near me and Connor, and occasionally "Metamorphosis" will get played in the same club too.

Connor: My favorite song to play (that we have released so far) is probably "Blind to the Fore" as I would say it's just my favorite song, with a fast paced in-your-face thrash section, and one of the heavier breakdowns that we have, and it's also probably the best pit generating song that we have in my opinion. I'd say that the song that gets requested the most is Metamorphosis, for sure, and it's by far our most popular song, right now. I love all of our material, which I think is important for sure, and I feel that Metamorphosis is a great song, as both a set starter and a set finisher, and I think the song acts as a fantastic exhibit for most of the styles that we mix to create our own, as it basically incorporates most of them.

What is the creative process for the band, and what inspires you to write music?Seeing as we don't all live near to each other, we tend to write a lot of music individually, and record rough demos from home, that we can then send to each other online, then we'll work on our favorites from those demos together, when we all meet up to rehearse. The only track on our album that we sat down and wrote together, was the title track, The Seeds Of Seasons. Me and Richard wrote that one together in an old practice room we used to have above a pub in Blackpool.

What kinds of messages do you like to get across in you music?I always try and base my lyrics on what I would consider to be real-world issues, in an attempt to make sure that all of our songs mean something worthwhile. There are a number of different themes throughout our debut album, ranging from songs about the environment, and how we treat the world around us, to songs about discrimination, and how we treat other people, to name a couple.

Do you ever have disagreements in your band, and how do you get past them?Honestly, the biggest disagreements that we've had, to date, has just been on what songs should go into our setlists for each show. Obviously we all have different favorite tracks from our album, and we can't play all of them at every show, so there's often been visible disappointment on someone's face when we've suggested a setlist that doesn't contain their personal favorite.

What are your plans for the future, and do you have anything that you want to spotlight that's coming up?We released our debut album, The Seeds Of Seasons, in February this year, so it's still fairly new, but we're always working on new material for a potential future release. Our current album can streamed and downloaded from all the usual places, like Spotify, Amazon, Itunes etc by searching for "The Seeds Of Seasons" and anyone that wants to keep up to date with our gig dates and announcements, as well as updates regarding any new material from us, can follow us on Facebook, via facebook.com/bloodmores, or on Instagram, via @bloodmores_officialThanks for taking the time to talk to us today, guys. We appreciate your support!