Discover more from Volatile Weekly
Interviews in the music industry from around the world
Interview: Broken Lines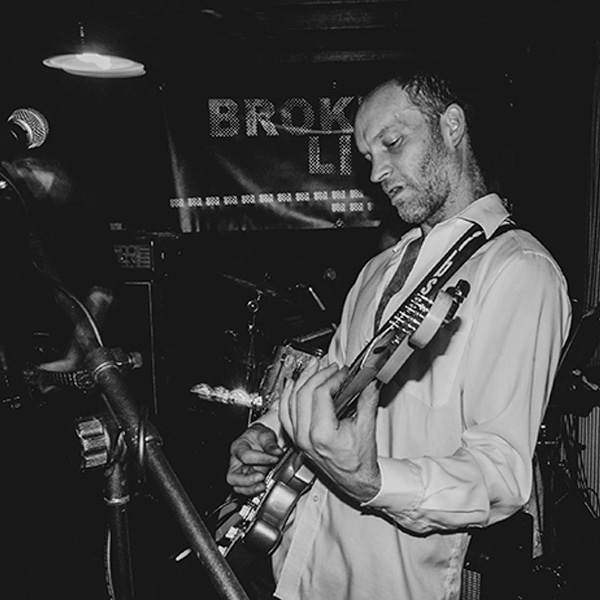 What got you into music, and if you had not gotten into music what would you be doing today?
There was no other option but music :)
Mark: Punk Rock! It gave me a voice with like-minded people who didn't quite fit into the mainstream. I am still punk, it's an outlook on life and the attitude to overcome obstacles that present themselves. I intend to grow old disgracefully!
Dave: I just loved the sound of guitars and synths and how they made me feel. Once I'd heard Hendrix, Pink Floyd and Led Zeppelin and understood what they were doing, I was in. The critical elements of these were David Gilmour's guitar sound and their use of synths, the power and creativity of Led Zeppelin and just the fact that Hendrix was such a unique and creative guitarist. He was always moving, trying things out and pushing his own boundaries. He had the most amazing talent to create and investigate sound and never wanted to play the same thing twice. He was not bound by rules or rigid frameworks or worried about getting 'it' right, he just played. Above all this and in his own words (as I remember them) he just wanted to 'play a feeling'. For me, this is the truest form of art.
Jack: My Hungarian friend's mum lent me £50 to buy a drum kit when I was 15.
What do you like to do when you're not playing music and how does that influence your creativity?
Mark: I like to paint watercolors or hang out in my workshop making wooden stuff. Anything creative floats my boat.
Dave: Surfing, family, walking, being outdoors, playing with modular synths and spending time with friends.
Jack: 
How long has your band been around?
Broken Lines was formed in 2014 with the current lineup of Dave, Jack and Mark finalized in 2017.
Where are you based out of and how did that influence your music?
The band has its' own studio space where we write, rehearse and record, just outside of Narberth in Pembrokeshire... We have spent a lot of time getting the feel of the place right as it is a second home for us. Being by the sea is a huge inspiration for us as we are all water babies!
How did you come up with the name of your band and what does it mean to you.
Ha, good question! I (Dave) spent hours and hours with friends trying, before getting together with Mark and Jack, to find a name that worked and we had 100s of them…! Depending on the situation they got more and more crazy! In the end, Broken Lines came about and it was liked by everyone, it's a nod to punk, to not conform to one style, to being different, to having ideas and being confident to change and shift and not being precious. Both Mark and Jack were happy with it, so that's who we are.
Tell me about the best and worst shows you have played.
 To date, all of our shows have been great. It doesn't matter how big the audience is as long as they're getting off on our sound and having a good time. We will play to one person, or one thousand people, it's still the same buzz!
Tell me about your favorite venue to play at, and do you have any places you want to play that you haven't already?
We've played at a lot of places, some big, some small. Often times the smaller venues have a better atmosphere as we like to get up close and personal with our audience. We did the freshers ball at Cardiff Met University last year and that was great. They had a superb PA and the sound was loud and kicking!
If you could play any show with any lineup who would be on the ticket?
 The Pink Fairies, Nick Cave and The Stranglers would be the show of shows!
What is some advice that you would give to someone who is just getting into playing in a band?
 Keep true to what you believe in. Work hard, beg steal or borrow gear and get good at your trade. Play anywhere and everywhere, get experience and keep learning.
If you could go back in time and give yourselves advice, what would it be?
 Meet each other earlier in life! Form a band and be epic!!!!!
Of your songs which one means the most to you and why?
All of our songs mean a great deal to all of us at some point or other. It all depends on what mood we're in, how well we're playing etc. Sweet Lips is always a killer and makes the three of us buzz like chainsaws :)
Which songs are your favorite to play and which get requested the most?
 Again, Sweet Lips is always a favorite. It's energetic, aggressive, and bloody hard to play. As it's also a release it gets requested a lot.
What is the creative process for the band, and what inspires you to write your music?
Bizarrely, being in each others company often kicks off the creative process. We jam a lot at rehearsals and new stuff pours out of us. We have a huge backlog of material at present that we will work on once we finish our debut album. Dave often writes the lyrics as he has to sing them with conviction. Jack has an ear for a good song and will often be found sitting in front of Mark and Dave pushing to get stuff exact. Mark has a lot of skill with dynamics and production.
What kinds of messages do you like to get across in your music?
Songs of love and hate (ooh, there's an album). We're politically minded as individuals and believe in truth. 
Do you ever have disagreements in your band, and how do you get past them?
 Just like all bands, we'd be lying if we said we don't. What's different with us is that we don't let it fester and get issues out in the open end expose them for the minutiae they really are. We frequently butt heads because we are passionate about what we do, but we always resolve issues quickly.
What are your plans for the future, and do you have anything that you want to spotlight that's coming up?
 The sky 's the limit really! All three of us are totally committed to Broken Lines, and we have the experience and skill to move forward, creating new milestones along the way. We want people to feel the way we do about our music and enjoy the Broken Lines experience.