Discover more from Volatile Weekly
Interviews in the music industry from around the world
Interview: BrokenTooth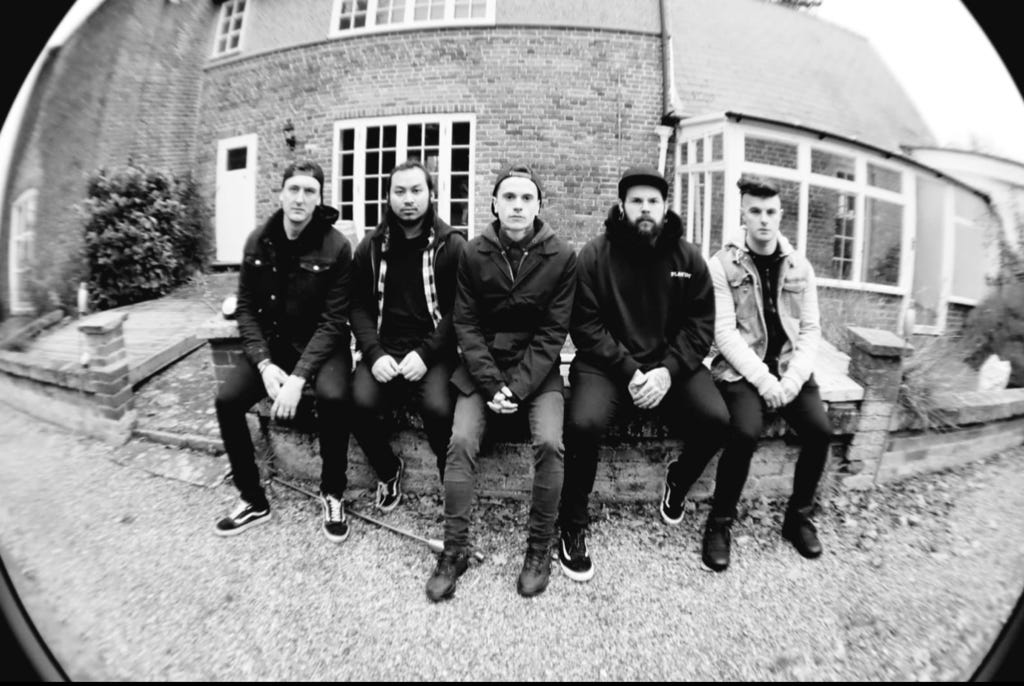 What got you into music, and if you had not gotten into music what would you be doing today?
Jed: I think it was really YouTube videos and tour/ live DVD's that really got me deeper in to music – they made me want to get on stage and play live. I'm also a tattooist, I'd still be doing that if I wasn't into music.
Jack: My older brothers Sam and Tom both always had guitars and basses, as well as my dad. There was always music blaring from their rooms when I was younger, and I just picked up the guitars and started learning from them. Then my mum saw the potential and she bought me my own acoustic guitar, so I started teaching myself simple chords and bits, and it just expanded from there to learning my favourite bands songs and then writing my own music. I'm a massive nerd with certain things, especially video games, so I think if I didn't have music I would have just gamed 24/7.
Charlie: Metallica were the band that really got me in to music in the first place. If I wasn't doing music, I'd probably be in the photography/ videography industry behind the camera and creating media content.
Peter: All my friends were musicians in school, and I always thought there was nothing cooler than being in a band with all your friends, so I forced myself to learn and loved it! If I wasn't in to music, I've always had an interest in photography, so who knows – I could have ended up in the music scene doing that!
Mitch: I've wanted to play drums for as long as I can remember. My uncle played in bands as I was growing up, and in terms of bands growing up, I loved Rage Against the Machine and then the nu-metal scene as it came out in the late 90's early 2000's. With regards to what we'd be doing if it wasn't for music, each of us still work full time jobs alongside our music, which can be tough but that's the way it is. Having that creative outlet is really important for me – I honestly don't know what I'd be doing if I wasn't drumming. I'd like to think I'd be doing something else productive though – probably to do with sports or fitness.
What do you like to do when you're not playing music and how does that influence your creativity?
Jack: When I'm not playing music, I'm either gaming away or spending time with people I love. Having small breaks away from creating and mixing music is definitely needed for me, as much as I love it. I do get really sucked in to a bit of a hole if I'm at it for too long – nothing feels like it sounds good, or good enough for others to hear and it makes me just feel like it's shit. Sometimes you just need some head space to give you some perspective.
Jed: I spend a lot of time tattooing, and it's obviously is a creative industry, so I'm always around creativity. I take inspiration from all aspects of life and a variety of different situations.
Mitch: I've always been quite in to sports, so I go through different periods of playing sports, going to the gym and all that stuff. I'm competitive because of growing up playing a lot of sport, and that actually helps when you're in a band, as I'm always striving for myself and the band to be better. Aside from that, spending time with my family - they also inspire me. My other half and son both love the music and are always stoked about the new music we write, so it's inspiring to me to see them get excited about it.
Charlie: In my free time I like to play a few video games. Creativity comes from all sources and I find video games can be a great escape from reality.
Peter: I'm a huge gamer – I find it really helps me relax and de-stress. A lot of gaming music from the games I play are quite heavy and these have influenced some of the music and ideas I've come up with.
How long has your band been around?
Jed: We formed as BrokenTooth in 2019, after me and Jack had decided to work on producing some initial music together. I had been in several bands previously, and Jack was always someone that I'd wanted to work with since I'd begun hearing the music he was producing.
Jack: I was a massive fan of Jed's vocals in his previous band, Lower the Skies, so it was a bit of a fan boy moment when Jed asked to work with me on a project!
Jed: After putting together some initial rough demos, and feeling that these were good, but needed to be tested in a band setting, we bought Mitch in to the mix. I'd known Mitch for many years, and we had crossed paths a few times in previous bands, and we had spoken before about collaborating on something, so he was the first person we thought of to bring in to the project.
Mitch: I felt compelled to be a part of the project after hearing the music and got to work straight away. We then were on the lookout for a second guitarist and a bassist, and Peter and Charlie were then added to the band in late 2019. With the two of them both coming in, it really completed the band and the vibe we were going for.
Jack: I actually knew Peter from a previous band, and Mitch and Jed both knew Charlie well. With Peter's technical abilities on guitar and Charlie's flare and consistency on bass, it made them both obvious choices for completing the band.
Peter: All five of us have been in various bands over previous years, but we are all really excited with the sound we have found within BrokenTooth and the bond between us. Things just seemed to progress very quickly and we were able to gel almost instantly.
Charlie: The majority of us knew each other well before this had begun, and some of us had played in previous bands together, so there was a real click between us and respect for each other right from the first time we all played, and that has just continued to develop as time has gone on. The progress made since the initial conception of the band has been huge, with each member really coming in to their own and influencing the music produced.
Where are you based out of and how did that influence your music?
Jed: We all hail from Hertfordshire, which is just north of London in the South East of England. It goes without saying that the music scene in London is massive, with some great venues and bands around the area. As for Hertfordshire specifically, a lot of the venues we played at when we were younger have unfortunately closed, but there are still some great venues and bands in the local scene. Club 85 in Hitchin hosts a number of gigs and local bands and is a great venue to play – we actually played our first show there when we first started out. I was always a fan of Heights, who started out locally, and they've certainly inspired me to create music and get it out to a wider audience.
Jack: Seeing my dad play locally dozens of times in the bands he was in definitely influenced me. Seeing him rock out on stage made me feel like I was always meant to be doing the same.
Charlie: The Hertfordshire metal scene affected me a lot. Being in a metal band growing up, I met a lot of local friends who were also in metal bands. The support network and friendships built over the years has been awesome.
Mitch: Yeah, I've met a lot of people through the local scene. It's pretty much how I spent my teenage years and it has been great to see some real talented musicians play and many I'm still close friends with now, despite some of them no longer playing in bands. The little styles and beats I've heard over the years that resonate with me, or the music that's made me feel something still influence me to this day, as with a lot of my other favourite bands.
Peter: As I said, my friends were all musicians, so I guess that has influenced my music and I've been in a number of local bands that have ultimately led me to BrokenTooth.
How did you come up with the name of your band and what does it mean to you?
Jed: The name actually derives from me - I was set the unenviable task of coming up with ideas for the band name. Whilst I was thinking, rolling around my tongue in my mouth, I could feel my minefield of broken teeth. I then put the name 'BrokenTooth' to the lads, who digged it.
Tell me about the best and worst shows you have played.
BT All: The first show as 'BrokenTooth' was awesome.
Jed: We all know there's so much more to come, and that felt like the beginning of something special.
Mitch: Yeah, honestly, the first show with these guys. It wasn't a massive venue, but we were called in at the last minute and it was a real moment where everything we had been working so hard on came together in a live capacity. It was a great show – one of the most enjoyable I've ever played – and because I'm so proud of the music we produce, it was a really proud moment to be able to get on stage and play the music I love with this group of super talented lads.
Charlie: Yeah, I feel like that first gig was a real moment to savour and the energy for that show was electric – an absolutely amazing feeling. But I feel like we haven't achieved what will turn out to be our proudest moment yet – there's so much left to come and I'm really looking forward to that.
Peter: As the flip side to that, the worst gig was one we played in London, not too long after that first gig – not naming any names or the venue, but it was a weekday night at a small venue in the middle of London with a few other decent bands. But no-one came out for it, and the feeling wasn't there.
Jack: Yeah, it was one of those nights where everything that could go wrong did, but we just played our show and got on with it. It certainly taught us a few lessons and things to take on board.
Tell me about your favorite venue to play at, and do you have any places you want to play that you haven't already?
Mitch: My two favourite places to play at were always Green Room in Welwyn and The Marquee in Hertford. They were both small venues, but real local to where we grew up. The Green Room is still going, and I can't wait to get back on a hometown show there, but the Marquee is unfortunately gone now. Places I'd love to play – Camden Underworld, as I haven't yet got the chance, and Donington Park – Download was my first festival experience and Donington has such a rich history for metal. I'd love to be a part of that.
Jed: My favourite venue I've played is the Barfly in London – it's a great venue to play. Camden Underworld is the one I'd also love to play.
Charlie: My favourite local venue has to be Club 85 in Hitchin – it's always a great night out. I also miss The Square in Harlow as I have many fond memories of gigs there over the years. I'd love to play Alexandra Palace and of course Download Festival – that goes without saying!
Peter: The Square in Harlow was my favourite – I absolutely loved the vibes from there! I agree with Charlie – my goal now is Alexandra Palace.
Jack: To be honest, I feel privileged to get to play in any venue and having people listen to us play, but a venue I would love to play is Camden Underworld – that would be amazing.
If you could play any show with any lineup who would be on the ticket?
Mitch: If we are being totally unrealistic (as these bands aren't even anywhere near the same genre), I'd love to play alongside Rage Against The Machine, A Day to Remember, Bring Me The Horizon, Motley Crue, Marilyn Manson, Deaf
Havana and The Gaslight Anthem. I love such a wide variety of music – that would be a nigh on perfect festival day for me.
Jack: My dream line up would have to involve Bring Me The Horizon, Asking Alexandria and Beartooth. I think my head would explode if BrokenTooth was on with any of those bands!
Jed: I'm going to go with something totally unrealistic too – BrokenTooth, Lamb of God, Deftones, Sum 41, The Ghost Inside, A Day to Remember and Yelawolf – that would be sick.
Charlie: Perfect line-up for me would be Bring Me The Horizon headlining, Falling in Reverse as main support, Our Hollow, Our Home and InVisions supporting, and us opening for them.
Peter: This is a tough one! Perhaps us supporting Polaris and Northlane – that would be sick.
What is some advice that you would give to someone who is just getting into playing in a band?
Jed: Make the music you want to make. Don't try and sound too much like someone else.
Jack: My main advice is to listen, learn and adapt to everyone that is involved in the band. Be open minded – you can always learn things. Also, never feel like you are the best at what you play or do and be friendly and nice to all the bands you meet – unfortunately I feel like not many people want to help each other out these days.
Mitch: Enjoy it and play in a band because you love it, not because it's something 'cool' to do or pass the time. Play with passion, feel the music you're playing and make sure you love what you do. Then it won't ever feel like too much work.
Charlie: Three main important things for being in a band: Practice, Persistence and Patience. Give it everything you have, and don't ever be disheartened by setbacks.
Peter: It can be a grind, but never give up. Yes, things get hard and you may think it's the end when you hit a brick wall, but find a way to bust through the wall and seize every opportunity!
If you could go back in time and give yourselves advice, what would it be?
Jed: Don't be narrow minded in styles of music – listen to all different types of music.
Charlie: Switch from guitar to bass sooner! As a message to all guitarists, pick up a bass and see how it makes you feel!
Mitch: Don't get too disheartened or worried and stop focusing on the abilities of others – just do you, practice your craft and enjoy the music.
Peter: Get a haircut! But no, in all honesty, the advice I would give myself is to practice more – when I was younger, I thought it was just going to fall in to my lap, and in reality it needs a lot of dedication and hard work.
Jack: Be patient and be yourself – don't get sucked in to other people's mistakes and addictions.
Of your songs which one means the most to you and why? 
Mitch: For me, I'd have to say 'Injustice', which is due to be released shortly. Many of our songs tell stories or experiences, but that song I feel has a deep meaning behind it and is a powerful statement.