Discover more from Volatile Weekly
Interviews in the music industry from around the world
Interview: Catalysis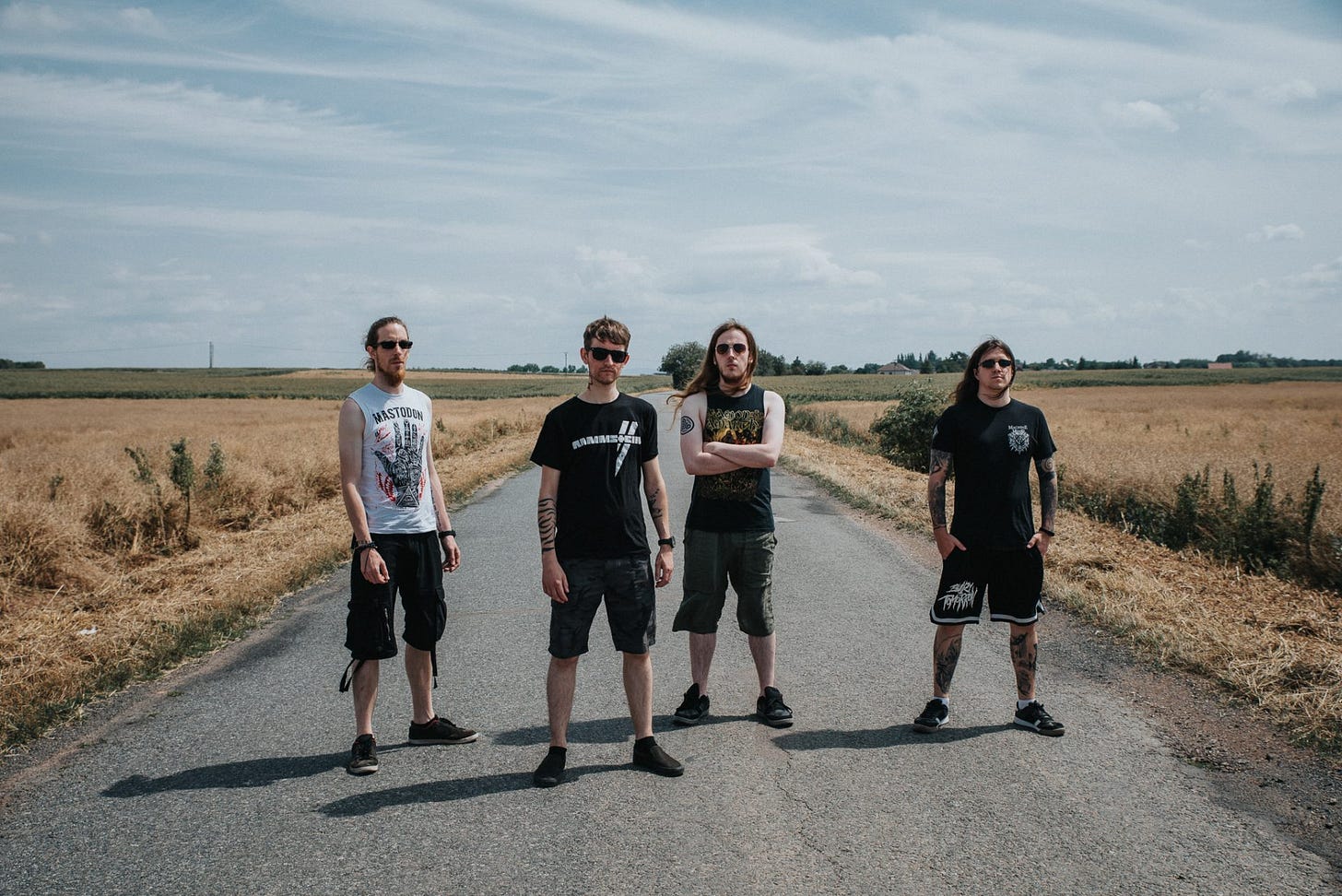 What got you into music, and if you had not gotten into music what would you be doing today?
I guess I'm not just speaking for myself, but all the guys, when I say that I don't really remember a time when I was not into music. It's hard to imagine what it would be like as it consumes so much of our time and thoughts. I mean we all have jobs and families and the like, so I suppose we would just be concentrating on those things, but a bit more miserable. 
What do you like to do when you are not playing music and how does that influence your creativity?
I, Col [vocalist], like to write and play about with video. Drew [lead guitar] is really into his gym and his cars. Sean [guitar] is a proper family man and I know they give him a lot of inspiration. Calum [drums] is a smart guy and really loves his music theory. Kenny [bass] has just joined and I know he is really into guitar tech and such. He really enjoys that side of things. 
How long has your band been around?
In one lineup or another since 2016. Our current lineup started in 2018, though we added Kenny on bass at the later end of 2019. 
Where are you based out of and how did that influence your music?
We are based in the East of Scotland and we all have to work hard to get by. That's not a moan or a gripe, unlike the Scottish stereotype. I guess it means we have to find our drive and just get on with it. 
How did you come up with the name of your band and what does it mean to you.
Drew, came up with the name Catalysis when he started the band. Catalysis is the name for a chemical reaction after a catalyst is introduced. I think he sees it like we are all catalysts and the music we create, the chemical reaction of us coming together, is therefore catalysis.  
Tell me about the best and worst shows you have played.
Best would probably be playing MCP Apache in Charleroi in Belgium on our tour last summer. Biker bar in a converted warehouse out of town. We were all bricking it to begin with, but we've literally never had a welcome or reaction like that. Our first encore, which we had to wing, and sold about half our tour merch on the first night. Unreal levels of comradeship, we met such great people there, and on the rest of the tour. The worst? I mean, we've played a few gigs where hardly anyone turned up, but I don't think we've ever played one that we didn't enjoy. Even playing to an empty room means there was a promoter who saw we turned up on time, played our set tight and then get booked for something else. We're generally pretty positive about things.   
Tell me about your favorite venue to play at, and do you have any places you want to play that you haven't already?
Agressive Music Fest in Czechia (https://www.facebook.com/AgressiveMusicFest.cz) was an absolute dream. Sound was great and the stage was huge. We've played Cathouse and King Tuts in Glasgow too, they were insanely fun venues. Great sound, crowds and stage. As for somewhere we haven't played already, we'll take Bloodstock, if you're offering? 
If you could play any show with any lineup who would be on the ticket?
I don't think we would all agree on this one, I guess we'd like to play with a Bury Tomorrow or Dyscarnate. These boys are making big players on the UK scene. Sorry, I'm aware this is probably a bit of a boring answer, I just don't want to get shouted at when the others find out what I said!
Me, personally, I'd love to play with Gojira and Jinjer. That would make me a very happy man. 
What is some advice that you would give to someone who is just getting into playing in a band?
Give everyone in the band a chance to have input. Musicians are creative and they need to be able to express that. If they aren't, they won't stick around. Also, rehearse. Once you think you have rehearsed enough, rehearse more. And then get out and play some gigs and speak to people. Attend other local bands' gigs and speak to people.  
If you could go back in time and give yourselves advice, what would it be?
Get Kenny, our new bass player, in sooner. Rehearse more.  
Of your songs which one means the most to you and why? 
There are a few, really. Transcend was off our first EP and is still our set closer, so it's pretty special as it's been around the longest and always gets a good reaction. I think Drowning in the Head, off our album Connection Lost out this year, is really special to Drew because his friend and one of his main inspirations, Phil Demmel (Vio-lence, ex-Machine Head), guested with a solo on it. As a band, I guess the closing song on the album, A Version of the Truth, because it is by a distance the most ambitious thing we have tried to do. It's pretty special, you'd need to hear it to know why.  
Which songs are your favorite to play and which get requested the most?
We love Nothing Left, which is our opener just now. That's off our last EP and is a proper thrashy stomper. I guess we don't really get requests as such, but the most common one we get people saying they wished we'd played is The Other Side, also off our last EP. It's pretty catchy.  
What is the creative process for the band, and what inspires you to write your music?
Drew [lead guitar] and Sean [guitar] will write the majority of the music, usually in some form of collaboration and then they'll take it Calum [drums] who then writes some drums. Then they argue about it for a bit, change some stuff and then it comes to me and I write some words that I feel match the mood of the song and echo something that pisses me off. Then we argue about that for a bit and then change it and then we rehearse them. Inspiration-wise? As weird as it sounds, a lot of that comes hugely from the arguing. It's actually a really fun process. And it's not really arguing, more us all showing our passion and enthusiasm for what we're doing. That we all share that passion, that's the inspiration.  
What kinds of messages do you like to get across in your music?
Lyrically, I'm all about turning the spotlight on people. I almost always write about things people do or have done. I am inspired by destruction of the environment, politics, cruelty and whatnot. I sometimes get a bit deeper, but mostly I like to shout at people about climate change or greed. 
Do you ever have disagreements in your band, and how do you get past them?
Yes, often! If we didn't though, it wouldn't be a band it would be a person and his/her/their band. The disagreement is the fuel, the catalyst, but the agreement that comes later – which is always better – is the fire. That's the music we love and the music we play. That's Catalysis.  
What are your plans for the future, and do you have anything that you want to spotlight that's coming up?
We have an album, Connection Lost, out on July 24th 2020. Physical copies can be pre-ordered from BigCartel (www.catalysis.bigcartel.com) or digital release will be on all major platforms; Spotify, iTunes, Amazon, Play Music etc. If you are interested in hearing what we're about, head over to any of these places and you can hear our two previous releases or look us up on Facebook, Instagram or YouTube and you can hear some of our new album. 
Thanks for having us!