Discover more from Volatile Weekly
Interviews in the music industry from around the world
Interview: Cathedral In Flames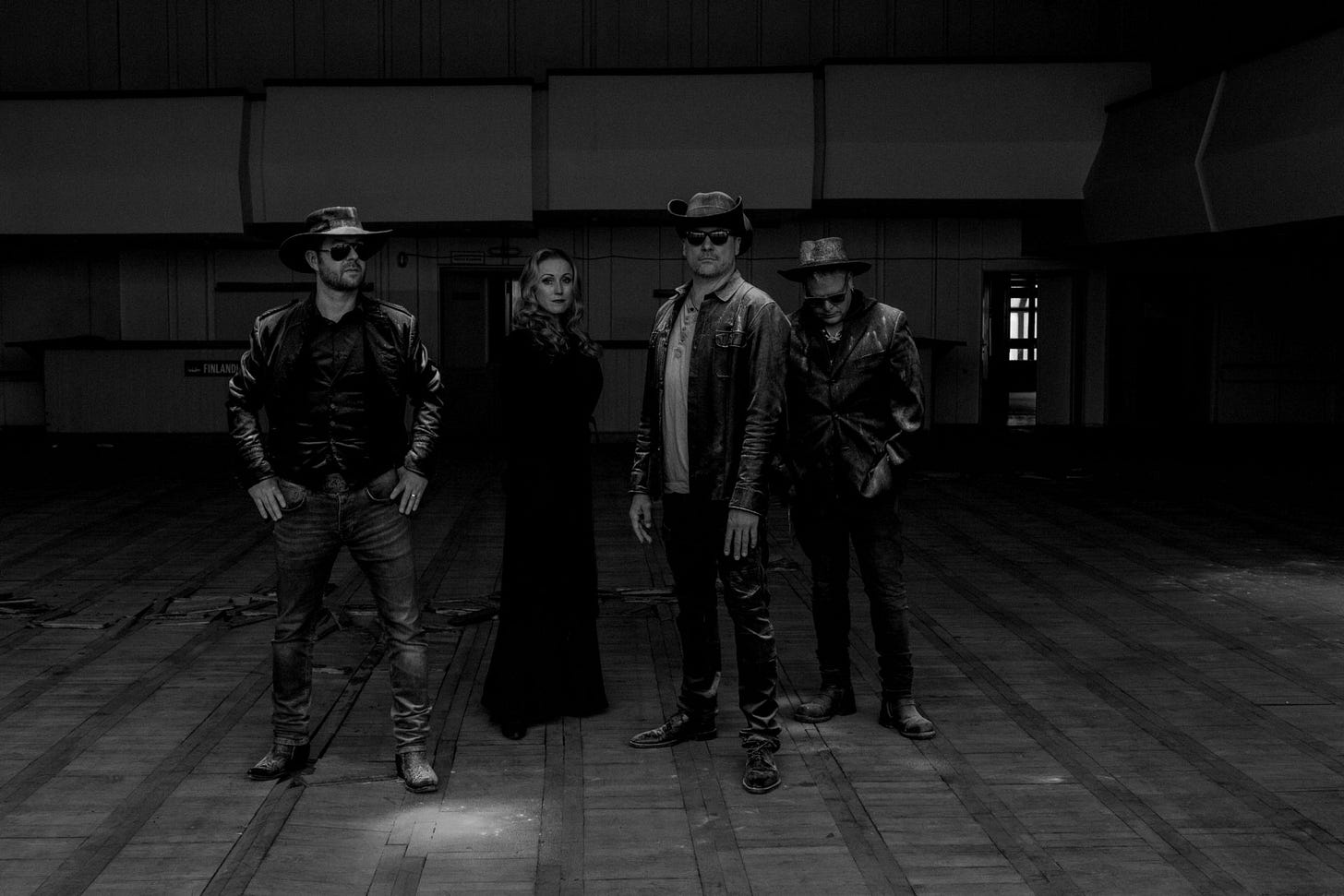 What got you into music, and if you had not gotten into music what would you be doing today?
Phil: As the gothic, it was stylish - Sisters of Mercy tape has got me into music. Don't know? Maybe drug dealing:)?
Gatsby: Track Disorder by Joy Division and Hooky's bass riffs. Difficult to say as I do music and can't imagine anything else.
What do you like to do when you're not playing music and how does that influence your creativity?
Phil: Listening to music. Reading the books. A lot.
Gatsby: The same as Phil Lee. Books are important to me the same as old movies. As it's the inspiration for my composing. And I love to ride my motorbikes! 
How long has your band been around?
Phil: Since the iron curtain fall.
Gatsby: …and I guess even a bit sooner
Where are you based out of and how did that influence your music?
Phil: We are from Prague. Kafka, Meyring, temples, churches and cathedrals. A that's our biggest influence.
How did you come up with the name of your band and what does it mean to you?
Phil: Simply it's the best name for gothic band. And even before Notre Dame.
Gatsby: I guess those times when we were inventing name, I was drunk. So sorry, can't answer.
Tell me about the best and worst shows you have played.
Phil: Our best concert took place in the church of St. Martin in the Old town of Prague. Due to our show with massive sound, torches and smoke it was even visited by the local police. But the show was afterwards voted as one of the top gigs of the year in the leading music magazine Rock & Pop.
Gatsby: The worst? Hardly remember. But there were some… We were drunk that we hardly stood on our feet. Better not to mention…
Tell me about your favorite venue to play at, and do you have any places you want to play that you haven't already?
Phil: All the cathedrals and churches we didn't visit yet. The sound is always amazing there and its celebration for both our fans and us.
Gatsby: I love ancient amphitheaters. The biggest one Epidaurus in Greece would be brilliant.
If you could play any show with any lineup who would be on the ticket?
Phil: We are not the support band and we don't like the guests as well.
Gatsby: And I hate festivals. So, you see we are pretty limited but we take it as advantage.
What is some advice that you would give to someone who is just getting into playing in a band?
Phil: Don't make any compromises and be who you really are.
Gatsby: Make it like it is the last thing what you could do in your life! But don't forget to have fun!
If you could go back in time and give yourselves advice, what would it be?
Phil: Focus more on music. From the beginning.
Gatsby: Don't listen to critics ever. 
Of your songs which one means the most to you and why? 
Phil: Children Of the blackest hole. First song that clicked together and we knew that we are as the band back on track.
Gatsby: Love all of our new songs. They're my babies and I spent so much time with them that I already started to hate them. But there is the one preferred to me and it is Gunslinger's Blues which I have written in five minutes.
Which songs are your favorite to play and which get requested the most?
Phil: Probably Python, opening track from our new album.
What is the creative process for the band, and what inspires you to write your music?
Phil: We use our own studio, so thanks to the digital networks the band all together meets only on photo sessions and video shooting. All the songs start from the rough demo from Gatsby, I add lyrics and vocals. Then Ambra, Billac and Theorodick do their part and Gatsby puts everything together and does final production and mixing.
Gatsby: My inspiration is wide but mainly movies and books. I compose or music like soundtracks to books or movies.
What kinds of messages do you like to get across in your music?
Phil: That good gothic rock still exists even in 21st century.
Gatsby: I'd be happy if people will see their own pictures and feel own emotions listening to our tracks.
Do you ever have disagreements in your band, and how do you get past them?
Phil: As we have the democratic dictatorship within the band, we never argue…
Gatsby: Me and Phil are fully aligned and the rest respects our vision of music. So, the work is pretty smooth.
What are your plans for the future, and do you have anything that you want to spotlight that's coming up?
Phil: We are preparing new album called Desperado, hope it will be released before the end of the year. But everything is postponed due to the coronavirus.
Gatsby: My plan is to write the music and have fun with it.