Discover more from Volatile Weekly
Interviews in the music industry from around the world
Interview: Craving Rain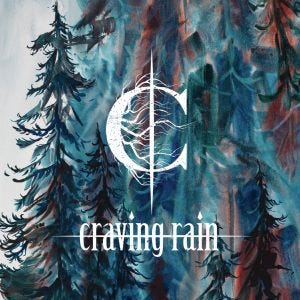 What got you into music, and if you had no gotten into music what would you be doing today?
Jasmine: On my dad's side of the family I had 2 aunts who were musical and they were a huge influence on me when I was growing up. Then when I was 10, I was given an acoustic guitar by my parents. I was pretty disappointed at the time, because I was hoping for a drum kit! I took classical guitar lessons for a couple years before quitting and then didn't pick it up again until high school. I was motivated to do so when I saw a lot of my friends were learning how to play for the first time. My mom actually was the first person to suggest writing songs when I was in my early teens, but I was very rebellious against anything she wanted me to do…so she suggested it to my friend and told her to tell me it would be fun…and I fell for it! My friend, Kristie Graves, and I then started to write songs together and we eventually started an all girl band with the help of our other mutual friend Megan Kloster. Kristie is an AMAZING writer. I wish I was as gifted with words.
If I hadn't got into music, I'm sure I would have became a naturopath. I've already almost gone down that path but decided against the debt I'd accumulate! I've got a Science degree and majored in microbiology, so I was half way there…I feel like I am doing the things that I'd do if I haven't got into music. I have a huge interest in complementary/alternative medicine, herbalism, psychology, any kind of self-improvement.
Tyrell: Listening to music got me into playing music, I guess. I heard Stevie Ray Vaughan when I was 5 years old and it just blew my mind and heart wide open. My parents were both music lovers, though they didn't play any instruments, I was exposed to the idea of musical expression and its power. It's a long story from when I was 5 to now as far as my journey exploring music goes but I started being able to actually write my own songs when I was about 17 and I started my band, which is now my main focus, when I was 20. If I wasn't doing music, I would probably be acting. That was actually my first real artistic passion but once I started to write my own music, it just took over… and if either of those didn't happen, I've always said I'd just be a mechanic. I like to build stuff and tinker.
What do you like to do when you are not playing music and how does that influence your creativity?
Jasmine: I love to learn! Right now I'm learning a lot about marketing and that whole world. Last year I was super focused on herbal medicine and before that I was finishing up my science degree (Microbiology). I've always been a huge fan of learning about alternative/complementary health, so that was my focus on/off ever since I was around 20 (I'm 33 now). To be honest I don't know how that influences my creativity! I think I go back and forth between the structure of learning and taking courses to the less structured/more from the heart practice of writing songs for me personally. So I guess learning about these other topics helps balance my life out. I've always wanted to write songs about what I'm learning about but haven't quite found a way to successfully write about those topics in a metaphorical or interesting way. One day…
Tyrell: Well I'm currently playing in three projects so there isn't really a lot of time outside of practicing and writing and playing honestly. That said, a good chunk of the time in between I'm spending teaching students. Helping others explore their own creativity and push themselves is greatly inspiring to do more of the same for myself. Other than that, if I have free time away from my own art, I use it to experience other people's. I watch movies, I play video games, I read books etc all of which inspire my art in some way. Some more so than others… but it's all part of the artistic cycle in my mind. Experience/observe others' art, create your own art, teach/help/inspire others to do their art, repeat. It's a wild ride and I love it!
How long has your band been around?
Tyrell: I believe Jaz started it with her old bandmate about 2 years ago but she's the one to ask. But I joined in November of 2019 so it's brand new to me still and I'm very excited to be putting together some new stuff and applying my style to the old songs as well.
Jasmine: February 2017 I started the band after my previous band, "This Day Burns," was falling apart. I knew that I had to continue on with music and wanted to start my dream acoustic band, so I ended up asking a guy that I worked with, who I had previously played a show with as well. He said he'd play with me until I found someone else to work with, but our writing styles really clicked, so we wrote together until about Oct of last year (2019).
Where are you based out of and how did that influence your music?
Tyrell: We live in Victoria, BC. Jaz has written all the material so far so she would be the better person to ask but I think there is a noticeable Northwest kind of grungy sound to this thing for sure. Combined with maybe a little more of the Vancouver Island chill vibes that anybody who's been here or is from here knows all about.
Jasmine: I grew up in Calgary, Alberta, Canada but moved to Victoria, BC when I was 23. I've always been drawn to writing songs that have a really drop D earthy tone to them. Drop D tuning easily creates the prettiest chords. I hung out with some hippy type friends who were also into metal when I was in high school and they really influenced my writing style. You'd think maybe I'd be more into country or something since I'm from the prairies…but f*** that.
How did you come up with the name of your band and what does it mean to you?
Tyrell: Jaz and I actually haven't really talked much about this yet. I think it's thought provoking and sounds cool but my interpretation could be way off of hers'. For now, I think I'll leave the mystery there and let listeners decide for themselves what it means. Or just listen to what Jaz says.
Jasmine: My two friends, Chels and Dave, who are the cutest couple by the way…have had this list of hilarious band names on their fridge that they've been building over a couple years…so I asked them if they had any cool ideas for my bands name and Dave suggested Craving Rain, among others. I instantly fell in love with Craving Rain! So, I'm ashamed to say that I didn't think of it, but I love that my wonderful friends have a piece in the story of my band.
Tell me about the best and worst shows you've played.
Jasmine: I haven't had any bad shows really with Craving Rain yet (and hopefully never!) just because we haven't been around for that long…but I do have a story from when I was in my last band, This Day Burns. With that band, we all switched instruments a bunch and I can KIND of play the drums. We had one song with me on the drums that we performed in Vancouver for a competition and the drum kit provided had 1 less tom than I was used to playing with…so that threw me completely off and I BUTCHERED that song. It was super embarrassing!! I'm pretty sure they told us to get off stage a song early once that happened. BRUTAL. I'll stick to singing and guitar unless I get super serious about practicing drums.
The best show I've ever played…I was at a competition, but it was a solo competition, so obviously I played by myself. The venue was packed and the sound was perfect and I nailed the songs and poured my heart out. It was just a really good night and really good energy from the crowd when I was performing. Nothing crazy happened though! A more interesting best show story was when I was with This Day Burns. We played a show at a local bar called "Logan's Pub" and at one point during the show, all of the people on the dance floor/mosh pit section started doing push ups! It was the funniest thing!!
Tyrell: Well we haven't played a show yet so let's just say I hope the first one is the best one yet and not the worst… haha I've played some great shows in Vic with my other band, Sonderous, though. I think the best show we played was back in October, packed the place and all three bands had at least one member who was also in one of the other bands on the bill (my drummer plays with another band in town that shared that bill, my guitar player plays with the third band that was on the bill as well) so the vibe was just fantastic. Worst show I played was at one of the bigger venues here in Vic that I won't mention… technical difficulties galore though. We just had some crazy bad luck that night, between patch chords that decided to quit on that specific night after years of working fine, to broken snares and my amp's "head-to-cab" cable managing to wiggle loose and cutting my sound while also risking blowing my very expensive amp… we lost about half our set to troubleshooting and the rest of the performance, we were just pissed off and not on our game. I feel bad for whoever was there for that one.
Tell me about your favorite venue to play at, and do you have any places you want to play that you have not already?
Jasmine: Last year we had the opportunity to perform at Bastion Square Market every month during the summer, thanks to my friend Melissa! Everytime we seemed to get at least 1 little kid to start dancing. It was suuuuuper adorable. Also, just playing outside downtown Victoria is a really nice play to perform.
I'd really love to play at the folk festival if they'd have us (in Vancouver!). I'm not sure if we're quite "folk" enough for them though….
Tyrell: My favourite place to play in Victoria is for sure Lucky Bar. It's not super big but it always sounds good in there and the staff are the best. Plus, they have a dope green room back stage. I've had a lot of good times back there, haha. I'm excited to play some different venues with Craving Rain though since we're not a big loud band like my other band is. As far as venues I would like to play, I guess I'd like to play a stadium show one day… that would be cool!
If you could play any show with any lineup who would be on the ticket?
Jasmine: I'd LOVE to open for Lacey Sturm if she did an acoustic set. She was the original singer for Flyleaf, which is one of my FAVOURITE BANDS. Her vocal style has been a huge influence on me and I even have a tattoo on my wrist of the flame symbol they use on their debut album.
Tyrell: That's a tough one… at least with this project it is. My first thought would be to open for the Cranberries but unfortunately that couldn't happen now without Dolores. Sure miss that woman's voice… People have been saying that Jaz kind of has an Alanis Morisette vibe to her though. I think it's there a little but not so much that she's a copycat by any means. I think that would be a sweet show. Her fans would dig us I think.. plus we got the killer Canadian rocker chick thing going on haha. If we were talking to me and my other band, I could answer much easier. Playing the same bill as either Mastodon, Tool, Gojira or all three would be superb... but I feel arrogant for even speaking to that because those bands are like gods to me.
What is some advice that you would give to someone who is just getting into playing in a band?
Jasmine: Find bandmates who are better than you, so they push you to become a better player yourself, and also make sure their personalities are more on the easy-going/not angry side…you're going to spend a lot of time with them, so you want to make sure you aren't stressed out when you have band practice. Personalities are HUGE. Make sure you find people who are as dedicated as you and will share in the costs of everything (band life isn't cheap!)…and also be committed to practicing. That is one thing I can always improve on and now that Tyrell's in the band, I'm definitely improving on that weakness. Also, one thing that I have done in previous bands was collecting band tax from everyone to build up a sum of money that can be used for recording etc.
One thing I wished I did was light a fire under my ass and get recording when I was younger. I had a dream of recording an acoustic EP and thought I'd do it (but NEVER made a plan to literally do it)…and it didn't happen until just NOW. And I'm 33. I wished I was more productive before. I knew I had talent, but I didn't have the drive that I do now. I guess everything happens for a reason but if I could go back, I'd focus way more on music than I did back then. I think it was because I was waiting to be discovered or some stupid shit like that. I did get an artist development contract when I was 16 but it didn't really do anything for my music career…So set a goal, and make a friggen plan, and get on it!! We only have so much time in this life.
Tyrell: I guess that depends on why you're playing. I would say to make sure whatever the answer to that question is the same or at least similar enough to that of your bandmates. If a guy wants to take on the world and tour and will stop at nothing to create that but the rest of the band is just wanting to play a show once a month for some beer money and a good time, then everybody ends up wasting each other's time. If everybody is on the same page about committing to the life of an artist all together though, then my advice would be to not be afraid to let go of "normal life" stuff. It's a hard thing to do sometimes but in my experience, you will regret not taking risks to follow your passion and dream. If you have to change cities, quit your job, leave some people behind either forever or for just a while, you gotta do it man. Live cheap, have roommates, whatever you have to do. PRACTICE, write, talk about life with your bandmates, be creative. Go down the rabbit hole of your imagination… If you don't, you'll be stuck one day wondering what life would've been like if you had.
If you could go back in time and give yourselves advice, what would it be?
Jasmine: Oh shit, I just talked about this in the last question. My bad…but to reiterate…"GET GOING." Oh, and also, keep writing even though you think it's sh*t. You need to get through the bad songs to create good ones. Practice, practice, practice.
Tyrell: Probably something similar to what I just said… haha I do live by that now and I'm happy for it, but it would've been cool to have known a little sooner in my life. Some of the best advice I've ever gotten was as simple as "don't waste your time, do what you wanna do RIGHT NOW."
Of your songs, which one means the most to you and why?
Jasmine: They all mean a lot because they represent the internal explosion of intense emotional energy I was purging out at one point in my life…"Family" is about a family member that I love but had to let go of. "Jealousy" was about a really hard relationship I was in…well it represents a characteristic of my personality that has haunted most of my relationships and a somewhat recent relationship brought that feeling out yet again, but it definitely was rooted in not loving myself. So there was a point when I was forced to spend Christmas alone and that's where I started writing the lyrics and melody for that song. "Anonymous" I only wrote the melody to (co-wrote with my ex band-mate and also used lyrics of my friend Kristie Graves). "F*** the Distance"… oh man. We're just gonna leave that one alone…haha. So I guess Family and Jealousy if we're keeping it to recorded songs only.
Tyrell: I think "Jealousy" does at the moment. Not only was it the first song I heard from this project but I actually really have been connecting with the lyrics a lot more lately. Jaz has a cool way of describing her situation at the time that leaves it open for some interpretation but I just like the overall theme. I've just fit into the song quite naturally I think.
Which songs are your favorite to play and which get requested the most?
Jasmine: I've had a lot of people want to hear "Jealousy" and "Anonymous" seems to get a good reaction. Other people really want to hear "F*** The Distance"…so it really depends on the style of whoever is around me. Everybody connects with a different vibe. I go through phases with liking my songs. Right now I like "Jealousy" the most, but during recording, I really loved "F*** The Distance" and "Anonymous." Since Tyrell has joined the band, he has brought new excitement to playing ALL of the songs because of the new little diddly parts he's added. Actually, because of that, "Anonymous," is my favorite. Is it too late to change my mind?
Tyrell: As I just mentioned, "Jealousy" is great to play. I put a neat solo in there I think and it's not on the recording but I'm happy with my version. Plus, I sing some harmonies with Jaz and it's a lot of fun. I also really dig Fuck the Distance though too... the chords are just so nice and I also came up some cool little broken chords to play over the top that you will only hear live as well, haha, but I'm stoked about them.
What is the creative process for the band, and what inspires you to write your music?
Jasmine: Right now, Tyrell is learning all of the material I already have, so we haven't been able to write a lot together yet, BUT he's cranked up the awesome on all of the songs, by a lot. It's almost like they are new again. So many pretty notes he's added…but you won't be able to hear that until our live shows. Our EP release show is April 23, 2020, at Darcy's Pub in the Westshore (if you happen to be on Vancouver Island during that time).
Tyrell: Well as it stands, Jaz basically has an idea for a song (likely some chords and a vocal melody, maybe some lyrics), she tells me about it and I see what I can do with it to help illustrate to the mood of the song. So, with that, I ask questions about what it's about, how she's feeling, etc. basically whatever I would want to hear if it was me sharing my ideas and feelings with somebody haha and with that as our guide, we move forward. That said, we've only barely dipped our toes into this process since my joining the band so we'll see how things go in the future but I think that will likely be the basic gist of how things go down for us.
What kinds of messages do you like to get across in your music?
Tyrell: Another question may be more suited for Jaz as she writes the lyrics for this project. However, I think we have similar ideas on this… I like songs that are from the heart. I don't want to just say "positive vibes only" with music and/or art. That's really not the point to me. I love how music can make painful things into something beautiful and I'm personally more fascinated by music's ability to inspire empathy than I am of its ability to make people dance or buy drinks… when I write songs, I generally have a positive message overall just for my own sake but I like to expel all the nasty shit through the song. It's about catharsis for me. In some cases, I actually kind of write my way out of painful situations I would say. I often write a sort of happy ending to my own story through a song in order to kind of manifest that in the real-life situation that inspired the idea… and by the time I'm done, I've actually realized that the happy ending is actually a real thing that I maybe wouldn't have seen if I didn't write the song. But that's just me.
Jasmine: Oh man…my music writing is a selfish process, so I can't say that I'm trying to accomplish anything or get a message out. It's really just a cathartic experience (just like it is for Tyrell…and I totally stole that word, ha!) for me and a way that I've developed to cope with my emotions. I write whatever I need to write to make my soul happy. Since meeting my boyfriend (who is now since my fiance…!), I've actually been inspired to write happy songs. I used to only write sad songs…thank f*** I'm not limited to that anymore.
Do you ever have disagreements in your band, and how do you get past them?
Tyrell: Jaz and I are in the honeymoon phase still so we never argue about anything, haha. I don't expect us to have any major issues though as we're very much on the same page about our roles in the project and we've become friends very easily too. I'm sure we will disagree at times but I'm confident we can talk through it. It's always a thing when you're creating things with other artists… but personally, my whole goal with this project was and is to let somebody else take the reigns because I already have a project where I really put all my most personal stuff into. I think that's gonna make this a lot easier for us to get along just fine. My other band and I have had many disagreements over the years but at the end of the day, if you're doing things for the right reasons and you care about each other, you can likely talk through these things. You have to be honest with yourself and be able to admit when you're wrong and conversely, you have to allow others to admit they were wrong too without making that seem like some sort of "victory" for you who is now proven right. That will just discourage your counterpart from changing their mind next time… when somebody has the courage to admit they were wrong and allow their mind to change and in doing so, resolves an issue, that is a victory for everybody and should be celebrated together. I've had my heels dug in on some stuff before and realized later that I wasn't fully seeing somebody else's point and allowed myself to change my mind.. and other times I've thought about it over and over and heard people out but I'm still so sure that I'm right and eventually I find a better way to explain where I'm coming from and what makes me so sure and my counterpart(s) see(s) the point in a way he/they didn't see before and allows his/their mind(s) to change. It's a two-way street. The goal is to make wicked music and that happens when everybody loves the song at the end of the day, so you gotta find a way to make that happen.
Jasmine: We fight every day. Can't stand the guy. Just kidding! I think we both have enough emotional intelligence to be self-aware and not be reactive about any issues that may come up (not that they have yet), and we'll definitely be able to talk shit out and not have any unnecessary breakdowns as I have had in past bands. I really was only looking to hire a musician after parting ways with my last bandmate, because it was so hard on my heart and I was stressed out about issues we were having. But after getting to know Tyrell even after a very short period of time, he gave me the impression that I didn't have to worry about him overstepping his bounds and it leading to a stressful future if he were to join the band. So I'm glad it worked out the way it did! So far so good! But it's only been 4.5 months.
What are your plans for the future, and do you have anything that you want to spotlight that is coming up?
Tyrell: Jaz and I have already started working on some new material so I think the first thing on our minds is definitely completing some new songs and then recording again. I really want to get some stuff out there that actually has my playing on it, haha and I think Jaz does too. That and I think we'll probably do some video content to showcase some of the nuances I've added to the songs off the EP but you'll have to just keep an eye and ear out to see!
Jasmine: Currently, we have a pre-sale going on for our EP which ends on our launch day March 19, 2020, in which you can find details at www.cravingrain.com. We will have music videos coming out not too long afterward for Jealousy and Anonymous as well that were shot before Tyrell joined the band (so he won't be in them, unfortunately…). Then, I'd really like to record a second EP with Tyrell on it. I'm really excited to do a little bit more production on it and see how it turns out. More songwriting too with Tyrell and his crazy amount of theory and musical skills AND beautiful voice! It's so nice to have a bandmate to sing with!
Thank you so much for talking with us. We really appreciate it!!