Discover more from Volatile Weekly
Interviews in the music industry from around the world
Interview: Crejuvent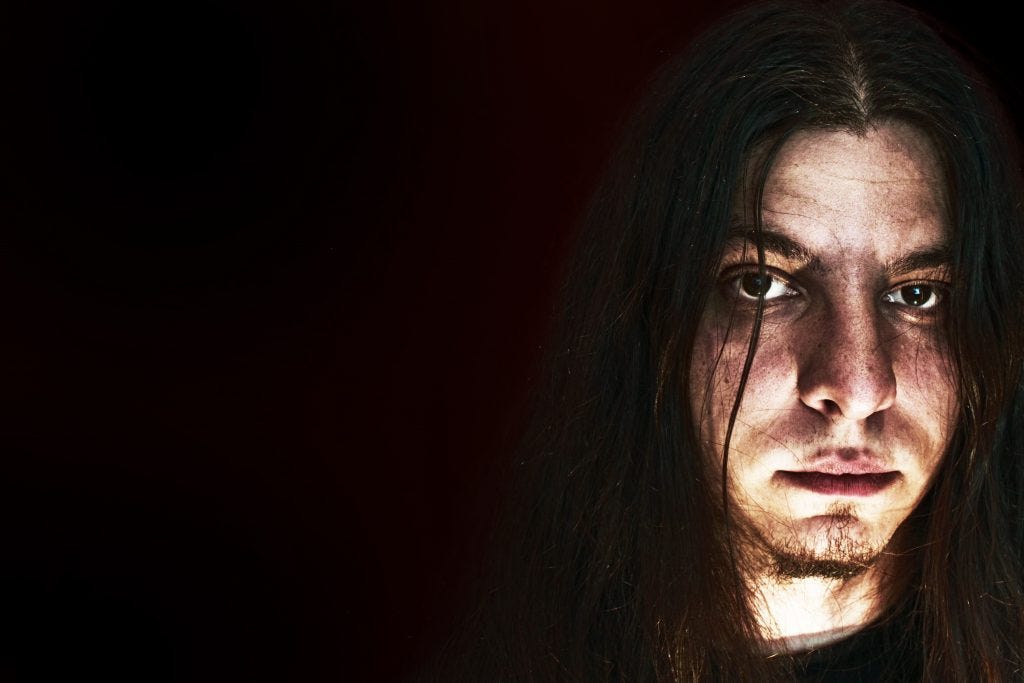 What got you into music, and if you had not gotten into music what would you be doing today?
What really got me into music was teenage angst and uncontrollable hormones. No that's not a band name, I was just a really angry child and I wasn't getting laid in high school so I just resorted to music instead. If I wasn't as angry I'd maybe be some kind of engineer, I don't know. I don't really think about it too much to be honest, life is already depressing enough as it is without thinking about what could have been if I didn't have the single greatest thing in life.
What do you like to do when you're not playing music and how does that influence your creativity? I try to hang out with friends when I'm not doing something music related to try and get out of my own head for a bit. I also cook a lot, and lately I've been gaming a bit more than usual so that's fun. Sometimes I'll watch something that may inspire what I write about - the track Code Orange from my last release was vaguely about themes from A Clockwork Orange. I'll be releasing a single on May 18th with a B-side called Blue Spirit that's about the character development of Zuko from Avatar: The Last Airbender. His character not only influenced the lyrics, but also the musical themes, structure, and arrangement.
How long has your band been around?
I started Crejuvent initially in...2014 maybe? But my debut release was about two years ago in the summer of 2017.
Where are you based out of and how did that influence your music?
I'm currently based in Liverpool. Not sure how that influenced me directly to be honest, although naturally, everything around you shapes who you are. I don't think I had many meaningful experiences that were exclusive to this city though, you know? Perhaps I've been wasted a bit more than is healthy for me which might have had an influence on the music but who knows.
How did you come up with the name of your band and what does it mean to you.
I accidentally came up with the name playing scrabble many years ago. I decided to use it because it yielded the best Google results and because I thought it was JUUUUST cringy enough! It means nothing to me except maybe it symbolizes my incessant need to self-sabotage my own efforts.
Tell me about the best and worst shows you have played.
Best show ever I'd say would have to be playing Metal Days in Slovenia with my other band Novacrow. It was sunny and I had velcro pants. The worst one would have to be a gig I did just last year with a Misfits tribute band I play with called Famous Monsters. We were meant to do an hour and fifteen-minute set and instead we were (politely) asked to stop playing after about 20 minutes because "nobody knew the songs we were playing".
Tell me about your favorite venue to play at, and do you have any places you want to play that you haven't already?
I played a show in Nuneaton at a venue called Queens Hall (I think?) that was quite nice. The show itself wasn't great, there were only like 6 people, but the venue was huge and the green room had a working shower with toiletries and shit, which you rarely get. I helped myself to an excellent shower after the show and played Mario Kart on my Switch before driving back home, so it was almost worth the poor attendance! I don't really have a specific place I'd want to play, as long as it's somewhat stage shaped I'm good.
If you could play any show with any lineup who would be on the ticket?
I was asked TWICE to play with Tragedy - metal Bee Gees tribute band and had to decline BOTH times because of scheduling conflicts. Man was I disappointed, I love Bee Gees...so I'd have to say them.
What is some advice that you would give to someone who is just getting into playing in a band?
I am in no position to be giving out advice to anyone. But if I had to I'd say keep busting your ass because it's getting harder and harder out there. If you don't feel like working hard, then you probably don't want it bad enough and that's ok.
If you could go back in time and give yourselves advice, what would it be?
I could have had SO MUCH SEX if I had just been more attentive and not ignored advances made towards me… Oh wait, were you referring to musical advice? If so the previous statement still stands.
Of your songs which one means the most to you and why?
Whoa boy that's a loaded question. I'd PROBABLY have to say Dualism, which was released in 2015 as a set of demos. Not only thematically, but writing it was so natural, it was the first time I felt so much pride towards a piece of music I had created.
Which songs are your favorite to play and which get requested the most?
People usually want to hear Word Vomit because of the Simpsons sample. Man, people are dumb. I think my favourite to play is Time, the riffs just flow off my hands so easily, and singing it is a lot of fun too.
What is the creative process for the band, and what inspires you to write your music?
My biggest inspiration is my need to emotionally purge. I suck at talking so I let the music say what words can't. The process is whatever works - sometimes I'll develop a riff over and over again, sometimes I'll start with a melody, whatever works.
What kinds of messages do you like to get across in your music?
I generally end up writing lyrics based on self-reflection, or some kind of basic philosophical concept. And sometimes I just want to scream "fuck, shit, fuck, shit" (see Fuck This Shit from the Time EP). I'm not sure I would say I get a message across my music as that's not why I do it necessarily. I feel like I'm saying something with the music, but I just want people to hear what they want to hear, I don't want to force a message onto the listener that they're not interpreting.
Do you ever have disagreements in your band, and how do you get past them?
I disagree with myself all the time. Whenever I'm unsure about something I just have a power wank and settle the uncertainty during that sweet post-coital period of clarity.
What are your plans for the future, and do you have anything that you want to spotlight that's coming up?
Absolutely, I got a new single coming out May 18th titled Vesti La Giubba along with a video and a B-side. It's a cover of the famous aria from Leoncavallo's Pagliacci opera. I'm very proud of it and I'm sure listeners everywhere will enjoy it! Check it out, it's got super creepy artwork!