Discover more from Volatile Weekly
Interviews in the music industry from around the world
Interview: Dark Agenda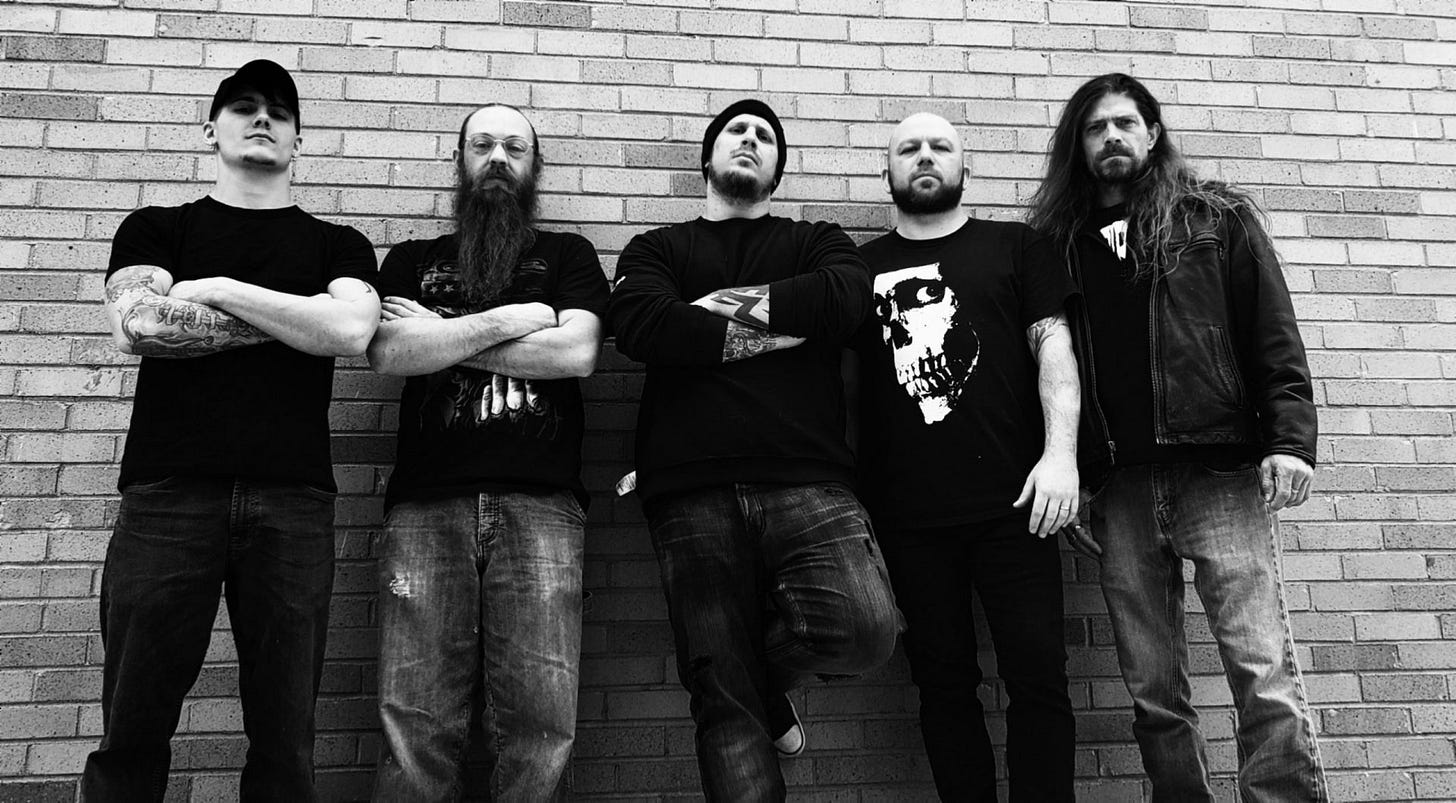 What got you into music, and if you had not gotten into music what would you be doing today?  
Music has always been an escape and the best place to find serenity.  We were influenced by many metal bands that made us want to pick up our instruments and play. If we weren't doing music Jesse would be a Janitor, Joshua a hydro dam operator, Eddie a Chef, Dan a Mechanic and Bob workin at the gas station.  We currently still do these things and most importantly we're all parents.
What do you like to do when your not playing music and how does that influence your creativity? 
We all have interest in music and the fact that some of our biggest influences are still putting out new music is a huge inspiration. I (Joshua) really enjoy horror movies, reading old lore and comic books.  Thats where I draw a lot of inspiration for writing the songs. Also through personal life experiences.
How long has your band been around? 
We've been around for about 2 years now.
Where are you based out of and how did that influence your music?
 We are based out of Anamosa/Cedar Rapids, IA.  Iowa of course is the home of Slipknot and their music along with their success has instilled some hope that Iowa doesn't get completely overlooked.
How did you come up with the name of your band and what does it mean to you? 
 We came up with the name just brain storming ideas and then Dark Agenda came to mind because we're into the darker topics the darker aspects of life, conspiracies and more.  Dark Agenda to us is an idea that even in Darkness you can find the light and not to fear the unknown.
Tell me about the best and worst shows you have played.
 The best show we played was for over 600 people opening up for Sumo Cyco, The Browning and Jinjer it was a great experience!  I can't say we've really had a bad show yet or worse experience yet.  I emphasize on yet cause its most definitely bound to happen we've had some pretty awesome experiences and wild moments.
Tell me about your favorite venue to play at, and do you have any places you want to play that you haven't already?  
Our favorite venue is probably Spicoli's in Waterloo, IA or Wildwood in Iowa City both for the same reason we have a loyal following and they've always been real welcoming to us and treated us as metal family especially Spicoli's.
If you could play any show with any lineup who would be on the ticket?  
Testament, Slayer, Megadeth 
What is some advice that you would give to someone who is just getting into playing in a band? 
Practice, Practice, Practice and understand that you'll have differences amongst one another be understanding and work through issues together.  You'll come out better as a band because of it.
If you could go back in time and give yourselves advice, what would it be? 
 I (Joshua) would say you should have gotten together with the guys when you were younger and had the chance.
Of your songs which one means the most to you and why? 
Lilith at this point means the most to us because it represents a huge shift in ideas for what we want for a sound and it showcases all of us on a certain level.
Which songs are your favorite to play and which get requested the most? 
 Our favorite songs to play are Vampire, Lilith, Misery & Overthrown.  Vampire & Lilith are our most requested songs.
What is the creative process for the band, and what inspires you to write your music?  
Typically Dan, Eddie or Jesse create a guitar riff and share it with us all. Then Bob lays down the drum beat and tempo and Joshua writes the lyrics.
What kinds of messages do you like to get across in your music?  
We like to challenge people to have a more open mind and look through other perspectives. We also just like touching on topics that we're interest in like horror, lore, topics of religion, heaven and hell, feelings, and mental health.  Our music is pact full of energy and if you like Metal its got a little something for everyone.
Do you ever have disagreements in your band, and how do you get past them? 
Oh yeah! We've got in some pretty heated arguments but we're also brothers not by blood but through metal.  Siblings fight all the time and at the end of the day we all care for one another and its very important to listen to one another and communicate. The more issues we've had its given us the chance to learn from one another and get better at handling disagreements.
What are your plans for the future, and do you have anything that you want to spotlight that's coming up?
 Our plans for the future is just to keep doin what we love and making music. We would love to tour the world and spread our music globally. Right now we would like to spotlight our latest release of Lilith and the Turkey River Music Fest in Spillville, IA August 7th.