Discover more from Volatile Weekly
Interviews in the music industry from around the world
Interview: Dark Serenity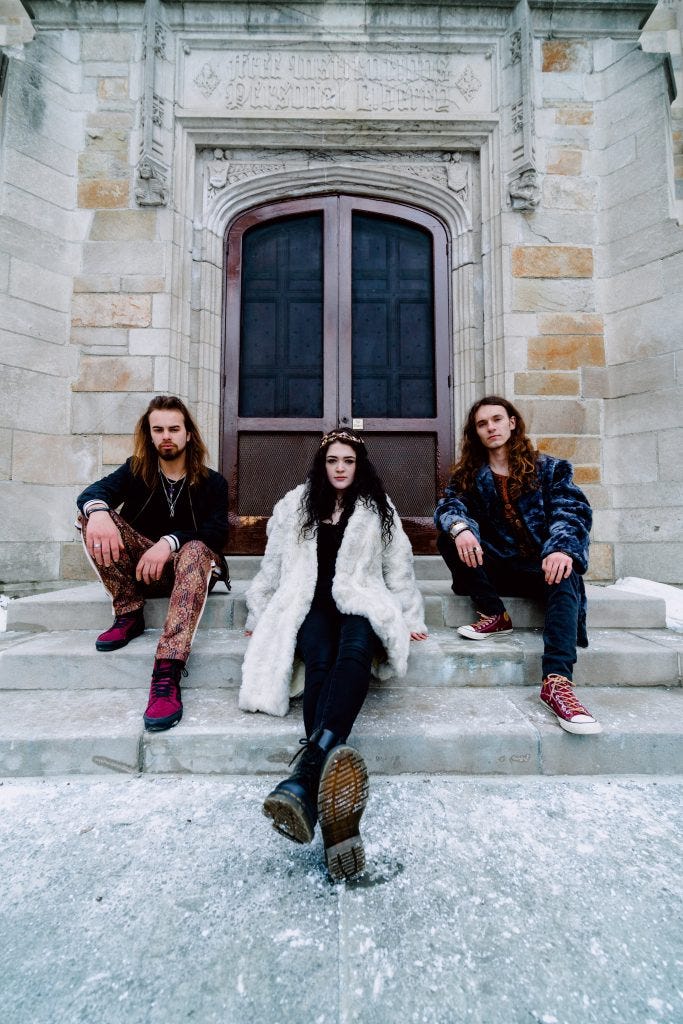 What got you into music, and if you had not gotten into music what would you be doing today?
We all had gotten into music at different periods - Kate, our guitarist/vocalist grew up with parents that were both music majors and got her into music lessons early. She was originally influenced by music that her parents played (Stevie Ray Vaughn, Foo Fighters, Rush, Fleetwood Mac) and then expanded her taste as she continued to learn more and become more passionate about her music. Zach, our bassist, picked up a bass when he was 13, inspired by the music of Ozzy Osbourne and Black Sabbath. Mike, our drummer, began playing drums in middle school, inspired by musicians such as Dave Grohl and other heavy-handed drummers. We all couldn't imagine ourselves doing anything else, because we had each decided from such a young age that there was nothing we wanted more than to play music for a living.
What do you like to do when you're not playing music and how does that influence your creativity?
When we're not playing music we enjoy spending time with our friends and exploring new places. We think that both of these things give us different perspectives worth exploring creatively.
How long has your band been around?
We've been a band for two years.
Where are you based out of and how did that influence your music?
We're based out of Dexter, a small city in southeast Michigan. It doesn't influence our music much.
How did you come up with the name of your band and what does it mean to you. 
"The driving force for life is death". This idea is what we based our name as well as a few of our songs around. You can find serenity in dark, in this case, a purpose in the one inevitable truth: all life comes to an end, so you must live life fearlessly. 
Tell me about the best and worst shows you have played.
The worst show we played was in Detroit. After it rained, the venue's ceiling had cracks in it that were dripping water down onto the stage while we were playing. The stage was also completely soaked and we had to keep all the electrical cords off of the ground. The best show that we have played to date was at The Club Above two weeks ago. We opened with our newest song, and the energy from the crowd that night was amazing. 
Tell me about your favorite venue to play at, and do you have any places you want to play that you haven't already?
We love playing the Pike Room at the Crofoot in Pontiac, MI. It's relatively intimate, so every show there is a really close experience with your audience and you can really feed off of the energy. That venue houses some of our best memories, and it's also a place we have made many new friends and been turned on to new bands. 
As for venues we haven't played at that we'd like to, we're hoping to play the Paramount one day, largely because a lot of the artists we've looked up to over the years have performed there.
If you could play any show with any lineup who would be on the ticket?
If no rules apply, artists living or dead, our dream show would be with Black Sabbath, Rush, and Led Zeppelin. Gotta pay homage to the greats. 
What is some advice that you would give to someone who is just getting into playing in a band?
It doesn't happen overnight. You can't get anywhere without putting in the work. 
If you could go back in time and give yourselves advice, what would it be?
Focus on what you can do in the now, otherwise, the future seems unattainable. 
Of your songs which one means the most to you and why? 
Our song Black Sheep is probably the one that means the most to us, this is a song where we all feel like we stand out, especially live. It's got the emotional intensity of a ballad, but the driving intensity of a hard rock song, and we feel like everyone connects to it when we play it. 
Which songs are your favorite to play and which get requested the most?
Our favorite song off of our album to play live is Black Sheep. Our by far the most requested song is False Reality. 
What is the creative process for the band, and what inspires you to write your music?
We write songs by having improv sessions and developing the best ideas we get out of those sessions. Typically the bassline gets written first, the drums second, and then the guitar and vocal melodies are written on top. Lyrics come last, but the idea that the lyrics are based around is used to shape the feel of the song. 
When writing, we're inspired by how much we feel and connect with the music that we're playing. We're also inspired by major life lessons and truths that we're discovering. 
What kinds of messages do you like to get across in your music?
We like to include messages similar to the meaning of our band name. Like, 'you only have one short life and lots of dreams and aspirations, how are you going to put in the work? How are you going to invest in yourself with what you already have? How does the idea that you're going to die someday effect what you're doing right now?'
Do you ever have disagreements in your band, and how do you get past them?
We don't ever really have disagreements. Everything seems to work with the three of us, because we have a big picture mindset. If you can't get past small issues day-to-day, how are you going to make it work long term? It's important to keep that in mind.
What are your plans for the future, and do you have anything that you want to spotlight that's coming up?
We're about to tour for the summer, and upon returning we're going to be immediately planning for the next tour, and working on our next release. Keep an eye out for a new release in 2020.