Discover more from Volatile Weekly
Interviews in the music industry from around the world
Interview: Dead Fish Handshake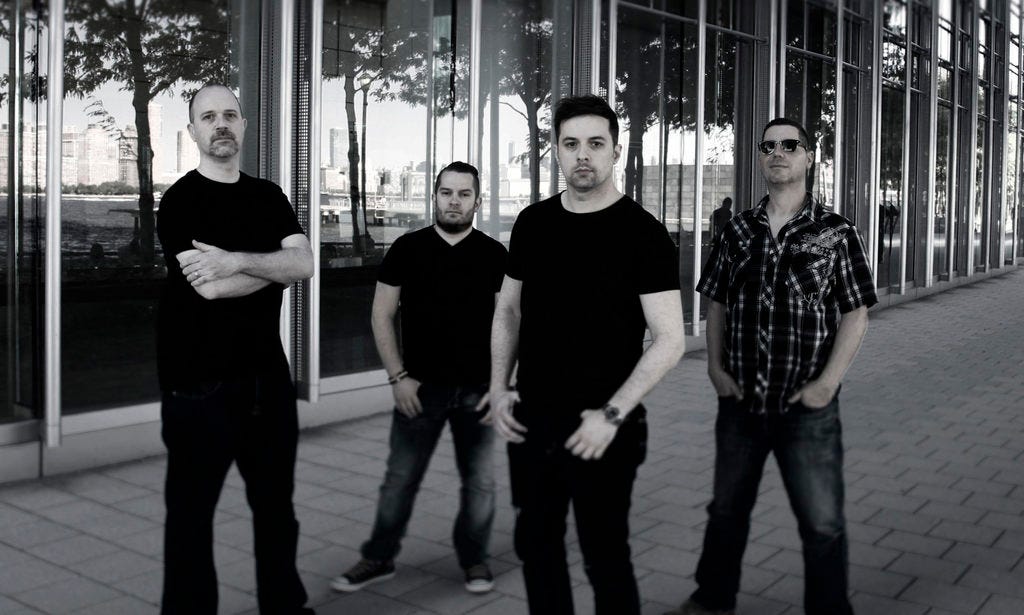 What got you into music, and if you had not gotten into music what would you be doing today?
Rob: Music has always been there for as far back as I can remember. One of my older brothers is a guitarist and watching him do his thing was very inspiring. My passion was furthered by all the great music that I got exposed to as a kid from at home. It's hard to imagine music, in some shape or form, not playing a role in my life.
Matt: My voice was always deeper than everyone else's since I was 14. Ha! I knew I had to do something with it or it would be a gift from God wasted. I'm a huge sports fan so everyone was begging me to put my efforts into journalism and become a broadcaster. Instead, my older sister put a Pearl Jam cassette in my hand and the rest is history.
What do you like to do when you're not playing music and how does that influence your creativity?
Rob: I love to travel. There's so much history in the world. So much to see and draw creativity from. The art of film is also very inspiring. I love film scores and how important they are  to the emotion that a movie is trying to convey.
Matt: I'm a huge food and wine person. I collect European fine wines. Italian, French and Spanish to be exact. There's so much romance that goes into the perfect pairing of food and wine. Maybe that's how I approach lyrics and melodies. Or maybe I'm just drunk. Ha!
How long has your band been around?
Rob: We've been a band about 10 years now. Originally, the idea was to be a one-and-done acoustic side-project between Matt and I, but after the first few songs, we were both pretty inspired by the idea of working together and thus it blossomed into a full unit after rounding out the band with Darren and Mark.
Matt: Like Rob said, it's been a fun 10 years. We've experienced all the highs and lows that come with this and we are lucky to still be relevant today. It's a blessing.
Where are you based out of and how did that influence your music?
Rob: I was born and raised in Jersey. I think every bit of life shapes you. So whether you're a writer, a painter, or a performer, your experiences factor into your artistic expression. There's nothing specific I'd say about my personal experiences, but as they say, you're a product of your environment.
Matt: I'm actually from Rhode Island originally. New Jersey has become a second home and i appreciate everyone who has embraced me there. But as a New Englander, I was fortunate to watch a lot of the "Boston" bands break from the local scene there. Staind, Nothingface, Kilgore, and Godsmack were all doing their thing when I was cutting my teeth in music so getting some opening slots with them in the early days definitely influenced some of my phrasing and presence as a singer.
How did you come up with the name of your band and what does it mean to you.
Rob: In the early days when Matt and I were titling the project, we were trading "war stories" of our respective experiences in the music scene. The name was a sarcastic jab at the many folks we met "in the biz" on the come-up.
Matt: This one is all Rob Ferreira. Ha! I wasn't a fan of the name initially. I agreed with the principle behind it but it wasn't my first choice. But time was ticking and we needed a name so I just said "the hell with it, if the music is good then who cares what it's called," And then our lawyer said the name was the best thing about us! Ha! So he gave us another "dead fish handshake" to seal the deal. Now, i think either you love it or you hate but either way it's our job to make you remember it.
Tell me about the best and worst shows you have played.
Rob: We've had the fortune of playing with some of our musical heroes. To be a young impressionable kid, listening to some of my guitar heroes in my bedroom, and then fast forward to years later, sitting with them talking shop. Those are moments you could only dream of.
Matt: Best show hands down had to be our mainstage performance at The Clarke Music Festival in our home-state. What we had to go thru to obtain that spot was very gratifying. In short, we battled with all of NJ's finest and came out victorious and that was really the first chance for the fans who support us to see us take a step up in our careers. From there we've been able to tour nationally and keep our reputation growing. The worst show...I remember a small club show at one of our favorite bars in NJ when we were just starting out. I lost my voice 2 songs in and it was just a train wreck from then on. Ha! But u know, looking back, you need one of those early on to humble you a little bit and really stress the importance to take care of your instrument like a professional. Happy to say we haven't had many bad ones since.
Tell me about your favorite venue to play at, and do you have any places you want to play that you
haven't already?
Rob: The legendary places that I grew up hearing about like CBGB's in NYC or Maxwells in Hoboken were a lot of fun to play while they were still there. There are a few joints like that thankfully are still plugging along, like The Saint & Stone Pony in Asbury Park.
Matt: We've been very fortunate to be booked on the theatre circuit on the East Coast. So whether it's the Bergen Performing Arts Center or the St. George Theatre we've been lucky to play some big rooms. But if we ever get to Red Rocks or Madison Square Garden, we'll let you know how it goes! Ha!
If you could play any show with any lineup who would be on the ticket?
Rob: Oh man. I can fill up a show with a lineup so lengthy that there wouldn't be room for us to play on it. I'd sit on the side and fanboy away. Matt: DFH Fest with U2, Pearl Jam, Soundgarden and Nine Inch Nails! And throw in Vanessa Williams so I could ask her out! God, I loved her.
What is some advice that you would give to someone who is just getting into playing in a band? Matt: Be authentic. We all have influences but put yourself in it. Say what you mean and mean what you say. If you feel it, then there's a 100 percent chance that other people feel it too. They just don't have the confidence to say it the way that one person can. And my other piece of advice would be...Take advice!!! Listen and learn from those that came before and conduct yourself with professionalism so others can view u in that same way. Rob: Art is a passion. It's about your expression. Find your own voice and be comfortable in it. If you love what you're doing, you'll find success in the smallest things. So it's important to establish what you want and go all in. And remember that nothing worth having comes easy.
If you could go back in time and give yourselves advice, what would it be?
Rob: I'd tell myself to be more open to going off-script. You can make all the preparations in the world and it still may never go according to plan. So be open to those possibilities and embrace them when they make sense.
Matt: I'd tell myself to not to let ego control your personal life. When you're younger you think you're invincible and the cock of the walk.  You find out later that people are not disposable. While it may make for some good song inspiration, you pay the price for it later. Better to surround yourself with who really understands you and figure out a way to make them part of your life and appreciate them while you have them.
Of your songs which one means the most to you and why?
Rob: "Leave The Light On" is a special one for me. That's one of those songs that you hear about where two individual ideas, written independently of one another, come together so well. Everything fell into place and just magically fit together; everyone just kind of looked around the room and felt that this one was special.
Matt: I'd have to agree. Those lyrics were written during a very difficult time in my life and I'm extremely thankful for how that song has become so popular with our fans. I wrote that song to get myself thru a very dark period and the fans show me through their stories how necessary it was for me to come into the "light" side of things. Darkness gathers around the light and we all control the switch to make it go away. That song is the perfect relationship between us and our fans.
Which songs are your favorite to play and which get requested the most?
Matt: "Nothing Stays Gold" is my favorite to open up with. That song is the standard for me to start the night. "E-Motionless" is also one that I love to sing in any capacity. As for requests...it's always "Turning a Blind Eye" and "Leave the Light on". And hopefully we have more staples coming from our new album. Rob: I'm going to offer up a very vanilla answer, but it really comes down to the evening for me. We don't always have a designated setlist for a show. We'll read the mood or sometimes feel the crowd and put it together before going on. During an intimate acoustic evening, you'll have some more emotive songs that really strike a nerve. Other times, you just want to really let loose and feed off the crowd's energy.
What is the creative process for the band, and what inspires you to write your music?
Rob: Most of the time, there are a lot of incremental steps to completing a song of ours. It always starts with a musical idea. Sometimes it has a place-holder vocal melody; sometimes it's strictly music - and it's expanded upon in the room with the guys until we get an arrangement we like. At that point, Matt will begin writing to it. Matt: When Rob gives me a skeleton riff idea, I try to let his guitar tell me a story or let it convey some emotion to me. A lot of things he writes actually sound like "melodies". So the real challenge becomes creating a vocal melody that's equal to what he's playing, or at least compliments it in a way that enhances the song. If the music is a wave in the ocean, the lyrics and vocals are how you swim above it. Ebbs and flows and dynamics are something we strive for. Once there's a good foundation down, Darren and Mark become the heartbeat to whatever musical life we created.
What kinds of messages do you like to get across in your music?
Rob: I think Matt does a fantastic job creating a visual with his lyrics, all the while leaving the song open to interpretation for the listener to relate to. There isn't an overall theme in our music, but there is a humanizing aspect that we hope the listener can connect with.
Matt: My hope is that these words and songs are your voice when you don't have one. The transferal of emotional distress can be healthy when it's done in a relatable and strengthening way. And I can't think of anything more relatable or stronger than music. I hope that we are leaving people better than how we found. Or more-so even, how they "found" us.
Do you ever have disagreements in your band, and how do you get past them?
Rob: (laughs) Keeping a band together is one of the hardest relationships to manage. In a typical relationship or friendship, you have to strike a balance with that one other person. In a band, that co-dependency is spread out among multiple people. That's a lot of personality to consider. It's why you need to have an overall scope of what everyone is looking to get out of each other, musically or otherwise.
Matt: We disagree constantly! But that's what makes something great! The debate. The dichotomy. The compromise. All relationships need that area of expression. If you're not arguing from time to time, then you aren't being comfortable enough to be yourself and say how you feel. Art needs honesty in order for it to thrive. The thing with our disagreements is ultimately it's rooted in respect. We don't cross the line of demarcation. But we definitely push it. Ha! That tension sometimes makes a song great.
What are your plans for the future, and do you have anything that you want to spotlight that's coming up?
Rob: We have a new record coming September 18th : "Lies…And All That Jazz". Over the years, we've amassed a catalog of songs that I personally would love to bring to life in a recording studio, so that would be next on tap for me.
Matt: We are really excited about the future. Obviously, the landscape of music is changing. And even though it's an unknown variable right now I still think a band can be optimistic if you're willing to embrace change. We are fortunate to have our new album coming out on 9/18 and we are using this time to enhance our virtual presence and hopefully that gives us even more options to connect with our fans creatively as we continue to write new music. And we definitely have a ton of new music ideas floating around. The goal is to enjoy the push of our new album and head right back in in 2021 and start writing the follow-up.