Discover more from Volatile Weekly
Interviews in the music industry from around the world
Interview: Dig Two Graves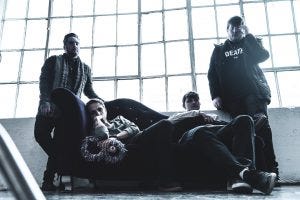 What got you into music, and if you had not gotten into music what would you be doing today?
Kenny: I had a drumset as a kid but stopped playing for years. I picked it back up around age 16-17 because my friends were both musicians. I really have no idea what else I would want to do so I'm glad I found that I really enjoy music.
Josh: I started guitar lessons when I was a kid because I thought it'd be cool. If I hadn't I probably would've gotten into fashion design or something.
What do you like to do when you're not playing music and how does that influence your creativity?
Josh: I like to watch anime or read. Usually when I'm writing songs I tend to write the music based around some kind of narrative arc, so watching and reading a lot of stories is very influential to my songwriting.
How long has your band been around?
Kenny: Close to 3 years now but we didn't start being serious until about a year later
Where are you based out of and how did that influence your music?
Kenny: Central New Jersey. Not sure if it has had a significant impact or not.
How did you come up with the name of your band and what does it mean to you?
Josh: I don't really know, I came up with it; I thought it sounded cool and edgy.
Tell me about the best and worst shows you have played.
Kenny: For the worst, we've played a couple tiny shows in Trenton where not many people showed up.
Josh: My favorite set we played was at the Kingsland in Brooklyn. The lighting was really dope, and I looked dummy cute.
Tell me about your favorite venue to play at, and do you have any places you want to play that you haven't already?
Josh: We play at Allstar Music Empire in Flemington, NJ a bunch. That place is super great. As far as places I'd like to play, in the short term it'd be really sick to play at Starland Ballroom but they're stinky and never respond to my emails. Eventually, I'd love to start playing at some bigger theaters.
If you could play any show with any lineup who would be on the ticket?
Kenny: Make them Suffer, Kero Kero Bonito, Fall Out Boy, Veil of Maya
Josh: Us, Charli XCX, Kero Kero Bonito, and We Butter the Bread With Butter
What is some advice that you would give to someone who is just getting into playing in a band?
Kenny: Only take it seriously if you REALLY want to do it. It is not easy.
If you could go back in time and give yourselves advice, what would it be?
Kenny: Try to make more time to get things done, otherwise working on projects ends up taking a lot longer than anticipated. We all work and have different schedules so it can be difficult to find time to practice and work on stuff. Whenever time is available make sure it is used effectively.
Of your songs which one means the most to you and why? 
Kenny: So Below, I remember when Josh first showed me the final version of it where he extended the outro and I recall it being the first time I really felt like we had something special and our own unique sound.
Josh: I like Wick because it was the first one I wrote for us and it kind of set the tone for everything else we've done.
Which songs are your favorite to play and which get requested the most?
Kenny: Wick, So Below
What is the creative process for the band, and what inspires you to write your music?
Kenny: Josh for the most part writes the songs and presents them to us. After that we all add our own parts and suggestions to end up with the final product.
Josh: I write the song and then let them change whatever they want for their individual instruments.
What kinds of messages do you like to get across in your music?
Kenny: That's Mike's job :)
Josh: I generally have a story or theme in mind for each song when I write each song instrumentally and then don't tell it to Mike, and have him write the lyrics on top of it.
Do you ever have disagreements in your band, and how do you get past them?
Kenny: Disagreements are pretty rare. We are usually on the same page. But if there is a disagreement we usually find a middle ground and make sure everyone is happy.
What are your plans for the future, and do you have anything that you want to spotlight that's coming up?
Kenny: We are currently in the process of writing our debut album.
Josh: Yeah we're writing a dope ass album, and we had some cool shows planned that are unfortunately sidelined due to the coronavirus that's going on right now. So as of now it's really just taking care of our health, and trying to get this album put together.