Discover more from Volatile Weekly
Interviews in the music industry from around the world
Interview: Envy Motel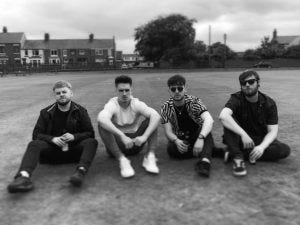 What got you into music, and if you had not gotten into music what would you be doing today?
I (Stephen – Vocals, Rhythm Guitar) remember always being into music. I loved singing along to whatever was playing in the car and at home, and then I started playing guitar in secondary school and I just developed this massive passion for music. It was the only thing I could see myself doing with my life. There are different stories as to how we got into it. For Callum (Bass), he was born into more of a musical family. He grew up around people who could play instruments and, when he had his first guitar bought for him, he ended up following in their footsteps. We all share the same drive and passion for music in the sense that, once we started, we just became obsessed with it. We actually all have other avenues in life at the minute, Callum and I are both Uni students, Luke (Drums) is currently training in security work and James (Lead Guitar) is a personal trainer. Obviously, the dream is to be able to play our music full-time as a career, but we do believe it's important to have something in the back pocket. Plus, in our early stages, music doesn't pay brilliantly, so we have to sustain it somehow.
What do you like to do when you're not playing music and how does that influence your creativity?
When we're not playing music, we still spend a lot of time together, and the chat normally goes back to what we're going to do next, in terms of ideas for new songs, stuff we want to do and places we want to play. So, I guess our ambition influences our creativity because we don't really have an off switch.
How long has your band been around?
We got started at the start of 2019, so we've been going for about a year now.
Where are you based out of and how did that influence your music?
We're based in Sunderland, and being from around there has had an influence on the music we make. The music we make is real and about real people and events. A lot of our music is extremely personal to us because we've seen a lot of the things that we write about. A personal topic for us to write about is mental health, especially since, in our area, a lot of people are run down by the strains of life, and it's taken a toll on them mentally. We feel like this kind of stuff needs to be talked about in order to change things, and we want to be a part of that change.
How did you come up with the name of your band and what does it mean to you?
It's a pretty simple story really, Luke just came up with the name out of the blue and we were like "yeah, we'll have that". As for what it means, I guess, considering this has been the past year of our lives, that it has connotations of solid friendship, almost like brotherhood, to us.
Tell me about the best and worst shows you have played.
We always love playing shows at Head of Steam in Newcastle. The atmosphere there is just unreal. We've just recently played a show at Independent in Sunderland, which was our best show yet. The crowd were just full of energy, which is something we love to see at our shows.
Tell me about your favorite venue to play at, and do you have any places you want to play that you haven't already?
As I've said, we love playing Head of Steam Newcastle and we're so buzzing about the success of our show at Independent. The next ones we'd love to play at would be something like the O2 in Newcastle and Riverside in Newcastle too. We'd also love to get up and down the country more and just play wherever we can to people.
If you could play any show with any lineup who would be on the ticket?
That's a tough one. If we had to pick three bands, I'd say Twin Atlantic, Royal Blood and Biffy Clyro. A show like that would have an unreal atmosphere.
What is some advice that you would give to someone who is just getting into playing in a band?
Don't get disheartened because you are making losses, the rewards will come in time.
If you could go back in time and give yourselves advice, what would it be?
We'd tell ourselves that whatever happens, whether it's good or bad, to enjoy every minute of it. We're all really lucky to be playing music together with our best friends, so we'd tell ourselves to take the rough with the smooth and just live every moment.
Of your songs which one means the most to you and why?
I think, for me, Head in the Clouds means the most as it was the first song that we actually worked on, finished and released as a band. It's always going to be where we started, so it's always going to have a special place in our hearts.
Which songs are your favorite to play and which get requested the most?
The one that people are seeming to love, at the minute, is one of our newer singles, "Medusa". People just go crazy when we play that and it's a brilliant vibe to see the crowd like that. We, as a band, love playing our latest single, "Tied Down". we just love the way it builds up and then kicks off at the end.
What is the creative process for the band, and what inspires you to write your music?
Normally one of us will come up with a structure to a song, or a riff, and then we'll just pitch it to the rest of the lads, who will add their own parts to it and just bounce off what everyone else is doing. That kind of setup tends to work for us. We debuted a new song at Independent and the crowd loved it, which we were really pleased about. So, that showed us that our creative process works.
What kinds of messages do you like to get across in your music?
We like to make people feel uplifted. A lot of our songs are about overcoming depressive thoughts or toxic people, as well as never giving up on yourself and your goals. We just want our music to spread as much positive energy to our listeners as we can.
Do you ever have disagreements in your band, and how do you get past them?
We're all quite honest people, so if there's something we disagree on, we'll just talk it out. There's never really been a disagreement that has become heated or anything like that, and I think that's because we all have a mutual respect for each other. Most of the time we're able to come to a compromise or, failing that, we'll have a vote.
What are your plans for the future, and do you have anything that you want to spotlight that's coming up?
I don't want to give loads away yet, but let's just say we're planning on making 2020 a massive year for ourselves. If you check us out on our social medias, which is just @envymotel on our Instagram and Twitter, and then listen to us on Spotify, Apple Music and YouTube, you'll be able to keep up to date on what we're up to.