Discover more from Volatile Weekly
Interviews in the music industry from around the world
Interview: Esteban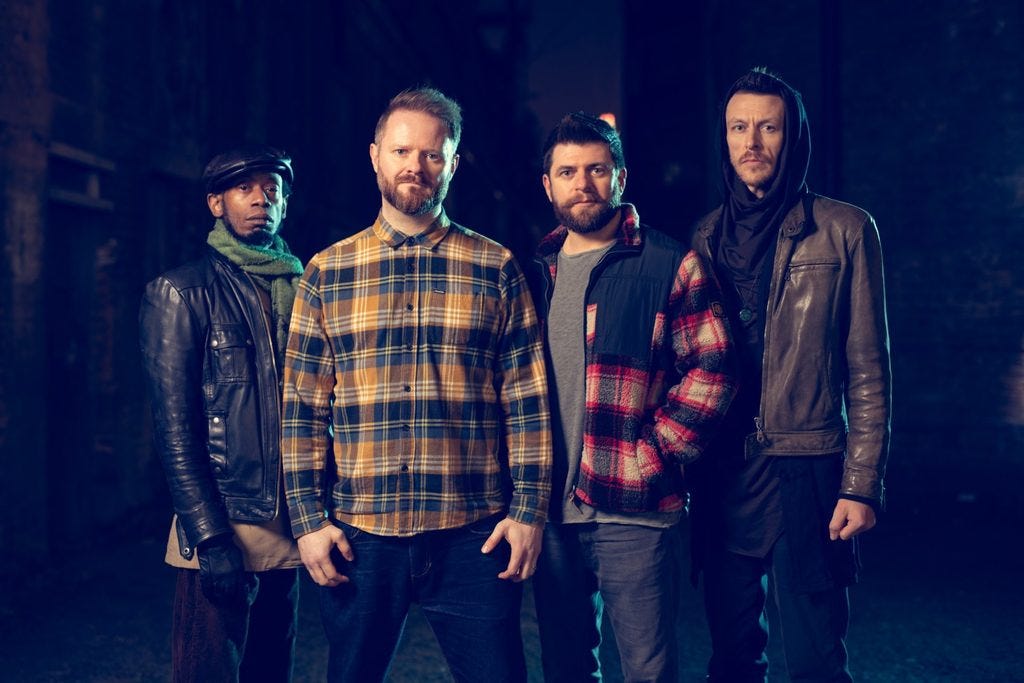 What got you into music, and if you had not gotten into music what would you be doing today?
For me, I grew up in a house full of music, it was Queen and the Beatles, my parents playing Simon and Garfunkel songs in the family home. I got bitten by it early on and there was nothing else for me. I can't imagine not being a singer now, but I think my sliding doors moment may have been choosing between music and drama at school, I always wanted to be on stage, there's a parallel universe with an actor version of me talking to a stage publication right now...
What do you like to do when you're not playing music and how does that influence your creativity?
We learn, travel and live the human experience. This is an essential part of our writing process, we translate our experiences into the music. We hit it hard in the studio and on stage, but we understand more than ever now the need to step away in order to see the bigger picture and not to burn out.
How long has your band been around?
As the four of us, we've been knocking around since 2004, but you can trace our lineage back to 1995. In various formations through school and college days, conquering our local scenes.
We got to work early on in 2004, writing our first songs together and self producing our debut 'Still in Time' under the name Onion. Something was ignited, which has driven us to create since then.
Where are you based out of and how did that influence your music?
We were Derby based, and even though we're scattered across the country, Manchester, Dorset, Somerset and our man on guitar burning the home fires in Derby. We still return to rehearse  and  Derby remains our home base, it's where we cut our teeth. The Derby scene was always on the heavier side, I don't think you can define our sound as heavy, but we played hard live, the scene was open to us and gave us an opportunity be a part of something and to get in front of people.
How did you come up with the name of your band and what does it mean to you.
The name comes from cult 80s series, The Mysterious Cities of Gold. Esteban is the central character, he stows away in a merchant ship headed to the new world in the 16th century. The name fit our mission of exploration and adventure, seeking new experiences and knowledge.
Tell me about the best and worst shows you have played.
It's a cliche to say that the best shows we ever played were sharing the stage with the likes of Dizzy Rascal, the Zutons and Gomez, so I won't. The best shows were intimate, when you can literally feel the heat from the crowd they're that close. We never believed in a bad show, our biggest asset was our ability to fill a room with our sound. We took every opportunity to play, and the nights when you get to sharpen the blade are as important as the nights you play the big stage.
Tell me about your favorite venue to play at, and do you have any places you want to play that you haven't already?
We always had the craziest nights in Newquay, at Belushis or On the Rocks, and closer to home territory at Bar XV in Burton On Trent... these venues encapsulated that Raucous, intimate, feel the heat nights. Playing these venues always feels like a homecoming.
If you could play any show with any lineup who would be on the ticket?
Such a big question, I'll take the lead from Rick on this, he has great taste in music and sets a scene perfectly; Bennicasim In Spain as it's the perfect beach party Festival. The line up I would like chronixx, Ojo de brujo Anderson paak... In a perfect world, I would only add into this from the great beyond Tom Petty, Queen and the Beatles.
What is some advice that you would give to someone who is just getting into playing in a band?
Don't worry about being the best when you start, concern yourself with being better. Einstein said learn from yesterday, live for today and hope for tomorrow. It's a mantra to live by.
If you could go back in time and give yourselves advice, what would it be?
See above lol! I think there are so many life lessons we've all learned over time and it's important to take from each lesson what you need in that moment. Regret nothing, learn from mistakes, be grateful for every opportunity you're given, you never know when you'll get that chance again. Be kind, appreciate everyone who helps you out on the way to the top, as you may very well meet them on the way back down!
Of your songs which one means the most to you and why?
Each song has its own story to tell and has meaning to any one of us, a song like Brightest Star is a song written about my Children, Never Again is my reflection of my sisters pain and mourning her late husband, conquer your world is our hope for the future. Each of us will have a different most meaningful song, these are just a handful of mine.
Which songs are your favorite to play and which get requested the most?
Certain songs will resonate well with crowds, one that gets requested a lot is Goodbye from our Dirty Wrecked record. Another that resonates, to this day with certain crowds is the title track of our very first record Still on Time. It's always a pleasure to play these requested songs as they capture the room, when other people are singing along its like a spiritual experience.
What is the creative process for the band, and what inspires you to write your music?
Since the band are split across the country, we demo a lot of ideas in GarageBand and share these via WhatsApp. It's an unconventional way of working, but I suppose one that more of us are getting used to under current climate. It allows for constant collaboration and each time an idea is symmetrical back and forth its tweaks and built upon a little more. Then we take it in to a room, usually over a weekend, locking ourselves away with plenty of coffee and jam it out, adding in the nuance and stylistic features.
What kinds of messages do you like to get across in your music?
We're a conscious bunch, we talk about the world we live in, our perception of the human experience. Taking inspiration from ancient tales, and drawing the comparisons to our own lives and that of the people around us. We talk about love and loss and the everyday moments in time they need celebrating more often.
Do you ever have disagreements in your band, and how do you get past them?
We're brothers and family, we have disagreements and we resolve them by taking a 10 year hiatus, lol! Jokes aside, we're all passionate and head strong, and usually disagree about a lyric or a riff. But the song always wins, it's bigger than any one of us.
What are your plans for the future, and do you have anything that you want to spotlight that's coming up?
We've got a lot in the mix right now, COVID has been a really productive period for us; we've doubled down on writing new material, planning new video projects and we're chomping at the bit to take this new record live!