Discover more from Volatile Weekly
Interviews in the music industry from around the world
Interview: Fatal Switch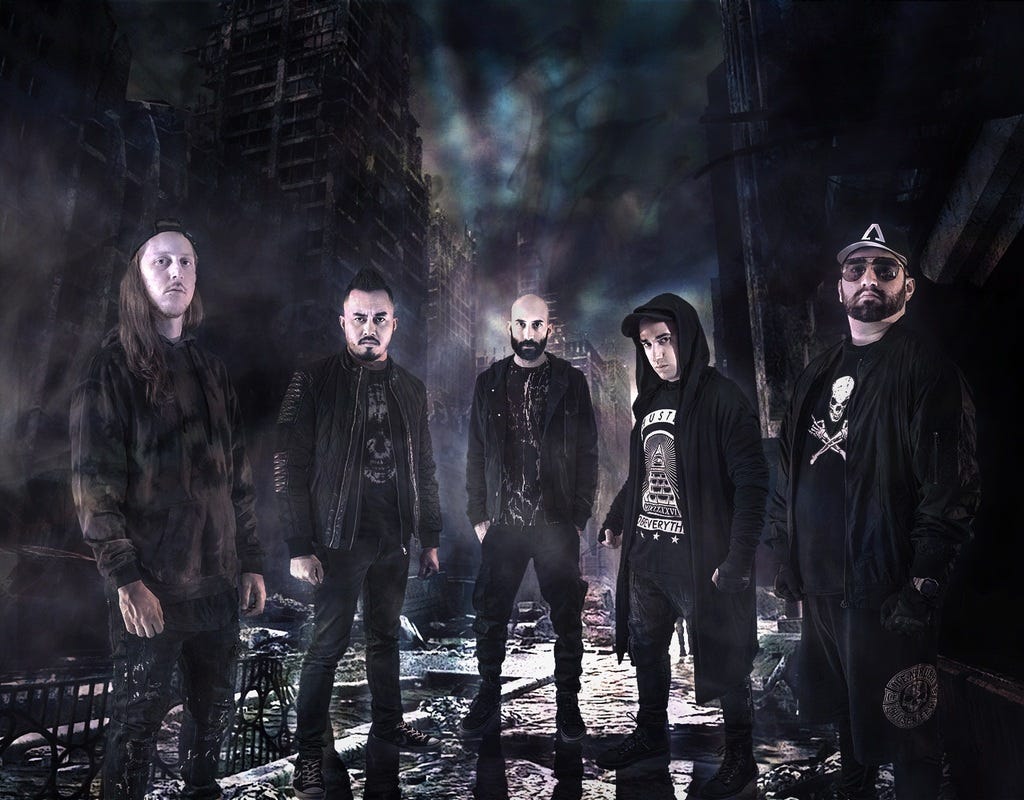 What got you into music, and if you had not gotten into music what would you be doing today?
FS: Growing up my uncle would sing and play guitar at family events every year and he was such a great performer that he always had the rooms attention. He seemed larger than life when he picked up that guitar and that rush of emotion before he struck those chords is something that always captivated me. I believe that is what first drew me into the world of music.
What would I do today if not for music? Well I found out late in life (and quite by accident) that I am pretty apt at understanding law. I can't say for sure but I would have most probably considered pursuing that career path.
What do you like to do when you're not playing music and how does that influence your creativity?
FS: I like to read fantasy books, watch documentaries and practice self defense (martial arts, boxing, etc). Reading certainly floods my imagination with ideas and thoughts I may not have had before whereas watching documentaries uses reality to expand my mind. Both are very helpful tools in my songwriting. Self defense helps me stay focused and sharp, helping me to execute more intricate word combos. It also teaches me how to test my limits and mental focus so that I can continue to push my psychological boundaries.
How long has your band been around?
FS: We released our first single on Nov 2nd 2018 and we just dropped our debut album Doctors & Demons on Aug 7th 2020.
Where are you based out of and how did that influence your music?
FS: We are based out of Montreal, Quebec in Canada. Having such a big metal community greatly influenced the style of our music. So much so that if I lived elsewhere, I doubt Fatal Switch would even exist. I always had aspirations of making it as a traditional rapper but as luck would have the hip hop scene in Montreal just ain't the same as that of let's say New York. So, if I wanted to find a way into the industry as a hip-hop artist I needed to play to my surroundings. And I was fortunate enough to have found a metal guitarist with whom I first started to experiment throwing my rhymes over metal songs. And from there the first sparks of Fatal Switch were lit.
How did you come up with the name of your band and what does it mean to you.
FS: I actually came up with a bunch of different word combinations when I first started brainstorming but Fatal Switch just kept jumping off the page. I think in part it's because duality is such a big part of the bands concept and the words Fatal Switch drives home that message. I believe change isn't always easy but often times all too necessary. And sometimes that change can be fatal. And that can be a positive or negative thing depending on what the change is. You must truly understand what it is you want to change before you flip the switch for that which you think might harm you might help you and vice versa. That's what Fatal Switch means to me.
Tell me about the best and worst shows you have played.
FS: Best show we played was a sponsored showcase at Indie Week 2019 in Toronto. It was such a wild and fun show I was actually moshing with the crowd. Despite having gear issue that night we pulled off a fantastic performance.
Worst show, though it was a blast and everyone loved it was at a venue called Turbo Haus. I say it was our worst show because you couldn't hear me at all. The mix was completely off and I think I tore my throat. Also, one of our guitarists missed half the set because his guitar jack went out just as we were playing the intro music. Couldn't go back once the show started. But hey  it was still a great time and good learning experience.
Tell me about your favorite venue to play at, and do you have any places you want to play that you haven't already?
Piranha Bar is a dope venue. Our last show there we opened up for Crazy Town X and the sound man was on point. The band was very impressed with him and the venue rocked. We love playing there because it's the right size stage and its run by Nick Guerin of Dungeon Works Productions who is just an amazing individual to work with. I'd play all my shows there if I could.
We would love to play arenas. Not there yet but…. One day soon!
If you could play any show with any lineup who would be on the ticket?
FS: Well 3 out of the 5 band members are complete Metallica heads so I would have to say they would need to be on the list or I would be disowned lol. Personally, I think we would pair really well with Rage Against the Machine, Korn or Limp Bizkit. And I'd just be lying to myself if I didn't say that I haven't fantasied being on a bill with Eminem. So ya… that's some line up if you ask me!
What is some advice that you would give to someone who is just getting into playing in a band?
FS: No matter what you do never give up but most importantly never break up! As long as you stay together you will grow as a band. Also listen to each other. Everyone sees the world through a different lens, hears music through a different wave and creates through a different film. Don't be afraid to share the fingerprints of your songs.
If you could go back in time and give yourselves advice, what would it be?
FS: Take a songwriting course, find a producer and start networking! It is never too early to start doing these things.
Of your songs which one means the most to you and why?
FS:  My song Footsteps does actually. The reason why is that it was my first breakthrough song. Its an ancient song that I must have wrote close to 15 years ago. I mean I was still living at home at the time so ya… that's a long time ago lol. You see I was trying to develop this rap style where I could rap a story with a beginning middle and end, and trust me it's not an easy thing to do. I had written many songs before trying to do this but this was the first one that I really got right. I remember when I was done writing it, I finally felt like I had a chance to be a contender in the rap game.
Which songs are your favorite to play and which get requested the most?
FS: Grow a Spine is by far our most crowd engaging song so I would say its our favorite to play for that reason. And everyone seems to love Doctors & Demons. I would say that is our most requested.
What is the creative process for the band, and what inspires you to write your music?
One of us will usually present an idea and from there we work on it. Jam it out live, take it home come back with ideas, see what works and what doesn't. Its one puzzle piece after another that we try to put together to build something that represents us all. I can confidently say that our next will be a true blend of all our influences taken to another level.
What kinds of messages do you like to get across in your music?
FS: I enjoy writing all kinds of stories in my songs. We cover topics from domestic abuse to child soldiers, aliens, time travel, cyborgs, demons and much more. But I guess the one common message in all our songs is one of resistance. Whether it is resistance of an emotion or of oppression it is a common theme and message that I think comes across naturally.
Do you ever have disagreements in your band, and how do you get past them?
FS: It is rare that we get in any major disagreements. We just treat each other respectfully and set our egos aside when we have to have serious conversations. At the end of the day frustration only arises when your point is not being understood so listening and finding different way to say things is really key.
What are your plans for the future, and do you have anything that you want to spotlight that's coming up?
FS: Thanks so much for taking the time to chat with us. We truly appreciate it! And thank you to all the readers for joining us on this conversation. We would love to continue connecting with you on social media. You can find Fatal Switch on YouTube, Facebook, Instagram, Twitter and Tik Tok.
We also just released our album and latest video. You can check it all out over here: https://fatalswitch.fanlink.to/doctors-and-demons
Peace.