Discover more from Volatile Weekly
Interviews in the music industry from around the world
Interview: Fatality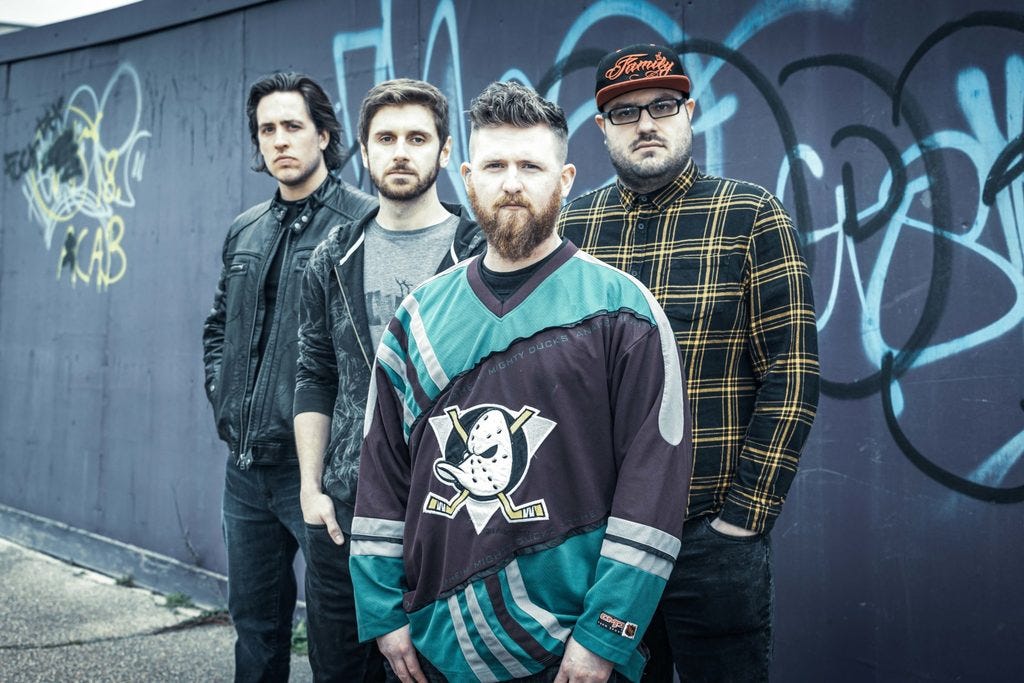 Questions answered by Josh Abbott (vocals)
What got you into music, and if you had not gotten into music what would you be doing today?
I've always been into music as long as I can remember. As a very small child I wouldn't sleep well so my parents would leave the radio on to help me sleep. Then for one of my birthdays they bought me a Sony Walkman cassette player and ever since then I've always had music playing in my life.
What do you like to do when you're not playing music and how does that influence your creativity?
I'm a live sound engineer and recording engineer so it's not very often that I'm not doing something music related. However in my spare time I like to cook, read crime novels and play video games. These are all things that stimulate my mind so I'm always thinking of lyrics and stories to tell within our music. I like to draw influence from every aspect of my life, this helps me write songs that are meaningful to me. It helps me convey emotion in what we write and connect to our audiences through that.
How long has your band been around?
Fatality was formed in 2016 by Josh Abbott (vocals), Gareth Brimley (guitar) and ex-drummer Chris Batson with our first EP being released in the same year. We performed at Asylum, a legendary Chelmsford venue for the release and raised £200 for the SNAP charity from merch and CD sales. In 2017 we recruited bassist Matt Shynn and subsequently recorded our second EP which we released in 2019. We did a small tour of the 'Prey' EP in aid of MIND and raised over £500 this time. In November 2019 we parted ways with drummer Chris and joined forces with Jordan Maze who now completes our current lineup. Since his recruitment in late 2019 we've written and performed a new set of tracks with Jordan as well as some Fatality originals. We played our first show with Jordan on a live stream in Summer 2020.
Where are you based out of and how did that influence your music?
We're based in Essex, UK. In all honesty our area doesn't really influence our music. We draw influence from bands that we've looked up to, from things that happen in our lives and things we believe in. This would be the case wherever we are or where we would be from. It's all about personal thoughts, feelings and connections from us.
How did you come up with the name of your band and what does it mean to you.
We're all huge video game fans so when it came to trying to come up with a name we were coincidentally playing one of the all time greatest games ever Mortal Kombat. One of us won a fight and when the words 'FATALITY' flashed up on the screen in blood I said "That would make a good band name" and it stuck!
Tell me about the best and worst shows you have played.
This is going to a be a really cliche answer so don't judge us. We really enjoy every show we play. No matter if there's 20, 200 or 2000 people in attendance we have a blast. We're all really close friends and there's nothing we enjoy more than playing songs that we all enjoy together! Don't get me wrong though, if there's a full house of people jumping, moshing and shouting at the top of their lungs it does make the shows a whole lot better.
Tell me about your favourite venue to play at, and do you have any places you want to play that you haven't already?
Our favourite venue would have to be The Bassment in our hometown of Chelmsford, Essex. There's always an amazing atmosphere whenever we've played there and it just feels like home. We feel more comfortable playing there as we've done it so many times. Plus people know us so there's always a beer or two waiting for us when we get off stage!
If you could play any show with any lineup who would be on the ticket?
Anyone at all? There's so many bands we look up to. I would personally say Papa Roach as Jacoby is my absolute idol when it comes to performance. But we'd love to play with the likes of Slipknot, LimpBizkit, Linkin Park, Deftones etc. It would be one energetic show for sure.
What is some advice that you would give to someone who is just getting into playing in a band?
Enjoy it. Don't get caught up in trying to 'make it'. There's so many people we've come across that just take it too damn seriously and I just want to tell them to relax and enjoy yourself a bit more. Music is all about sharing something with others, a track, a guitar solo, a lyric etc and sharing is all about enjoying things with other people. The more you enjoy what you do the more others will enjoy it.
If you could go back in time and give yourselves advice, what would it be?
Be more organised! When we started Fatality we hadn't really done the DIY thing much and we didn't realise how much work goes into it. In the last few years we've learned a lot about what it takes and how much work and organisation you need to make a band successful. If we had known what we know about organisation from the beginning maybe we would be on stage with Slipknot now haha.
Of your songs which one means the most to you and why?
For me it would be one of our new songs which is being released later this year called 'Eight'. It's about the struggles of mental health and how I feel. I'm not great at talking about feelings so this song is my way of doing that. I've been able to metaphorically describe how depression and anxiety affect me personally and how I feel sometimes there's nothing I can do about it.
Which songs are your favourite to play and which get requested the most?
Jordan, Matt and Gareth love to play 'Drown' and they also love to make me play it later on in a set when it's so much harder to sing! I really enjoy 'Look In My Eyes' and 'Juggernaut' as they're both super-energetic ones for a live audience. I would also say 'Juggernaut' is one that's requested a lot.
What is the creative process for the band, and what inspires you to write your music?
We all write together. We feel that if we're all excited and passionate about each instrument and each lyric then we're at our best. We lay down the basis of a track, then we assess and refine along with writing lyrics that mean something to us. We do the whole process together as a band, rather than one person writing a track and the rest of us playing it in a way that wouldn't always necessarily compliment our individual playing styles.
Our songs are mainly about things that are on our mind at the time. Life events, the state of the world, video games haha! We do have a strong connection with mental health however so a lot of our songs are about that in one way or another.
What kinds of messages do you like to get across in your music?
Same as mentioned before really. We write lyrics about life events, current affairs and mental health. Even though these things may seem like negative subjects, we try to promote enjoyment, feeling good about things and optimism around those subjects.
Do you ever have disagreements in your band, and how do you get past them?
Every family has disagreements. If there's something that we can't agree on we simply try out each others ideas then put it to a vote. That's the simplest way of resolving any issues.
What are your plans for the future, and do you have anything that you want to spotlight that's coming up?
We definitely have new music in the works. We have a few tracks that are ready to be released and a load of new material that we're constantly working on and refining. 'The Lesson', 'Indemnify' and 'Eight' will be released over the next few months with the idea that we will accumulate these and more tracks into a 3rd EP/Album at the end of the year ready for when live music is back.
We have our new single 'Juggernaut' available to stream from all online stores now and you can watch the music video on our Facebook page and YouTube channel.
As far as future plans go we're going to keep doing what we enjoy doing. Writing tunes that we all enjoy to play, performing passionately for our audiences and having a damn good go at smashing through all and any glass ceilings that come before us.
You can catch us on Bandacamp, Spotify, Apple Music and Deezer as well as YouTube and as far as I'm aware, pretty much any streaming company out there! Just search Fatality Band UK and you'll find us.
www.facebook.com/fatalitybanduk       instagram.com/fatalitybanduk       fatalitybanduk.bandcamp.com