Discover more from Volatile Weekly
Interviews in the music industry from around the world
Interview: Fires of Freya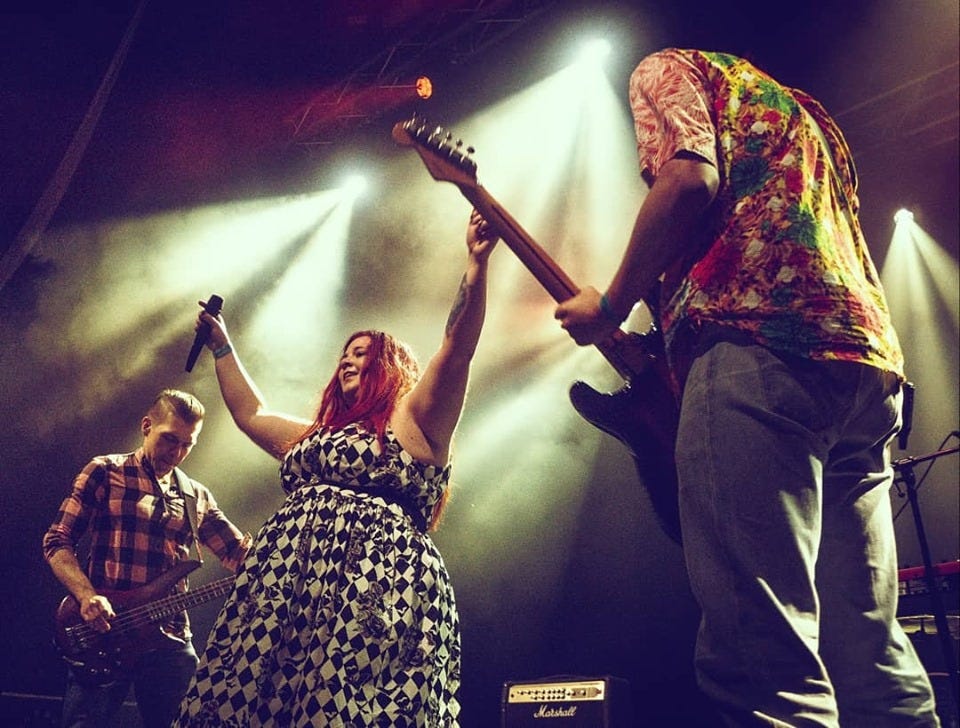 Cheryl (Lead Singer and Keyboards) 
Dan (Drums)
James (Bass Guitarist)
Shaun (Guitarist)
What got you into music, and if you had not gotten into music what would you be doing today?
My Dad was a huge influence in me taking an interest in music. He had musical instruments throughout the house I grew up in and hoped I would gravitate towards them and learn them – his plan worked, I did! I always loved the keyboards. My Dad plays bass guitar, guitar, keyboards and sings so I've always seen practicing in the house as just the norm although I didn't really take a great interest, or at least act on it, until I was 27 years old when my marriage fell apart and I found myself alone and looking to distract myself. I did, however, do music in school and was always tinkering, but had never joined any bands or done anything serious until my late twenties. For some reason,I was riddled with nerves and now, given everything that's happened in my life, something in my brain has just changed and I barley get nervous anymore. It's quite strange. If I wasn't focused on music, then I'd likely be doing something else creative like art (drawing/painting) and crafts. I did graphic design for s short spell at college and I design most of the band's artwork for singles/EP's/merch etc.
I always enjoyed listening to music and when I was about 10 I went to a local music shop with my parents. They asked if I wanted to have a go at playing the drums. I did and I haven't stopped playing them since. My other passion is motor racing, if I wasn't a member of Fires of Freya I would be focusing on that.
My love of music comes from my parents listening from an early age to all the classic rock bands, I picked up a guitar first because of one of my cousins when I was 10 and my parents bought me my first squire starter pack as a Christmas present. It wasn't until 6 years later though when I started to properly learn at college then university. My other passion, like Dan, is racing and cars so I'd probably be doing something along those lines.
What do you like to do when you're not playing music and how does that influence your creativity?
Lots of things, I'm a lone child so I've always been excellent at entertaining myself! I love good TV or film binge; I love going to the cinema. I have the best bunch of friends around me and I love spending time with them and my family, especially my dad, he's one of my best friends too! I love traveling and going for weekends away and I love the Spa and being pampered. As stated before, I love anything creative, arts and crafts and designing and also like listening to my audiobooks or reading. I don't think any of these things directly affect my creativity, they relax me and make me happy and give me the energy to then transfer over to creating music. I normally listen to music when doing other activities anyway and listening to music is obviously a huge influence in creating it. 
When not playing, I like to do activities that help me forget about everything, this helps me come up with new, and better ideas for our music. I really enjoy karting with my mates and going to comedy gigs with my fiancée.
I love chilling out just playing games, spending time with my wife and family or going on a drive to take my mind away from things. I love listening to different music genres as much as i can as this helps me think of sounds i might not have recently.
How long has your band been around?
I technically formed the band in December 2017 after a couple of failed attempts to get a band together. Before this band was formed, it started off as an all-female grunge band idea but we soon realized that female bass players where very few and far between. I can play a little bass but not sing at the same time. There were quite a few member changes in the beginning and fall outs which left just me in the band, on a day that we were supposed to be trying out a new drummer and guitarist. Dan our current drummer and Andy our previous guitarist turned up to a practice expecting a band and there was me, alone, trying to explain that there were originally other band members at the start of that day! It worked out well though, Andy and Dan stayed to form the new and improved version of the band. We got a new bass player in and initially called ourselves 'Break the Silence' but soon realized this name was not unique and changed it to 'Fires of Freya' when Andy left, and Shaun joined as our new guitarist. James, our current bassist joined in the beginning of 2019. 
Where are you based out of and how did that influence your music?
We are North East England based. Shaun is from Washington, Dan and James are from Sunderland but Dan is original from near Leeds and I'm originally from a town called Wishaw, near Glasgow but now live in Durham. I'm not sure if our location influences our music, we all have very varied music tastes which leads to our own songs being rather eclectic from song to song. 
How did you come up with the name of your band and what does it mean to you.
Freya (or proper spelling Freyja – but we kept is Freya so it's easier for people to find) is a Norse goddess associated with war, death, love, sex, beauty, fertility, gold, and seiðr (magic). I like anything mythological and the band name reflects this. Freya is a strong figure in Norse mythology and so the fire comes from the war aspect of her character, plus, it has a nice ring to it. 
Tell me about the best and worst shows you have played.
We've put 2 of our own shows on to date, we launched a live EP in December last year and our debut single September this year. These were good gigs with ace support bands and plenty of people there to enjoy our music and party with us. We also supported As December Falls last December which was a brilliant gig and very busy (I think it sold out!) but the best gig to date was when we played the 02 Academy mainstage. The judges told us we suited a large stage and owned it; I agree! More of that, please! The worse gigs are the empty ones, we once played a gig with a band we can only describe as angry war metal. We were not suitable to be billed with such bands for a start but there wasn't anyone there other than the other bands either. The sound guy on the night didn't have a clue what he was doing and the whole night was just abysmal! I don't have fond memories of that night, but we all joke about it now! 
For me, the best show we have played was the final of the Soundwaves Competition 2019 on the main stage at the O2 Academy in Newcastle. The crowd was amazing, and it was great to hear our music fill a room that big!
We did an acoustic gig at Bar Loco where there were only a few people in but they made it feel like a lot more, it was awesome to just look at them and see them being lost in the music, was a brilliant intimate gig and brilliant to just get to chat with everyone afterward.
Tell me about your favorite venue to play at, and do you have any places you want to play that you haven't already?
I like big stages, the O2 Academy was by far my favorite stage to grace! The Forum in Darlington, The Cluny and Think Tank in Newcastle are all ace venues to play. Bannerman's in Edinburgh is also a great venue. I quite like Head of Steam in Newcastle too. It's not big but the sound is normally ace, and it's got a nice vibe. We have played the mainstage O2 but we want back on that stage and others like it and for longer next time!
I love playing The Cluny in Newcastle as I've been to watch dozens of gigs from great musicians there in the past. It's great to be the one upon the stage instead of in the crowd! Our goal over the next 6 months is to play in towns and cities further afield. So not necessarily specific venues, but to go play shows in cities with a great music scene like Manchester, Liverpool and London would be our next step.
For me, one of the best venues to play in was hall two at the sage (during my uni time) it was an incredible venue with an awesome sound and just being up on the stage was a great time even though it was short! Other venues such as The O2 and The Cluny have been brilliant to play after seeing many bands take to those stages too. Bannerman's in Edinburgh was awesome too for the crowd and our first time up there. 
If you could play any show with any lineup who would be on the ticket?
Halestrom, Alter Bridge, Stones Sour and HIM would be on the bill for my lineup.
What is some advice that you would give to someone who is just getting into playing in a band?
Practice loads and loads. If you can afford it, place an instrument in every room in your house, sure! It will take you an hour to go do any simple task around the house due to being distracted but it will make you a better musician. And, if you're scared or nervous, then just do it! Push yourself into doing things you fear, and you'll soon build your confidence! I like to regret the things I do, not the things I didn't do and I would regret not perusing my music. You also need to really enjoy working with the people in your band, if you're not feeling the vibe it probably not right and it will probably fall apart. 
Find your own style, don't just imitate. As Oscar Wilde said, "Be yourself; everyone else is already taken."

Have fun!!!
Don't be afraid to try things out and see if they work. Jam pieces out with everyone or just start noodling along and see who joins in with what. If things don't work or feel right, change it.
If you could go back in time and give yourselves advice, what would it be?
I give good advice but never practice what I preach so the advice would be pointless! 
I would tell myself to play with as many different musicians as you can, different musicians and styles of playing will help you get more creative with your playing
I would tell myself to have actually picked up the guitar when I first got it, might be alright at it by now. The major thing is though, to never stop learning from others.
Of your songs which one means the most to you and why? 
'Give a Reason' – Was one of the 1st songs I ever wrote. I didn't know I could write songs before I wrote this. It's emotional and is just pure heartache. I wrote it after my split from my husband. In a way to try and explain how I felt and also what he told me he felt to. It's a song that comes from both our sides but ultimately questions why, why for as many things that happened. 
Take a bow for me we started playing it at a time where things were changing for me (in the end for the better) but the lyrics to me have their own special meaning.
Which songs are your favorite to play and which get requested the most?
Take a Bow is full of attitude and energy, it's a fun one to play and people respond well to it. Our new one is also fun to play 'To the Bone', it's quite grungy and loud and Give a Reason has a real emotional punch which always grabs attention. 
Playing our current single 'Take A Bow' is always good to play, as it's probably our strongest song. 'Don't Care' is also fun to play for different reasons, though you'll have to come to one of our gigs to find out why!
What is the creative process for the band, and what inspires you to write your music?
I often come in with the bones of a song, lyrics, a melody, and some keys or simple guitar ideas. I record my ideas, so I don't forget them, on my phone, and then send the recordings to the band. Shaun and James both write songs to and do a similar thing with recordings. In the practice room, we take those ideas and make them into a song! I'll bring lyrics to the songs the other guys write and they'll bring their ideas to the songs I start off. It is a team effort, none of the songs would be what they are without all of the band's input and development sessions in the practice room. 
We usually spend time in practice messing about musically, we start playing our different instruments and then Cheryl creates lyrics that fit. Sometimes Cheryl has the lyrics first and we work the opposite way. Either way, it is always a joint effort, we build on each other's ideas
What kinds of messages do you like to get across in your music?
Heartache is power. Don't let it get you down, use it as the fire to raise you up! A lot of our songs are written on pure attitude, rage, hurt and normally towards those who wrong us or do not care as strongly for us as you care for them. I write lyrics based on my emotional response to situations when I am upset or really happy is the best time to get creative and write something real. We do have a love song 'Lift' but that's the only one so far, 'Heartstrings' is quite sweet I guess too, touching on memories of growing up. 
I would like to think positive messages of never accepting being put down and to always stand up for what you want. Some of our songs are about heartbreak etc. but all end up in progressing a story of betterment.
Do you ever have disagreements in your band, and how do you get past them?
We've had disagreements with previous band members, strong characters knocking heads, but they left and that's how we got past that. We don't tend to have disagreements in the band, sure there is a difference in opinion from time to time but we talk it out and move forward, normally going on the majority's decisions and being respectful of other's views, no ego's here! We all have the same aspirations and so are happy to work as a team. 
I don't believe we have that many disagreements as a band. If there is a decision to make and we don't all agree, we look at whether it would benefit the band, then go with the majority.
I disagree with Dan. ?
I agree with 36.7% of the above statements.
What are your plans for the future, and do you have anything that you want to spotlight that's coming up?
We've started recording our 2nd single, 'Complicated', we're back in the studio on the 17th to finish the track off (hopefully!). So, there will be lots of focus on that as we love the track and believe it will do well. Our focus is to create an Album, I don't believe any of us have ever achieved this so that will be an amazing achievement. We aim to play more out of town shows in the future, Ideally, we want to do short tours around the UK and even beyond if we can once we build up more of a presence so we can get our music out there further. Festivals are on the cards and we will continue to pester the people who decide the festival billings. Just a lot more of the same, pester power all the way until people know who we are!
Our 2nd official single is due to be released around Christmas time, so keep your ears peeled for that!
Christmas Jazz album.
Cheryl's response to Shaun's Jazz album idea – "I'm leaving the band"