Discover more from Volatile Weekly
Interviews in the music industry from around the world
Interview: Forrest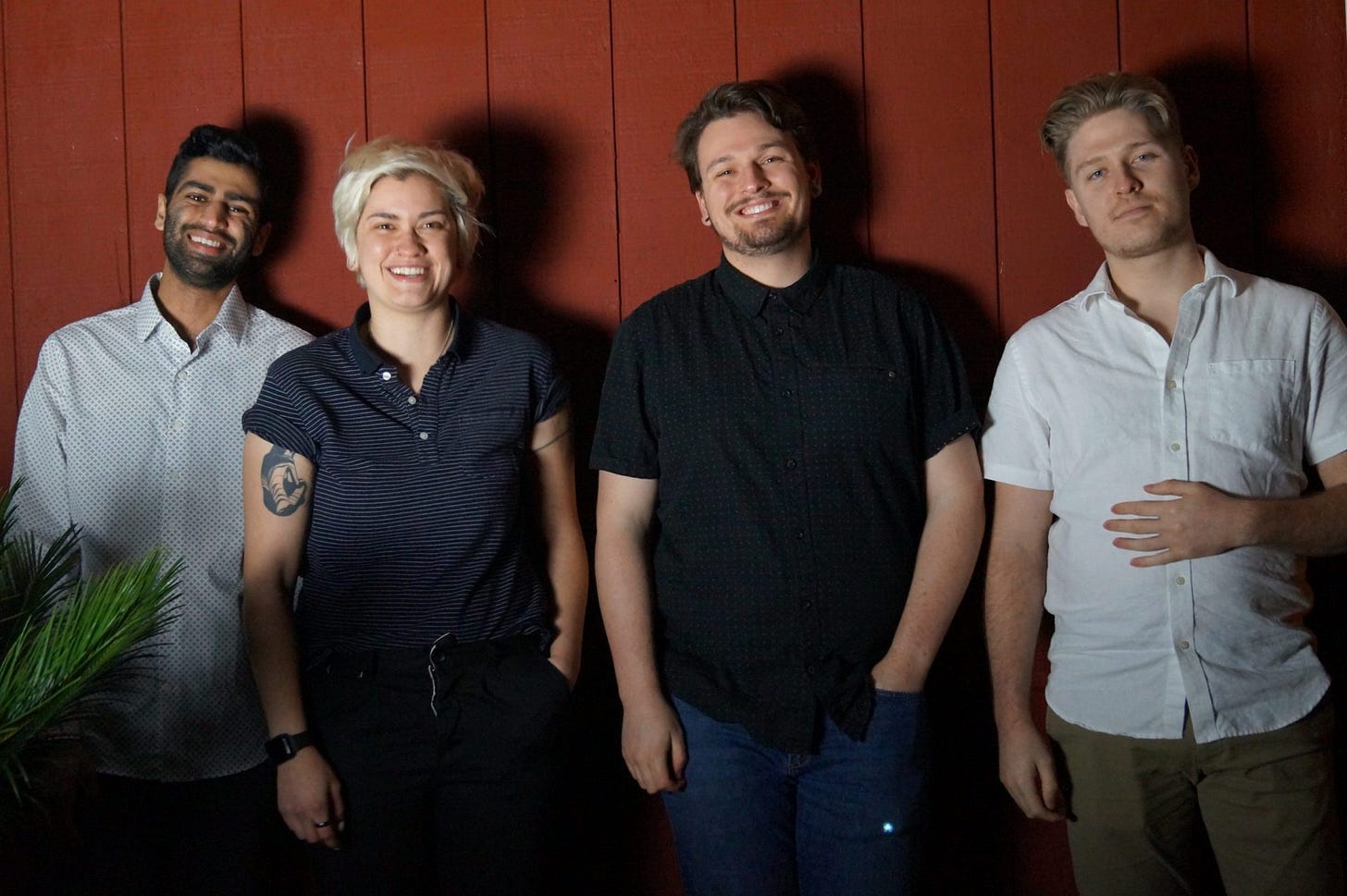 What got you into music, and if you had not gotten into music what would you be doing today?
We've all been really drawn to music since we were kids, so it's really hard to pinpoint exactly what sparked our interest in music. Hailie grew up in a very musical family, so she was raised with music in her blood. She started off playing piano on a little upright piano in her childhood home and picked up an acoustic guitar when she was 13 and pretty much never put it down since. Levi started out playing piano in grade school before he switched to drums and now, he's working on his guitar and singing to broaden his horizons even more. Michael picked up guitar when he was about 10 and always felt like joining a band was in his future. He got involved in community theatre programs in his teens and began singing and thinking of music as more of a storytelling tool and has always loved dramatic or emotionally driven music ever since. Manu picked up bass when he was 15 after trying guitar and feeling like something wasn't quite right. He saw all of his peers around him starting bands and playing music together and was drawn to it and now he's one of the most amazing musical minds we've ever met! If we didn't have music in our lives Hailie is pretty sure she'd just be completely lost, Levi thinks he'd be working towards a career in architecture, Michael is currently in the process of becoming a high school English teacher, and Manu would probably be drawn more towards his other passions like weightlifting or cooking.
What do you like to do when you're not playing music and how does that influence your creativity?
Outside of the band Hailie and Michael love to write. Hailie primarily writes poetry, which has a clear impact on the lyrics and style of Forrest's music. Michael has tried his hand at several different styles of writing like poetry, drama, and short stories, though he enjoys writing drama the most. Manu enjoys cooking and producing his own electronic music (which I guess is still technically "playing music" but it's separate from the band). And Levi is a huge board game fan and likes taking hikes and spending his days outside. Everyone in the band has their own niche in music and in their creativity and it has really been an asset to us as a band.
How long has your band been around?
Our band is still fairly new! We first got together in December of 2018, so only about a year and a half.
Where are you based out of and how did that influence your music?
We're based out of the San Francisco Bay Area in California. There's such a variety of different music scenes in the Bay Area, so being in that scene has really given us a lot of freedom. It's almost like we're freer to experiment with our music because no one knows what to expect from the music scene here.
How did you come up with the name of your band and what does it mean to you?
Forrest is actually the name that Hailie would have been given if she were born male. It has a lot of personal meaning to her especially, it gives this feeling that the band is an extension of her, like two sides of the same coin! As our frontwoman and main lyricist, it's pretty easy to see how her connection to this band is like a poet's connection to their poems. Each song is deeply personal and revealing to her.
Tell me about the best and worst shows you have played.
We're still pretty small so "best" and "worst" are hard categories to come up with. I'd say our best show without a doubt would be when we played with our good friends Basins from Seattle at Brick & Mortar in San Francisco. That venue is just so cool and the sound was amazing. It might have been a late show (Basins didn't leave the stage until about 1:30am) but we still had a great turnout and we made the best of it! As for our "worst" show, that one is really hard. We've played some tiny DIY stages in Oakland and San Francisco, but each experience has been a blast and our performances were pretty consistent and even the small crowds make for a fun show. If we had to pick a show that had the most technical difficulties, there was one show at Oakland Secret where Michael's amp malfunctioned and he had to borrow an amp, but we still tore into the set and put of a great show! In the end that's what it's all about, right?
Tell me about your favorite venue to play at, and do you have any places you want to play that you haven't already?
Our favorite venue has to be Brick & Mortar. As soon as we get the chance again, we're scheduling a show there! It's just big enough to make us feel "big time" and have great sound, and just small enough to be intimate so we can really see our crowd. And the staff there are all wonderful people. Some places we'd love to play that we never have would definitely be The Cornerstone in Berkeley, The Swedish American Hall in San Francisco, The Ace of Spades in Sacramento and basically anywhere outside the Bay Area. We're itching to see new crowds and play with new bands.
If you could play any show with any lineup who would be on the ticket?
Oh man, this is a tough question for sure. Let's say each member gets to choose an artist to add to the list. Hailie for sure chooses Julian Baker, she has been an inspiration to Hailie's writing style for years now. Michael would choose I the Mighty, he's been following them since they were just a small San Francisco-based band trying to get a record deal. Levi is a sucker for The Strokes, he loves their quirky songwriting and the moments they fall out of key with purpose. Manu has always been a fan of AFI, and who can blame him? The whole band is a product of the emo movement back in the 2000's so no one would complain splitting a bill with one of the emo powerhouses!
What is some advice that you would give to someone who is just getting into playing in a band?
Being in a band is a lot like being in a relationship. Remember that your bandmates are all people with goals and opinions and those goals and opinions don't always line up. Some people join a band because it's fun, some people join a band because they like writing or performing, some people just want to hang out split a six-pack and jam with their friends! So be clear about where you want to go with your group. Communication is key and try not to take things too personally when your bandmates disagree with you. Even if you're the lead songwriter, the rest of the band has ideas and visions for the vibe or energy of a song. Basically, there's no "I" in "Team"!
If you could go back in time and give yourselves advice, what would it be?
Probably just to start this a lot sooner! All four of us have been playing music together or separately for years. We've all known about one another and in some cases worked with one another on other musical projects, but this specific group still took years to form. So, I think I'd go back and say, "Trust me, this lineup works!" 
Of your songs which one means the most to you and why? 
I think I'd have to say Mass Pike is the most important song to us. It fights your typical song structure and writing style, so it's really unique. It has a rolling thunderstorm kind of sound and is so powerful yet also so quiet and subtle. The way the instruments work with one another creates such a cool soundscape and we really tried to emulate that feeling of the shock after a car crash and the screech of metal on metal. It'd that has to be our most meaningful song.
Which songs are your favorite to play and which get requested the most?
I'd say Colorado is probably our favorite song to play. It's our most "classic rock" sounding song and has a ripping guitar solo at the end so it's definitely a more energetic and crowd-pleasing song. As for what song gets requested the most, we play an indie-rock cover of Trampoline by SHAED. It's an awesome song already so we felt like we needed to really change it up if we were going to play it and it turned out to be a really cool cover actually!
What is the creative process for the band, and what inspires you to write your music?
We're more or less a band of four songwriters, so sometimes our writing process can be a little overwhelming. There were times when we got about halfway through writing a song and realized "Hey, this song has gotten too complicated and the parts aren't complimenting each other anymore," and then started from scratch again. What works best for us is if one of our members, usually Hailie, comes in with a verse and a chorus for a song and then we just try jamming on those parts a little to see what feels right. Once we all find a part we like we start asking for opinions from the other band members to workshop it a little and then the ideas start flying and we start changing up rhythms. When we write our favorite words are "I don't know if it will work but let's try it!"
What kinds of messages do you like to get across in your music?
Our music is really vulnerable. It's really heartfelt and tries to make the listener feel the emotion that the band feels when we play it, so I'd say our goal and our message is that emotion is just part of being alive and no one should be scared to feel or express their emotions.
Do you ever have disagreements in your band, and how do you get past them?
We're a band of songwriters so disagreements are bound to happen, especially when everyone is passionate and has their own vision for songs or where the band is going. Luckily those incidents are pretty far and few between. We've all worked with difficult musicians in the past and we feel really lucky to have found this group because we're all level-headed and really try to communicate any issues we have. All in all, I'd say that when you have issues just hold a band meeting and talk it out! Fighting or avoiding your bandmates doesn't do anyone any good.
What are your plans for the future, and do you have anything that you want to spotlight that's coming up?
We just released our debut EP, Temper, and have been busy trying to spread the word! Once all of the stay-at-home orders are lifted, we definitely want to get on as many stages as we can and as soon as possible. Besides that, I think all I can say right now is that we have a few cards hidden in our sleeves for the coming months, so stay updated to get the latest information!