Discover more from Volatile Weekly
Interviews in the music industry from around the world
Interview: Fox Violet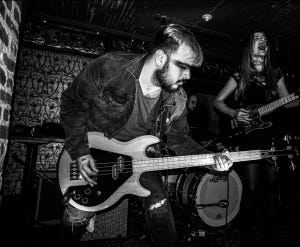 What got you into music, and if you had not gotten into music what would you be doing today?
I always have had a very strong connection to music since I was a child, when I played classical flute. I also like most teenagers found music and stuck onto certain bands. For me that was Radiohead, PJ Harvey, Portishead and a bunch of others. I remember listening to this awesome UK band called Skunk Anansie and just playing one line over and over again.
What got me into songwriting though was some hard life experiences, constantly moving around a lot, with a bout of homelessness being the real kicker. Singing really helped me control my breath and calm my anxiety. I had a lot if rootlessness over like a 5 year period which tipped over into new (also rootless) relationship where we lived in a bunch of countries. That was the tipping point for me, as I ended up in a s**thole in Montreal which by some saving grace  and miracle had a piano. When I sat down at that piano everything just started flowing out of me.. stuff all the way back to childhood. 
It never stopped flowing. I'm always wondering if it might at some point but it just keeps going.
What do you like to do when you are not playing music and how does that influence your creativity?
I really want to get back to nature as much as possible, but I also love re-connecting with dear friends as much as possible.. travel and photography
I went to art school so I have a bunch of cameras at home, I love to draw and paint and make films.
How long has FOX VIOLET been around?
So FOX VIOLET evolved out of another project, but this incarnation has been around just over a year. 
Where are you based out of and how did that influence your music?
Los Angeles. I would say I feel I am not influenced sonically by Los Angeles. I have an intrinsic vision in my head of where I want the music to go and how I want it to feel, that's my biggest guide. That's been embedded in me as a result of my life experiences. I'm influenced by life, who I connect with and what I see/feel.
How did you come up with the name of your band and what does it mean to you.
Fox Violet is a blend of something fierce and something delicate, mixed in with a nocturnal vibe. I have had lucid dreams for as long as I can remember and I wanted to dig deep into the dream world. This word combination really felt that it encapsulated that. 
Tell me about the best and worst shows you have played.
I always like to say the best are yet to come! I just love when I feel a good group of people are really connecting, and experiencing the music. The worst, well, like every musician ever I've played to 2 people in a room. It was hard at first but it makes you truly appreciate when you have just a few more people to connect with and the opportunity that provides you with for people in general. 
Tell me about your favorite venue to play at, and do you have any places you want to play that you haven't already?
I love the Satellite in LA, it's got the most incredible sound and the venue is really community focussed on sporting local and international talent without being pretentious.
There are so many dream venues to play at, but internationally I want to get back to London where I'm from and play a big show at the Roundhouse, or Wembly Stadium! I'm fascinated about hearing the sounds in an arena and how that would be experienced. 
If you could play any show with any lineup who would be on the ticket?
I would love to open for so many people, but Radiohead no matter what is who I always come back to plus or either Lana Del Rey.
What is some advice that you would give to someone who is just getting into playing in a band?
Give it time. You need to go through a lot of evolutions sometimes. Sometimes it clicks quickly but it's fine to be patient and let things run their course. You have to let sounds mellow sometimes and evolve like good wine.
If you could go back in time and give yourselves advice, what would it be?
Stop thinking everything has to be perfect. I used to struggle with self doubt because I wasn't really in a music conservatory or anything. I had lessons and such but I felt like my technical skills always held me back. I've always been very active in pursuing my dreams but I feel my anxiety has held me back, so I would tell myself to be kind to yourself and focus on your vision.
Of your songs which one means the most to you and why? 
Freak means the most to me. It's about that feeling you have when you feel you will never belong, like you are not good enough to truly connect with anyone. It's a deeply personal song that reflects on my own hardships from afar but it also stands as a calling card to anyone else whom might be experiencing that or feeling that way, to connect.
Which songs are your favorite to play and which get requested the most?
Again I would say Freak, but also the track Who are you? This is an angst driven song that really reaches into your own identity and others and pulls out out by its gut.
What is the creative process for you, and what inspires you to write your music?
I'm inspired by things I go through, good nay bad, but I am mostly really deeply inspired by my dreams. I tend to have a very visual way of thinking and see things as a story before a song will come out. It probably gets planted in there for a while before it makes its way out in a song. I try to not let myself judge the process and let it flow into the form that feels right.
What kinds of messages do you like to get across in your music?
That it is ok to be an outsider, to feel dark emotions that you don't understand, to see things you can't completely grasp. It's normal, and it's especially normal being a woman. Women aren't just sunny creatures,
What are your plans for the future, and do you have anything that you want to spotlight that's coming up?
Recording an EP right now called Parasomnia, and then playing shows until our fingers bleed ;)