Discover more from Volatile Weekly
Interviews in the music industry from around the world
Interview: Gonebad?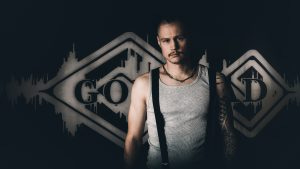 What got you into music, and if you had not gotten into music what would you be doing today?
B.Harrison: Ever since I can remember I've felt fascinated by music. My older brother played guitar and introduced me to metal music.  At the age of 12 I got my first guitar and I started playing too, I haven't looked back since. I've always been into physical activities also and If I wouldn't have gotten into music I probably would have sought a career in combat sports.
What do you like to do when you are not playing music and how does that influence your creativity?
B. Harrison: Exercise mostly, doing it moderately can probably add to your creativity but too much will definitely kill it. Playing computer games is an almost as good a distraction as alcohol but I think the latter is better for creativity, at least for me. I also like watching a lot of documentaries and movies etc. but just sitting around with friends and having a conversation can be inspiring as well.
How long has your band been around?
B.Harrison: I started Gonebad?  back in 2007 so it's been a while. The band was always a kind of an on and off thing but I never stopped writing new music in between the breaks. Now that I've started making music as a solo artist I already have a ton of material to work with.
Where are you based out of and how did that influence your music?
B.Harrison: I live near the capital of Finland, Helsinki. It's a small town with very minimum activities going on. There's not much to do with not too many distractions so music is a good way to stay entertained. I would suppose a less hectic environment allows me to premeditate how I write my music and focus more on the details.
How did you come up with the name of your band and what does it mean to you.
B. Harrison: The name has been in my mind along before I ever had the chance to put a band together. "don't mind being a failure because the music will always be there for me", that's basically what Gonebad? means to me. Tell me about the best and worst shows you have played.
B.Harrison: We haven't played that often so every time it's a special thing. I haven't been thrown any bottles at yet, so the worst shows I've played don't really have anything to do with the crowd. It's usually when there are technical difficulties and there's nothing you can do about it, so you just land on your head and hope you can redeem yourself next time.
Tell me about your favorite venue to play at, and do you have any places you want to play that you haven't already?
B.Harrison: Any place with a stage is fine, I haven't been abroad yet so I'd rather head somewhere outside Finland next time around.
If you could play any show with any lineup who would be on the ticket?
B.Harrison: Lesser Key, Hundred suns, Mastodon. I could see us fitting in and adding our own sauce in the mix.
What is some advice that you would give to someone who is just getting into playing in a band?
B.Harrison: If you're looking for a good time, start a band with your best friends and don't worry about the music too much. If you're looking for a career in music but everyone isn't on the same page or as passionate about it as you are, don't waste your time. You'll never make it.
If you could go back in time and give yourselves advice, what would it be?
B.Harrison: Don't waste your time getting drunk if there's anything else you could be doing. It's more important to feel good about yourself and your accomplishments than to have a good time all the time.
Of your songs which one means the most to you and why?
B.Harrison: I guess it's going to 'Cold Enough' for a long time since it was the first song I did when I decided to take on the world as a solo artist.
Which songs are your favorite to play and which get requested the most?
B.Harrison: The easiest songs are the favorite ones. Playing guitar and singing at the same time is sometimes hard to enjoy when you're required 110% of your brain capacity to be able to pull it off.
What is the creative process for the band, and what inspires you to write your music?
B.Harrison: The majority of the writing comes about in my head when I'm waiting to fall asleep or drive a car or something like that. I have a lot of demos and recordings from jams that I just put on a track on my computer and start working on.
 What kinds of messages do you like to get across in your music? B.Harrison: The songs are about my perception and the way I lead my life. Everyone has their own path and own cross to carry. What I try to do first and foremost is to tell my side of the story and try to create mental images and invoke you to think for your own.
Do you ever have disagreements in your band, and how do you get past them?
B.Harrison:  Not so much but then again, there's probably a reason why I was never able to keep a band together. In the future, I hope anyone who agrees to play with me would also trust my vision and my work ethics. What are your plans for the future, and do you have anything that you want to spotlight that's coming up?
B. Harrison:  As my publicist at Bespoke Media said: "We will push hard this year" and that means working around the clock recording songs, making videos, promoting, etc. etc. we're getting ready to release a new single 'Look For Entry' and by the end of the year I'm going to have enough songs for an ep. and then we'll see where we're at.