Discover more from Volatile Weekly
Interviews in the music industry from around the world
Interview: Good Friday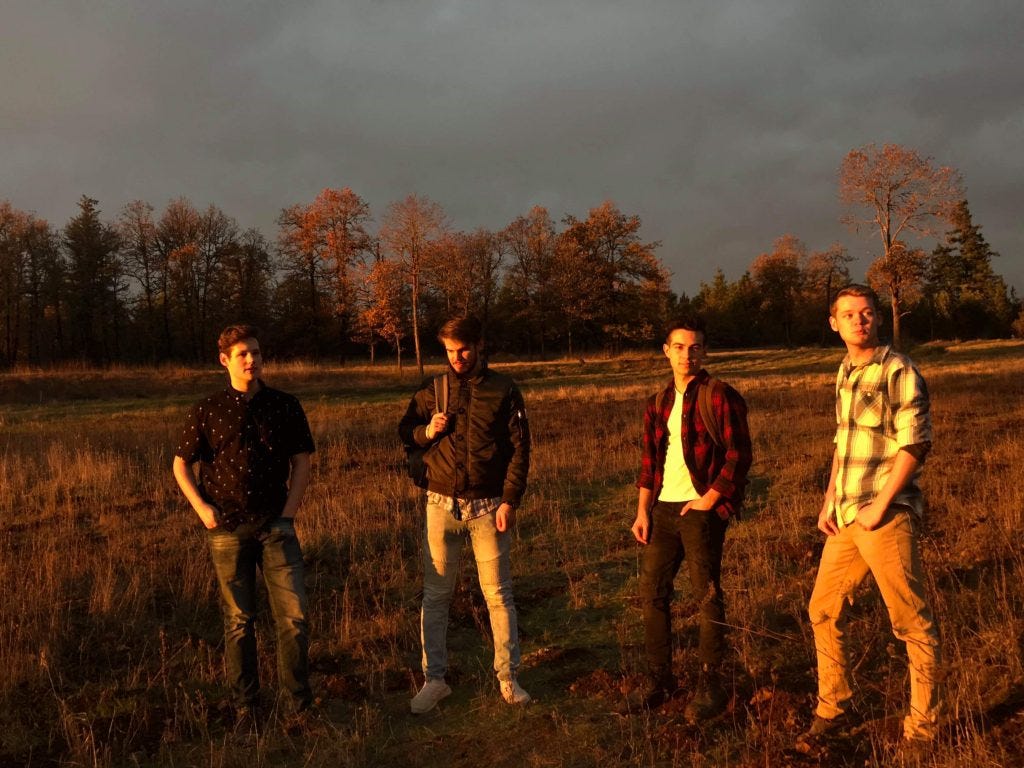 What got you into music, and if you had not gotten into music what would you be doing today?
I (Eli Fissell, Bass) come from a very musical family, particularly on my dad's side. Everyone in his family plays some kind of instrument, and I grew up watching him sing on stage at church. He was always sharing the music he liked with me, and even some songs that he had written. Then when I was 8 years old my Grandma began giving me piano lessons. I stopped playing for a bit come 5th grade, then started playing again after joining choir in 7th grade. In 8th grade I switched to bass when I began playing with Dawson and Hayden regularly, leading music in our church youth group.
If I weren't a musician I think I'd be going to school to be either an architect or a screenwriter. I've always loved the creative process, and seeing the fruit of al your efforts at the very end. I also really enjoy collaboration on those creative efforts, and I think either of those careers would give me that experience. However, I'm very fortunate to be able to be creating music with my two lifelong friends, and that's something nothing else can offer.
What do you like to do when you're not playing music and how does that influence your creativity?
We love watching movies and tv shows, and coming up with our own characters and stories. Storytelling is a big passion of ours, and it bleeds into how we think about the album as a whole as we write the songs. We're constantly asking ourselves about the themes that come up in a song, both in the lyrics and in the music behind it. That plays a big part in how we structure an album or even a live set.
How long has your band been around?
We've been a band officially for about 5 years, but we've been playing music as a group for 8.
Where are you based out of and how did that influence your music?
We're from Portland, and while our sound itself wasn't influenced much by the greater Portland music scene, growing up there gave us a lot more opportunities to play music than we would have had in a smaller town.
How did you come up with the name of your band and what does it mean to you.
I came up with the name while flipping through a daily planner in his sophomore year of high school. He closed his eyes and pointed to a random spot on the page, and happened to land on "Good Friday". At that point he just thought it sounded cool, but over the years the name has come to fit rather well. Many of the songs on our most recent self-titled album deal with the struggles and trials of searching for identity as you grow into adulthood. This focus on common struggles led to a "dark before the dawn" theme emerging, which we think lines up pretty well with the biblical Good Friday.
Tell me about the best and worst shows you have played.
Our worst show was back in 2016, at an event called "Gobel Warming" in Gobel, Oregon. Supposedly it was a pretty good sized festival back in the day, but when we played the crowd consisted of our parents and about 10 senior citizens. And, because it was a bar, our underage siblings and friends had to watch from the side of the stage, which was less than ideal. Top that off with an egotistical sound tech and a lackluster performance of "We Will Rock You", and you've got a recipe for an unforgettable show.
On the flip side, we did one show in particular back in 2018 that really stands out to me. We have a song on our first album titled "Dreams Put to Rest", which speaks about suicide awareness and prevention. We decided to make that song the core of our set that night, and actually brought a friend up on stage to share her testimony about attempting suicide several years back, and then join us for the last song. We closed with a triumphant performance of "Titanium", and it was very powerful.
Tell me about your favorite venue to play at, and do you have any places you want to play that you haven't already?
My favorite venue we played at back home was this funky little club called The Garages. We were gigging there several times a month for the first half of 2018, up until we took break from shows to focus on our album for a bit
Everywhere, we want to play everywhere, and have barely scratched the surface of places we'd like to play. A dream venue of mine would be Slane Castle in Ireland.
If you could play any show with any lineup who would be on the ticket?
U2, Jack White, and The Beatles.
What is some advice that you would give to someone who is just getting into playing in a band?
Leave your ego at the door. A good band has to operate as a single unit, and that isn't possible if everyone is competing for the spotlight. Figure out who your audience is, and what they are looking for from you. Find the best way to deliver that experience to them, in an unexpected way.
If you could go back in time and give yourselves advice, what would it be?
Don't expect too much of yourself. Focus on where you are now, and how you can continue to improve. Don't try and change the world, but compel others to make changes by building a personal relationship with the listener.
Of your songs which one means the most to you and why? 
Our song "You We're Gone" probably means the most to me, I wrote it when I was in a very dark place mentally, and felt totally alone. Although I've moved passed that season and am now much happier, sharing that song has remained very important to me. I view it as a snapshot of how I felt at the time, and I offer the song as comfort to others who need to know they aren't alone in feeling alone.
Which songs are your favorite to play and which get requested the most?
A favorite of mine to play is "Painting the World", I love all the moving pieces in that song. A fan favorite is "On The Day I Learned To Love", and its big chorus makes it a lot of fun to play with a crowd.
What is the creative process for the band, and what inspires you to write your music?
Generally, Dawson or I will come up with some lyrics and a basic chord progression, then bring it to the rest of the band. From there it's fully a team effort, constantly trying out new things and making suggestions for each other's parts. Once we feel we've put as much into it as we can, we'll bring it to our producer to get his thoughts. He helps us refine it until we end up with a radio-ready product.
As far as inspiration, we mostly get lyrical inspiration from our personal experiences. I personally love including lines that reference other songs that match thematically, I think it allows for deeper analysis. It also paints a better picture for listeners who are familiar with the songs being referenced.
For musical inspiration, mostly it comes from hearing a song we like, and saying to each other, "I'd love to make a song like that!" Be it the mood, the energy, or just the catchiness of a song, we often use other songs as reference so we can all be on the same page as to what we are trying to achieve with a song. We also try to keep expanding the lists of artists and inspire us, and never stop discovering new music.
What kinds of messages do you like to get across in your music?
In our most recent album, we explored themes of doubt, loneliness, and the trials that come with growing up. Our goal in every song is to be honest, relatable, and personal so listeners can draw parallels between our experiences and theirs. We also like touching on larger social issues when applicable, but try to address it from a personal perspective. For example, our song "Tent City" speaks about the homelessness crisis in Portland, but also speaks about our own hypocrisy in our tendency as people to talk on and on about the problem, without ever following through and taking action. Our song "Painting The World" also comes to mind, as while it can apply to anyone with dreams and aspirations, it also contains allegory for the struggles faced by immigrants coming to America today.
Do you ever have disagreements in your band, and how do you get past them?
Not very often, but during our creative process, differences of opinion are bound to come up. We are usually able to work through them pretty quickly, as we have an understanding that everyone is just trying to do what's best for the song, and to try and keep an open mind. No idea isn't worth trying at least once, just to see if it works.
What are your plans for the future, and do you have anything that you want to spotlight that's coming up?
For the time being we're just going to be continuing to tour, at the moment just in the states, but we are making plans to come over to Europe sometime in 2020. Other than that, I just want to encourage people to listen to our self-titled album, "Good Friday", that we just put out in June. It can be found on Spotify, Apple Music, everything, so check it out!