Discover more from Volatile Weekly
Interviews in the music industry from around the world
Interview: Griffin Holtby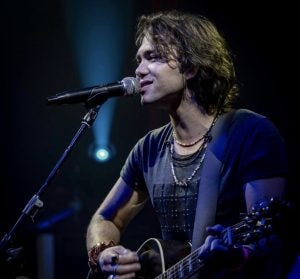 What got you into music, and if you had not gotten into music what would you be doing today? 
My first memorable experience was when I was very young and my Dad introduced me to Cream.  I fell in love with the song "Sunshine of Your Love." Soon after, I started sitting with my makeshift drum kit, made of pots and pans, in the kitchen while my mother cooked.  That got old real quickly. At Christmas, I got a "First Act" drum kit and I would hole up in the back house above our garage blasting Green Day through a tiny, blown out floor monitor.  Breaking stick after stick, I would put the speaker at my feet, desperately trying to hear and match TreCool's precise kick and snare hits on my poorly tuned drum kit. The spark had ignited and years later, in full braces and in middle school, I would eventually learn how to sit back into a groove  Thank you, TreCool!
In third grade I went to the Paul Green School of Rock for guitar lessons and it was there that I learned that I love to be on stage.  They encouraged me to sing and start taking voice lessons. A few years later I started to write a lot and it was only uphill from there!
If I was not pursuing a career in music, I would probably be a writer in some capacity or in medicine.  Growing up, I always thought that I wanted to be a doctor. I was the kid who wanted to stick my nose into every accident and I watched this British vet show where they took sick and injured animals and operated on them. My whole family couldn't stomach it, but I loved it!  Music and medicine use the same side of the brain, I think. My parents told me I could practice medicine and play my instruments on the side. Over time, my passion for music far surpassed my interest in the medical field and we all agreed that I could not imagine a life without music.
What do you like to do when you are not playing music and how does that influence your creativity?
In all honesty, music really does dominate my life to a certain degree.  I find that the anxiety that I feel when I am not moving forward with my career is what motivates me to keep pushing for more opportunities and connections.  That being said, I still live at home with my family and I really enjoy spending time with my little brothers, Gavin, in 8th grade, and William, who is graduating from high school this spring.  If you have ever met me, you can probably attest that I am an absolute people person. I love to converse with strangers and make friends with people I meet at shows. To me music equals connection.  I'm very lucky to be talented and have a calling that will give me opportunities to connect with people and create relationships.
On another note, I can also be an absolute couch potato sometimes and I'm a huge fan of thriller and suspense shows and movies.  I also love to read fiction mystery novels and fantasy novels. I read a lot when I was a kid. When people asked me how I learned how to write music I told them J.K. Rowling taught me. If anyone is wondering how to become a writer, I always tell them that they need to read.
Socially over the past few years in Dallas, I have begun to create an awesome friend group of musicians that I've met at Open Mics and shows out on the town in Deep Ellum.
I spend a lot of time with other musicians and, I have yet to find any pastime or hobby that can ever match the excitement of picking up the guitar and knowing that the boys are on their way over for band practice.  I really like to travel, snowboard and mountain bike but that's hard to do living so close to downtown Dallas.  I'll get back to that someday.
Being a singer/songwriter is a mixture of knowing your vocabulary, being confident in who you are and what you believe in, talent, willingness to get out there and interact with people constantly to promote your music, and dedicating your life to the grind.
Where are you based out of and how did that influence your music? 
I have lived in Dallas, Texas for most of my life and I have found that the Texas mixture of southern blues, rock, and country has influenced my music taste.  Growing up, I would see bands at family events, block parties, and celebrations and they were often rock, country or americana.
When I was in a rock band through a rock school here in Dallas, we began to play in a funky area of Dallas called Deep Ellum, Dallas' miniature version of Bourbon Street.  It was there that my love for rock'n'roll was nurtured, which is sad because most of the venues that I grew up to know and love have recently been closed down and turned to nightclubs.
How long has your band been around? 
I have been writing songs since 6th grade and started recording and releasing them at 14.  I have done many acoustic gigs in Texas and all across the U.S. on a tour. At the same time I have always had different rock band projects going on, for fun, but I usually kept them separate from all of the songs I write.
Finally, I decided to get a backing band because I really want to perform all of my own songs with a band.  The energy of my songs is completely different when they are performed live versus what you hear on Spotify or in an acoustic set.  I filled up a bar in November for my song release party "Overgrown" and it was gratifying to share my music with a band behind me. I have had the band for over a year now and we are busy setting up lots of gigs in Texas and Oklahoma.  I'm psyched about where I can take my music and my bandmates!
How did you come up with the name of your band and what does it mean to you.
The name for my solo project and backing band is just my name, Griffin Holtby.  I'll add that I was adopted from Russia at eight months old and my name was very different.  My parents kept my middle name, Oleg. I'm proud of my name and feel fortunate that I am in the position I'm in now, with a family that supports me to pursue my dream of being a performing musician.  If I was still in Russia I might be busking on the streets for the rest of my life.
Tell me about the best and worst shows you have played.
The best show I've ever played as a solo artist was in 2018 when I was on the boys of Summer tour and I got to play to a packed crowd at Whiskey A GoGo in L.A.  I've played a lot of bad gigs so far in my life and I wouldn't be surprised if I play a lot more bad ones down the road. If you can't get an empty bar with only five people excited about your music and your message, you'll never be able to get a huge crowd amped up the way that you should.  It takes practice, time and determination to do what I do and that being said, every time I play an empty bar I have the opportunity to prove to myself that no matter who is in the crowd that night I'm gonna play my heart out and they will never forget the night they saw Griffin Holtby play live.
Tell me about your favorite venue to play at, and do you have any places you want to play that you have not already?
My favorite place to play in Dallas is Trees.  I have played there several times and it is hands-down the coolest stage in Dallas.  I really want to play at The Rustic in Dallas. And I would like to play more house shows.  I have done one recently and been to a few lately and I like the concept. I'm also doing a SoFar Sounds show in March.
If you could play any show with any lineup who would be on the ticket?
I would literally cry if I got to open for Jack White, Royal Blood, or Silvertide.
What is some advice that you would give to someone who is just getting into playing in a band?
If this is your band, meaning that you are the lead singer and you write all of the music, and you release everything under your name, then you must pay your musicians/backing band generously.

If you are in a band that has multiple members who are all contributing to creating a product that will eventually make you money, you need to set up expectations and a goal/plan.

No matter what the project is, you are only as strong as your weakest link.
If you could go back in time and give yourselves advice, what would it be?
Don't stress about the little things.  Get your music out. Write. Get on any stage you can.  And always be yourself.
Of your songs which one means the most to you and why? 
There are two songs of mine that really hit home.  The first is "Walk Alone" off my 2105 Infinite EP, and the other is my new 2019 single, "Overgrown."  Both of these songs were written during difficult periods in my life and anytime I play them live I struggle to keep myself from thinking about that time.
Which songs are your favorite to play and which get requested the most?
My bandmates like to play "Fade Away" because it's a high energy song!  The songs most requested by fans are "Walk Alone", "Overgrown", "Black and Blue", and "Cut the Strings."    The best covers I've done so far would be "Everlong", "Folsom Prison Blues", "Tennessee Whiskey", and "Knocking on Heaven's Door."
What is the creative process for the band, and what inspires you to write your music?
Most of the songs I write actually that turn into something that I release down the road are ideas that come to me at the weirdest times.  Sometimes I sit down with the idea in my head and five minutes later I've got a song on my voice Memos recorded front to back with ad libbed lyrics which usually make it to the first cut.  From there, a lot of songs are taken to other individuals or songwriters for feedback and development help to make the song more punctual, more emotionally invested and more clear. Then, down the road I'll do more editing and work on the song when I record it in the studio.
What kinds of messages do you like to get across in your music?
My music encapsulates my personal struggles, social experiences and creative stories. I have a lot of creative ideas that I think up in my brain about generalized topics such as crime, morality, light versus dark, evil versus good, addiction, and so on.  I have had personal struggles, some of them associated with the identity crisis I had over being adopted from Russia. My high school years were a bit on the rougher side and I wrote about rejection in my EP, Infinite. I'm through all of that now but it still influences who I am in many ways.
Ultimately, I want to give people the message that they should never give up.  There is always hope. I made it through bad times and they can, too.
Do you ever have disagreements in your band, and how do you get past them?
Being in a band can be a stressful process. Since I pay my backing band for my solo stuff, I basically get the last work on everything we do.  But in other rock bands, it's an equal split. Someone once told me that being in a band is like being married to three people, and it really is.  The best way we have found to keep our momentum is to focus on getting things done rather than focusing on getting things to be perfect. If you have a goal with your band and a deadline, all of the arguing and bickering that could happen is overshadowed by the fact that you need to get something done by a certain time.