Discover more from Volatile Weekly
Interviews in the music industry from around the world
Interview: Halogram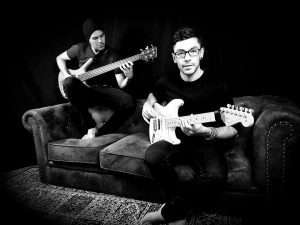 Interview with JAVIER IGLESIAS (Guitarist of HALOGRAM)
What got you into music, and if you had not gotten into music what would you be doing today?
My love for music comes from my family. My father's grandfather was already a musician, and my father too. Since childhood I always was very interested in music, and thanks to my friends in the neighborhood I started listening to bands such as AC / DC, Queen, Iron Maiden, Scorpions, Metallica, etc., something inside me automatically woke up that I think my passion for the guitar was inevitable. If I did not dedicate myself to music I do not know what I would do today, but I probably it would be something creative.
What do you like to do when you are not playing music and how does that influence your creativity?
I am a collector of action figures and I love crafting. The figures I have in the studio creates a very nice environment, which inspires me a lot... and with the crafting I get relaxed quite a lot and it helps me to think more clearly.
How long has your band been around?
About 3 years
Where are you based out of and how did that influence your music?
I live in Galicia, Spain and Daniel, the bassplayer, lives in London UK. We both are lucky to live in places with huge musical scene, and logically this greatly influences our music because there are very good and talented musicians that forces you to be in a certain musical level if you want to stand out.
How did you come up with the name of your band and what does it mean to you.
We mixed the words HALO and HOLOGRAM; both words are referring to something that is there, you can not touch them, but you can see or maybe feel them. There is not a real meaning for Halogram, we just liked the sound of it.
Tell me about the best and worst shows you have played.
With Halogram we didn't plan any shows yet. We are still in a very early stage writing and building our potential audience. But we have played shows with other projects in the past. Daniel and I use to play together in another band about 15 years ago. We played in a morning festival in Spain in front of a few thousand people. That audience were partying the previous night until the morning. We play the first show in the morning and it was amazing!!! But then; we played a second show in the evening for the same people and they were awful!... they were too drunk and unrespectful. They even threw glasses and sparkles to us just for the fun of it. We could say we had one of the best and the worst gigs in the same day and place.
Tell me about your favorite venue to play at, and do you have any places you want to play that you haven't already?
We would like to play in any venue to be honest. We are currently playing with other projects and our audiences varies between a few people to thousands. Of course we would love to play in big festivals or arenas with Halogram…. Time will tell! One venue that Daniel is always mentioning is the Brixton Academy in London; one of his favorites.
If you could play any show with any lineup who would be on the ticket?
-       Marco Minnemann (Aristocrats) on drums
-       Dani Mourinho (Halogram) on Bass
-       Myself and Guthrie Govan on Guitars
-       Richie Kotzen on Vocals and Guitar
What is some advice that you would give to someone who is just getting into playing in a band?
Be organized, on time, learn the songs properly before the rehearsals (not during), accept any criticism and learn and improve from it and the most important: Work as a team!
If you could go back in time and give yourselves advice, what would it be?
To spend more time studying guitar and also to start the project Halogram earlier!!! as we decided to work on it around 20 years after since we met!
Of your songs which one means the most to you and why?
Each song means something special, but maybe I would say the "The falling man" means the most to me. Mainly because it was our first song as Halogram and during the writing process we had a clear idea of which direction we had to take for the future songs and the choices to define our music style.  Also the theme of that song (the 11th of September events) is very significant for me.
Which songs are your favorite to play and which get requested the most?
I like to play "The falling man" the most. As we haven't gig yet we don't know which one would be the most requested but we think "Symphony Of Regret" will be one of the most requested as is the one with more plays in Spotify. Also our new single "Obsolete Future" will be very fun to play due the amount of different styles we merged in that song.
What is the creative process for the band, and what inspires you to write your music?
We work by distance: Dani from London and I from Spain. We are sending ideas between us and we work around them until we find a way that makes, the whole composition, sense. I always say that there is only one way to end a composition, the beauty of this process is how to find that way.
What kinds of messages do you like to get across in your music?
The good thing about being an instrumental band is that the listeners can interpret the song as they want. We write about things that are happening in the modern era.
Do you ever have disagreements in your band, and how do you get past them?
The truth is that at the moment everything is going very well between us. We have a very long friendship and also a long history working together. With Halogram each of us contribute and play his role with respect and admiration towards his partner. If we have any disagreements we always find a solution that keep us both happy.
What are your plans for the future, and do you have anything that you want to spotlight that's coming up?
Our goals for this year are to continue writing new songs, try to get to the maximum audience as possible and to grow our fanbase. So if your readers want to help us with that task…. Please check our social media sites, listen us in spotify, add our songs in your playlists…follow, subscribe, comment …. We really are open to answer any questions and interact with our fanbase. Thanks again for this interview!
Youtube: https://www.youtube.com/halogram
Facebook: http://www.facebook.com/halogramofficial
Instagram: http://www.instagram.com/halogramofficial
Spotify:  https://open.spotify.com/artist/1cNNyzIQeGSz7GslbV52fy