Discover more from Volatile Weekly
Interviews in the music industry from around the world
Interview - Harakiri For The Sky is releasing a new album "Arson" on Feb 16th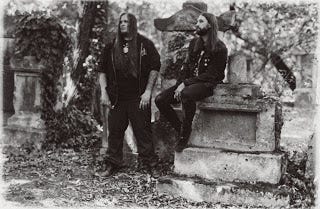 Harakiri for the sky has been around since 2011 and during that time you have released three records with a new one, Arson, coming out February 16th, 2018. From what I understand the band was initially started as a studio project and then was expanded to a live line-up. What was the process like putting the band together?

Me and M.S. wanted to lift the band to a higher level. This is why, shortly after we recorded our first songs, we searched for live members, so we'd also be able to tour with HFTS and play as much concerts as possible. In the studio this band is still a two man project with me as lyricist and singer and M.S. as songwriter.

How has your music evolved over the years with each new album?

With the years we allowed us to more and more to admit influences from other music genres, such as Post Rock, Post Punk, Shoegaze and so on. We started this band in late 2011, early 2012 in my living room while listening to Torn Beyond Reason by WOODS OF DESOLATION. This is also how we wanted to sound in the beginning, but it evolved a little different in the last six years, and that's good. We more and more found our own way and our own musical style and we don't really care, never really cared what others say, as long as we were satisfied with our work.

I see that you guys have been on a tour recently playing all over the place, what has been the best place(s) you have played, and where are you most excited to play?

Yeah, we tour a lot in the moment. I myself like it the most to play in Scandinavia and Great Britain. One of the coolest and fucked up cities was Glasgow. I really like fucked up places. I'd mostly like to go to the states or to Australia. That'd be great.

What is the creative process for the band, who or what inspires you to make your music?

I'd say life on a daily basis. All the fucked up things happening every day in everybody's life provides enough matter to write about.

What kinds of messages do you like to get across in your music?

The message of our music is kinda nihilistic and pessimistic. Our songs are mostly about estrangement, hopelessness and death. Very bleak and disconcerting.

Outside of the band what do each of you like to do, and how does that help you with your creativity?

That's a good question… What do we like to do? Yeah, maybe travel, seeing new places. I travel a lot, meeting new and all friends. I normally never stay at the same place for more than three days, always on the run. Going by train like 1000 kilometers a week is kinda relaxing and never gets boring. It's also very inspiring when it comes to writing poems or new lyrics. I also like to hike and that stuff. I'm from the alps and mountains give me some strange feeling of security. The other days I'm probably party very hard with my friends not sleeping for days. That's also very inspiring some times.

As a band out of Vienna, Austria how do you feel that influenced your music?

I was born and raised in a small village next to the alps in Salzburg and came to Vienna more or less just to start this band and finishing my studies, when I was already twenty. Coming from the mountains surely influenced my connection with music. I often did this long monotone walks through winter fields and forests. You get this special Black Metal feeling every time you step outside. But I also know this paradox feeling of isolation some guys have when they move to a big city like Vienna. And in the last couple of years, for sure this had much more impact on my lyrics and my life than the hand full of walks I do when I return home. You feel this quick living world more than ever these days. And that makes me sick.

If you were to go on a dream tour, what bands would you like to have on the ticket?

I don't know… Converge, Deafheaven and us as support? The other guys will hate me for this haha.

What songs are your favorite to play and what are the most requested?

My favorites are always our new songs, because we haven't already played them a few hundredth times. At the moment it's Stillborn and Fire, walk with me from our new album. The fans, for sure, mostly want to hear the "classics" from Aokigahara, which I like to play least.

So if you had a way to give your younger selves advice what would it be?

Always stay true to yourself and know who you are and who you are not. One of the most important things in life to me is individuality. Nobody likes poser.

What are your plans for the future, do you have anything that you want to spotlight that will be coming up?

No special plans. Just going on what we like most: Doing music and going strange places. Stay Gold!
Follow the band on Facebook