Discover more from Volatile Weekly
Interviews in the music industry from around the world
Interview: Hearts & Hand Grenades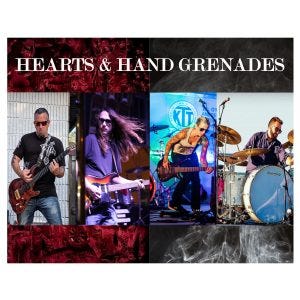 What got you into music, and if you had not gotten into music what would you be doing today?
It is really just a love for finding that certain riff, or those lyrics that get an emotional response. Music is a universal language and for us as a group, we were lucky enough to find a commonality in a genre we all really like. If I hadn't gotten into music, I would probably just be miserable at a desk all day.
What do you like to do when you're not playing music and how does that influence your creativity?
When I'm not playing music, I really enjoy catching up on a good horror movie or series. That is my favorite film genre and I suppose I'd say it influences my creativity by coming up with some weird and fun lyrics.
How long has your band been around
We've been around officially for a year now but have all collectively played in the cover music scene in Buffalo for many years and dabbled in multiple genres.
Where are you based out of and how did that influence your music?
We are based out of Hamburg, NY which is a suburb of Buffalo. Our music originated basically after a conversation with Robby Takac of the Goo Goo Dolls, where he encouraged us to get some original songs recorded and offered us a tour of his studio, GCR Audio in Buffalo. After seeing the studio we were hooked.
How did you come up with the name of your band and what does it mean to you.
We wanted to go for something that showcased the female-fronted image but still packed a punch, as we deploy this mentality in our music as well. Hearts & Hand Grenades just felt like the right choice from the start and we haven't looked back since.
Tell me about the best and worst shows you have played.
Well I think the best show is always one where there's a large crowd, and they are all engaged in what you're doing. For me, the best show I've ever played was for a multi-town venue and there was an entire park filled with people. There is no feeling like it when an entire crowd sings a song back to you. The worst show I've ever played is probably one ticketed venue where there was about 15 people total that showed up. The crowd involvement is everything and when there's no crowd, its hard to really get into it.
Tell me about your favorite venue to play at, and do you have any places you want to play that you haven't already?
My favorite venue would be a place called Mickey Rats in the summer. Its right on the beach and people flock to this place considering we only get about 3 months of summer weather here. The atmosphere is always fun and casual, and the people are there to party, every time! Given the opportunity, I would really like to see us on tour. England has always been a place I would like to visit and play so we are doing our best to make that one happen.
If you could play any show with any lineup who would be on the ticket?
I feel like this answer would be different for each band member, but for me I would love to be on a bill for MUSE. They've been a source of musical inspiration for me. I would also love a chance to get to do a show with Halestorm and In This Moment.
What is some advice that you would give to someone who is just getting into playing in a band?
Put in the work! When you think you've gotten really good at something, keep practicing, keep learning, keep going!
If you could go back in time and give yourselves advice, what would it be?
I would advise myself to not be so shy when I was younger and to have started playing and singing in front of people earlier on. I was so timid for the first seven years that I was learning bass that no one even knew I was doing it. Finally, I got out of my shell and joined a cover band which eventually led me to me singing and becoming the front person for Hearts & Hand Grenades. 
Of your songs which one means the most to you and why? To me, I connect the most with I Hide. It was an outlet for me to write about being introverted and socially awkward which I struggled a lot with when I was a kid. I do a terrible job at talking about my feelings and songwriting is a way for me to bridge that communication gap.
Which songs are your favorite to play and which get requested the most?
My favorites to play are Secret, Nothing Left, and Turning to Ashes (to be released this Spring) and typically our most requested have been Secret and Nothing Left so far.
What is the creative process for the band, and what inspires you to write your music?
Typically, Mike works out a guitar riff that drives the feel of a new song. I usually take that and add some bass parts to it, and once that's completed, I get to work on the lyrics. I always have a "vault" of lyrics that I keep on hand for new songs. This is made up of a verse here or there or a chorus that I've been playing with until the right riffs come together.
What kinds of messages do you like to get across in your music?
The music leans on the heavy rock side but I try to have a balance of lyrics that are inspiring but strong, yet a little rugged and edgy. 
Do you ever have disagreements in your band, and how do you get past them?
Mike and I tend to iron out the song structures before taking the new ideas to the rest of the band, so I guess he and I will brainstorm about what we think works and what doesn't. And sometimes we don't always agree but we let the song evolve and try different sounds and progressions until we end up with a product we both like. If the rest of the band doesn't agree we are always willing to try tweaking the songs until we've produced something we can all enjoy.
What are your plans for the future, and do you have anything that you want to spotlight that's coming up?
The future is looking optimistic right now. We have some shows lined up locally and we are about to release our third EP titled, "Adrenaline" which will complete our first album (still untitled) which is set to come together this Spring. We are currently looking to put together a tour as well and will be starting to work on new tracks as soon as this Summer.