Discover more from Volatile Weekly
Interviews in the music industry from around the world
Interview: High Tide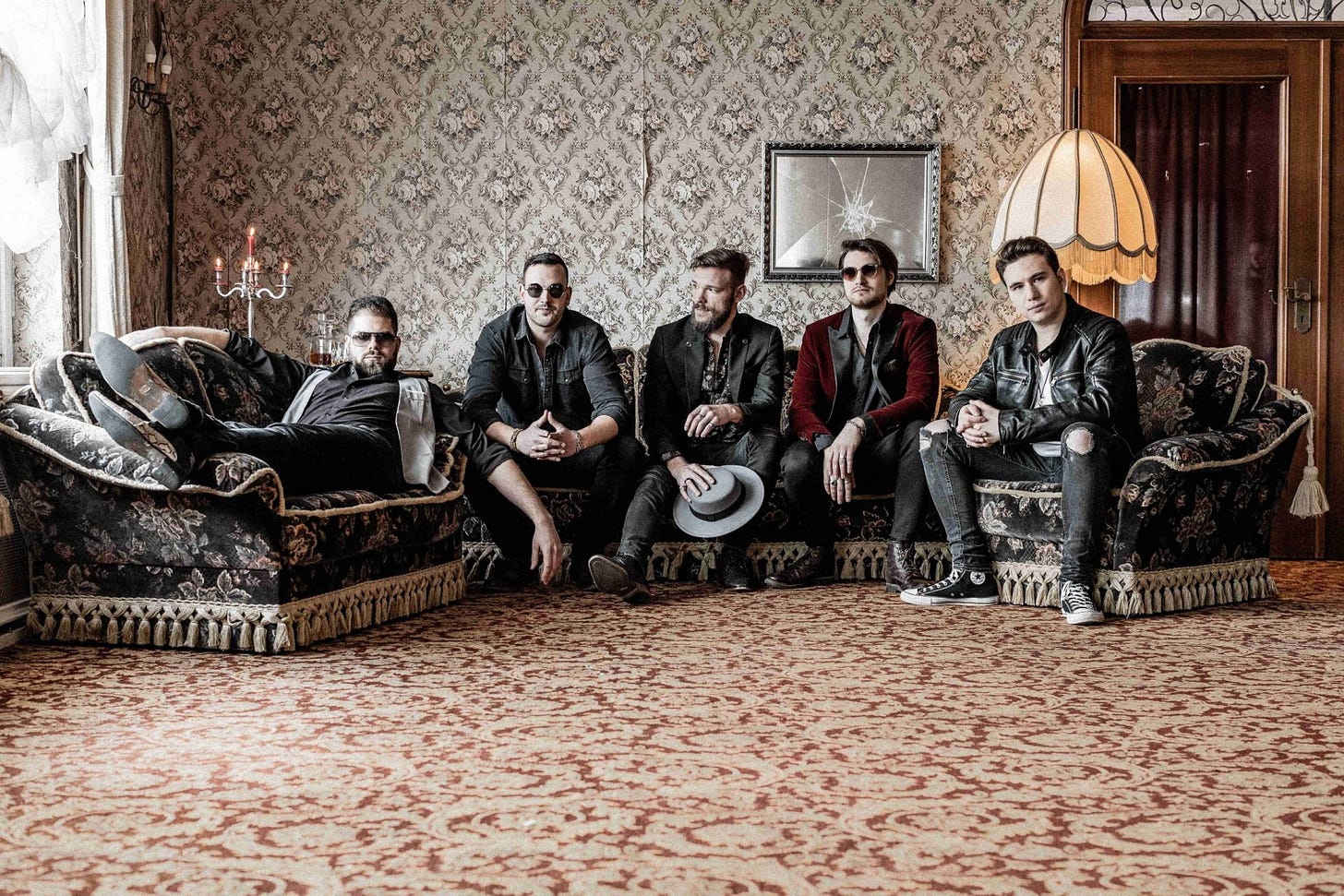 What got you into music, and if you had not gotten into music what would you be doing today?
Alexander Kühner -High Tide: We are all influenced by the music taste of our parents. My dad always listened to Deep Purple, The Who, CCR and other 70s bands. We want to bring back the power and purity that always amazed me.
What do you like to do when you're not playing music and how does that influence your creativity?
Alexander Kühner -High Tide: I like reading books and poems, going to bars with friends, sitting in the garden and having a couple of beers with the band members and talking all night long.
I also like going for a walk with the dog.
All of this inspires me and I have time to think and speak about everything under the sun.
How long has your band been around?
Alexander Kühner -High Tide: The band is founded in 2014. In 2016 we released our first CD - Against The Current.
Where are you based out of and how did that influence your music?
Alexander Kühner -High Tide: We are based in Heilbronn - Germany. It is a city with a small rock and roll scene. Most of the bands in our hometown are metal bands. So we are unique in our area. So it was time for a change.
How did you come up with the name of your band and what does it mean to you.
Alexander Kühner -High Tide: It is a simple story. The first rehearsal room of the band was in a house close to a river. The river overflowed by a "High Tide" and the house was flooded. We were there to safe your equipment and kept sitting there and drinking beer all night long.
Tell me about the best and worst shows you have played.
Alexander Kühner -High Tide: One of the best shows was at the Blacksheep Festival. We played with Uriah Heep and Jethro Tull on the same stage. We also loved playing the tour last year through Europe with Graham Bonnet (Rainbow) and Dare (Thin Lizzy). The worst show was in a small city in Germany. Another band asked us to help them out. So we drove a couple of hours to play in front of a handful of people.
Tell me about your favorite venue to play at, and do you have any places you want to play that you haven't already?
Alexander Kühner -High Tide: Of course we would love to play at the festival "Rock am Ring" in Germany. But one of our dreams would be playing at the "Royal Albert Hall" in London. But first, we want to play more international shows and playing a club tour in the US and UK.
If you could play any show with any lineup who would be on the ticket?
Alexander Kühner -High Tide: As I said before it would be the "Rock am Ring" festival in Germany. On the ticket would be the Rival Sons, Greta van Fleet, Metallica, Deep Purple, Joe Bonamassa, Gun`s and Roses, AC/DC, Red Hot Chilly Peppers, High Tide and so on.
What is some advice that you would give to someone who is just getting into playing in a band?
Alexander Kühner -High Tide: Dave Groll ones said: 'You are starting making music with your friends and it sounds like shit. And you keep on practicing, jamming and it will still sound like shit. But if you keep on working and practicing you will become one of the famous bands in the world. It is the story of Nirvana.' So never give up as long as you are enjoying it.
If you could go back in time and give yourselves advice, what would it be?
Alexander Kühner -High Tide: I would have started earlier to do what I really want. I would kick my ass and tell me that I need to work hard for my dreams.
Of your songs which one means the most to you and why?
Alexander Kühner -High Tide: We have a song on our first album called "Refugee". Its a story about the last words with a dying person. After we wrote and recorded the song a friend of mine dyed and I dedicated the song to him.
Which songs are your favorite to play and which get requested the most?
Alexander Kühner -High Tide: I love playing our new songs " Untameable Love" and "Dear Fear".  Its a pure classic Rock and Roll sound with energy. The most popular song of our old album is "Dream Of Tomorrow" and its the first song of the band. This is also the most requested one at concerts.
What is the creative process for the band, and what inspires you to write your music?
Alexander Kühner -High Tide: The songs are mostly written by the singer Alexander and the guitarist Ben. The lyrics are mostly about self-reflection and how we and others perceive ourselves in situations. But as a traditional rockbound we also have lyrics about sex, love, and dreams.
What kinds of messages do you like to get across in your music?
Alexander Kühner -High Tide: We want to give the people a feeling of an old handmade concert like in the 70s. We want our audience to forget the stress and living the moment.
Do you ever have disagreements in your band, and how do you get past them?
Alexander Kühner -High Tide: Of course we have discussions about our future with the band. But after talking and making plans and a couple of beers we are fine. Disagreements are sometimes a good way to find even better solutions. Sometimes you just don't think about every detail. It´s good to correct each other. Besides those may long discussions.
What are your plans for the future, and do you have anything that you want to spotlight that's coming up?
Alexander Kühner -High Tide: We released our new single "Untameable Love" on April 05th. And we are planning to release the LP in July 2020. We use the actual situation for songwriting and planning shows and tours.