Discover more from Volatile Weekly
Interviews in the music industry from around the world
Interview: Hubba Hubba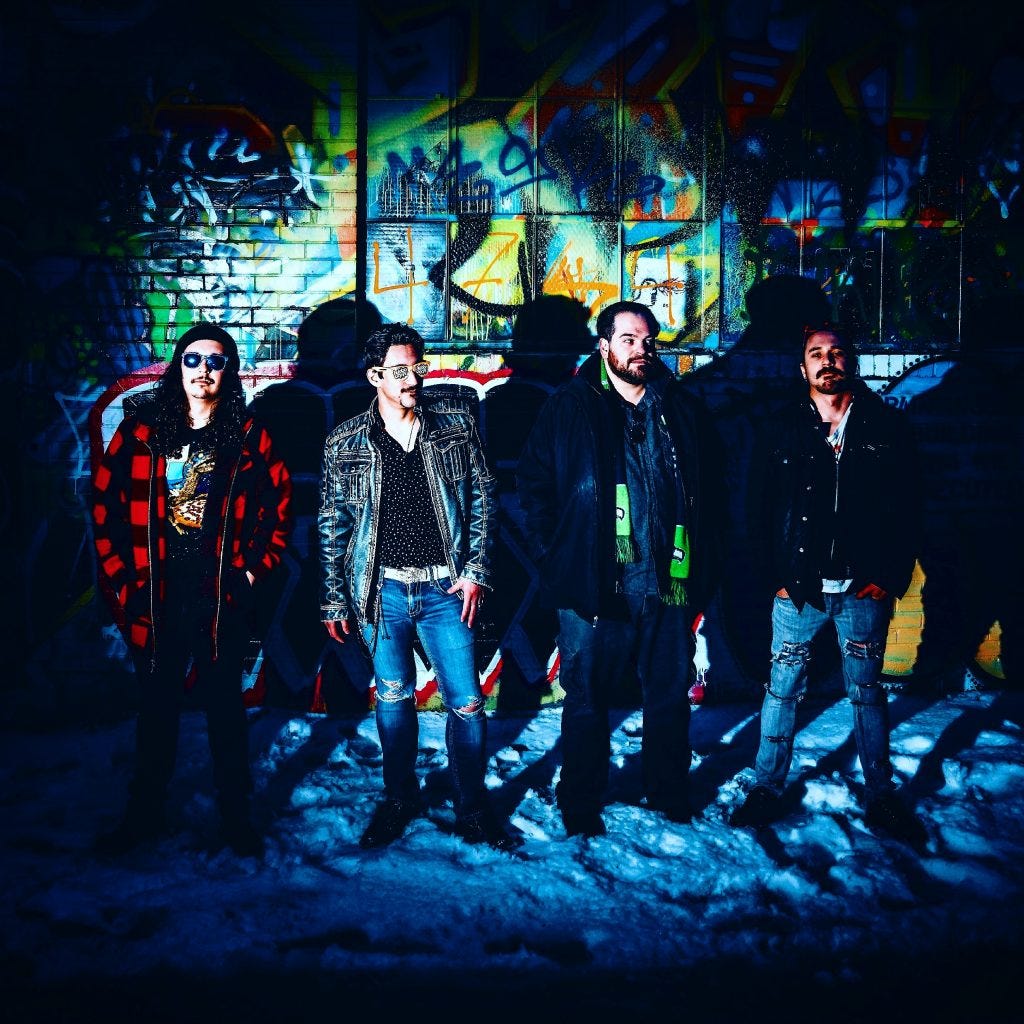 What got you into music, and if you had not gotten into music what would you be doing today?
We each come from pretty extensive musical backgrounds. Stefan (drums), Aaron (guitar) and Cain (vocals) are all three brothers from an extremely musical and artistic family. David too comes from an extensive musical family. We all have been active in the music business and performing for over two decades each. Without music, we shiver to think where we would be. Cain would probably be a creative writer still, in some capacity. Aaron would probably be designing video games  Stefan would probably be playing baseball. David says he would probably be making actual money. 
What do you like to do when you're not playing music and how does that influence your creativity?
Hiking, golfing, BBQs and backyard antics. Going to shows. Video games. Eating tacos. Watching sports. We are all medical marijuana cardholders so, suffice to say, with a bit of hearty bud and a hefty buzz we are usually up for anything really!
How long has your band been around?
Hubba Hubba was formed in the early spring of 2015. 
Where are you based out of and how did that influence your music?
Our home base is in Billings, MT. To be working and networking in this market has definitely influenced our music, both solo and as a group! The lifestyle, the slower pace of things, the morals we stand up for and stand behind have all had an impact on how Cain tells his stories. Bluegrass and radio country are really big in this area. The storytelling that exists in those genres has pushed us to be as clever, open, honest, and forthcoming as possible with our stories. We definitely don't sound ANYTHING like any of the musical acts or solo artists from our market. That is one aspect of Hubba that we are extremely proud of. What we do is not a dime a dozen in these parts and we strive to keep pushing ourselves as students of music in order to keep expanding. It is difficult on the business end with the gigging side in our market, specifically because unlike in bigger cities where you can drive 6 hours and hit multiple cities in that distance, we have that much time before we get to the next working town with available work.  
How did you come up with the name of your band and what does it mean to you.
"Hubba Hubba" is an older expression for when you find someone attractive. It is a throwback to our childhoods and the times we grew up in, it is a throwback to the innocence of when the attraction first started to develop, and it is fun as hell to say. We were originally batting a few different ideas - "Rafiki Said" was one of our top contenders. In the Lion King the character, Rafiki, states, "It is time." And we felt like that spoke to what we were diving into in the beginning. Hubba Hubba just felt right when it came down to a final decision. 
Tell me about the best and worst shows you have played.
The best show we have played is hard to say. We truly do try to take away something special from each performance we are lucky enough to the bank! A few that stand out for us are the first Alive After Five Summer Concert Series we played in 2015. It was downtown, out on the street on a big ass mobile stage. The street was packed shoulder to shoulder between building faces. About halfway through the show, it started pouring rain with no covers or awning over the crowds. There was a solid stream of water gushing off the roof of the stage and out of fear of losing the crowd to the bad weather, all Cain could think to do was to get soaked under the roofing stream and show the crowd that a little water didn't kill a good time. People came rushing up and away from the building to get downright busy with us! They loved it! We loved it! The album release party was overwhelming. We opened for Dennis Quaid and the Sharks, that was a blast! Playing SXSW in Austin, TX this last year really meant a lot to us, also! The very first show we ever played was as an opener, that was pretty nuts. People not knowing who we were and then the whole room went from sitting to a raging dance party. Some of the worst? Background noise gigs where nobody there gives a single, minuscule shred of a fuck about the music and would rather us not be there. Regardless, we are still grateful for even those opportunities!! To help people escape the mundane and the muck of life, even if for just a moment, is the best job in the world! 
Tell me about your favorite venue to play at, and do you have any places you want to play that you haven't already?
Hands down, one of our favorite place we have ever played was Herman's Hideaway in Denver, CO. On the green mile, we shared the bill with one of the funkiest kickass groups we've ever played with (Unpaid Overtime) and others, and the entire staff was so warm, welcoming and straight up diggin' the music that night! They showed us such a massively good time and we cannot wait to go back!! Faultline North in Bozeman, MT, which is no longer, was one of the greatest rooms we have ever played in! We played with a funky ass group, The Bent Bones, and a few other kickass locals. We would love to play The Showbox in Seattle! Red Rocks would be amazing! Hollywood Bowl would be siiiiiick. Rockbar in Jacksonville we would love to play. The Fillmore in Denver. The Troubadour in LA. We could go on forever. 
If you could play any show with any lineup who would be on the ticket?
Entire Spectrum of Past and Present:
Hubba Hubba (obviously) / Blood Sugar Sex Magic era Chili Peppers / Incubus / Elton John / Queen 
Current Artist Dream Bill:
Hubba Hubba (obviously) / Billie Eilish / Bad Rabbits / Justin Timberlake / Lady Gaga / Chromeo 
What is some advice that you would give to someone who is just getting into playing in a band?
When you find yourself questioning if this job is worth the stress, the struggle, the rejections, the judgments, the time spent away from loved ones, the money invested, the work and the pull – the answer is ALWAYS YES. Even when you feel like you want to say no, the answer is ALWAYS YES! What we have in music is bigger than we are. Be brave and trust in your rehearsed skillset and knowledge of your art! Being in a band is like being married to multiple people with this giant entity hanging over that you all try to adhere to and appease. (Be patient with that.) You don't have to try to do what's cool – you have to show US what's cool - teach us what's up and how you are all about it. Practice. Practice. Practice. Practice some more. When you are done with that, practice again. Communication is vital. Don't sacrifice or waiver in your vision because of someone else's hunger for control. Not every show or every note has to be perfect every time. You DO NOT do this for money. People will constantly question and challenge your talent and dreams, so be vigilant in what you can achieve! If you are really serious about it, make it your main focus and keep it that way. Anybody looking to do this should be warned that it is not a cake-walk. Learn to love ramen noodles and get used to your bandmate's farts. Don't join a band with three brothers.  
If you could go back in time and give yourselves advice, what would it be?
See above. Trust your gut and stay focused. Don't eat the brownie on that field trip. 
Of your songs which one means the most to you and why? 
"Colorado" for Aaron and Stefan. Aaron because he wrote it right after his best friend Garett passed away. Stefan because the lyrics are about an eye-opening experience he had once while working at a casino. David and Cain both can't say, because their favorites have not been released yet and we can't tap into that yet. 
Which songs are your favorite to play and which get requested the most?
Aaaaaaaall the funky ones. We love waking up that irresistible itch to groove. The first record was a lot more rock-driven, the new project is a slew of dancers. It will make you want to move for sure. Cain has a particular affection for "Dr. Stankenstein" also, because it is gritty, filthy, dark, and he gets to play that up to all those extremes when we perform it live. David loves "Thirsty!" and "Space Cruiser" because he gets to go to town with some badass bass parts. Our most requested from the first album would either be "Colorado" or "Dumb Funky." There are a few unreleased songs we get asked for pretty frequently in our home market, as well. 
What is the creative process for the band, and what inspires you to write your music?
So many things! We don't really have a formulaic process. Each piece, for us, has come about in different ways. Sometimes somebody will bring a lick or melody to the table and we will riff off of that. Sometimes we listen to music during set up and say, "let's bounce some ideas in this realm." Sometimes somebody will bring a fully constructed piece to the table. Sometimes we write individually. Sometimes we write in pairs. Sometimes as a whole group. Cain writes lyrics and stories for the music and visuals. It is always different. There is definitely no monotony to our creative process. We are inspired by life, really. Highs, lows, everyday shenanigans, greed, lust, money, sex, relationships, work, hope, misery, faith, solitude, outreach, social injustice, the list goes on and on for days. I don't think there are very many moments throughout the day where we are not pulling from our day to day lives to use as building blocks for our creativity. 
What kinds of messages do you like to get across in your music?
Love. Love. Love. Yourself, first and foremost. If you are not in good standing with your own person, how can ever effectively offer anything to another? Second, the people around you, because everybody has a story. Third, the world outside and all around you, because life is short and precious. We are here for such a short while and the ones who come after us deserve a chance in a better world than we come from. We try to inspire people to have the courage to whole-heartedly be fearless in their hopes and dreams. We try to make people aware of how damaging words and lies can be, and how truth and kindness can move the tallest mountains. We want people to be able to escape the bullshit they might be dealing with, dance and shake it off, and maybe walk away a little more prepared to handle what is waiting outside. "…making love and making friends and meeting God your own way…," – Pantera ("Hostile")
Do you ever have disagreements in your band, and how do you get past them?
Hahahahaha I refer again to how being in a band is like being married to multiple people. We absolutely have disagreements! Communication in a healthy, positive, progress-driven manner is always the best way to go about it. We have to remind ourselves of this from time to time, but honesty and healthy dialogue will get you far! 
What are your plans for the future, and do you have anything that you want to spotlight that's coming up?
We have been hard at work in the Hubba Hut preparing the next project, with all new music, promo, visuals, merchandising, tour stops, the works! We have some work yet before we are ready to spill the tea on all of it, but it won't be long! You can definitely expect to hear at least SOME new music and see SOME visuals by winter this year. For the time being, we are happily enjoying time with our loved ones here in our home market before we come out the kitchen with the next batch of goodies, but we are very eager to get back on the road! We will be able to share more in the coming months, but for now, just know that we are still cookin'! We can't wait to share it with all of you!!