Discover more from Volatile Weekly
Interviews in the music industry from around the world
Interview: Ifreann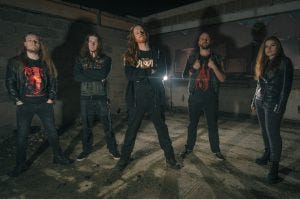 What got you into music, and if you had not gotten into music what would you be doing today?
Personally, my step-dad being an old rocker, buying me my first mp3 player when I was 8 and filling it with all the classics. Tbh I have no idea what I would be doing without music, probably some lame 9-5. 
What do you like to do when you are not playing music and how does that influence your creativity?
Listen to music haha, and that's where I get all my influence anyway. 
How long has your band been around?
In its earliest form, about 5 years now. Just under 4 with a full line up. Almost 3 in terms of playing live. 
Where are you based out of and how did that influence your music?
Edinburgh-based, and musically this didn't have much influence, however I took some inspiration from other local bands on how to run a band in Scotland. 
How did you come up with the name of your band and what does it mean to you.
It's Gaelic for 'Hell'. This was mostly becasue we couldn't think of any names in English that hadn't already been taken. Also Gaelic names are in right now, they give you a more unique/memorable title, and it's an ode to our heritage. 
Tell me about the best and worst shows you have played.
Our third gig was terrible, we had no monitors on stage (of floor I should say), which ultimately lead to us tripping over each other and getting lost a lot. There is no one best show but some off the top of my head are York in Feb 2018, Leeds in October 2019, our first hometown headline show in 2019 and our recent video shoot. 
Tell me about your favorite venue to play at, and do you have any places you want to play that you haven't already?
Banshee Labyrinth in Edinburgh is great to play. It's tiny, the backline is great and the lighting is very spooky. We'd love to play The Cathouse or The Garage Attic in Glasgow. 
If you could play any show with any lineup who would be on the ticket? 
Exodus - Havok - Ifreann - Tempered
What is some advice that you would give to someone who is just getting into playing in a band?
Don't just get someone in your band cos they're your pal, if the can't play their instrument or commit, they're just going to waste your time. Don't jump into playing live too quickly, take the time (1-2 years) to get a tight as f*ck setlist. Also don't be afraid to ask to be paid for a gig, just make sure you ask before agreeing to play. 
If you could go back in time and give yourselves advice, what would it be?
Follow my first piece of advice in the previous question. 
Of your songs which one means the most to you and why? 
Personally either 'Mirror Of Sanity' because I wrote most of it or 'In Satan We Trust' because it was the first songs we wrote that I really thought people would love. 
Which songs are your favorite to play and which get requested the most?
Our track 'No Pasaran' seems to be the fan favourite, at least in Edinburgh. Personally I love playing 
'Poisoned Minds' because it's easy to play and usually gets the crowd going. 
What is the creative process for the band, and what inspires you to write your music?
Generally, one musician will write a demo for a song, we will then jam it in the practice room, adding and changing bits, then adding lyrics that had previously been written (whichever ones fit the most). Once it's complete, we'll practice the sh*t out of it before playing it live. 
As for inspiration, we just love having great songs that people love that we can call our own. 
What kinds of messages do you like to get across in your music?
We don't take our writing too seriously. Sometimes we sing about important subjects like racism & politics, however we don't like to use our music to push any kind of agenda except 'have fun'. 
Do you ever have disagreements in your band, and how do you get past them?
We often do disagree, however, we are good at understanding that the band is a democracy and the majority rules. 
What are your plans for the future, and do you have anything that you want to spotlight that's coming up?
We have a new EP, called 'Desecration' which will be released on Feb 21st. We will be doing a few shows in our favourite cities (Edinburgh, York & Glasgow) to celebrate its release. We also have an Ireland tor planned in March, a few one off shows in spring, and we're planning another full UK tour in June.