Discover more from Volatile Weekly
Interviews in the music industry from around the world
Interview: Impvlse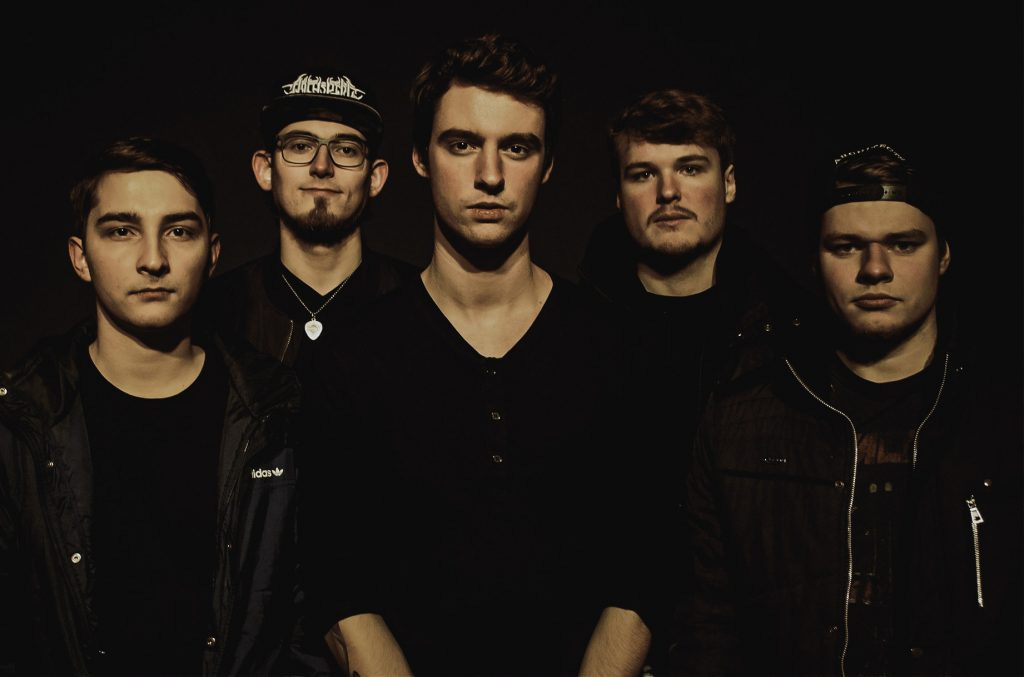 What got you into music, and if you had not gotten into music what would you be doing today?
Chris (Vocals): To be honest at the beginning it probably had something to do with self-affirmation and sticking out of the crowd by being a musician. I wanted to stand out and that was hard to achieve in my private life, so I took to the stage. These days it's about "criticizing the system outside of the system" as music is a form of art that gives us a free space to express ourselves. It's an unfiltered place where I can make my opinions and feelings known. If I hadn't gone down the path of the musician, I would have probably started doing more sports or found another interest.
Jason (Lead Guitar): I grew up in a Rock/Metal household as my parents and my sister have always had an obsession with heavy music. It's the music I grew up with and it just was a part of my identity as far as I can look back. One day my sister's boyfriend Michael came to our house with his guitar and played some Metallica songs and wanted to teach my sister the instrument. Twelve-year-old me was totally fascinated so I went on to steal my sister's new acoustic guitar out of her room every day. It became my obsession and outlet during my teenage years. It's hard to think about how I would have turned out without music playing a big role in my life as it makes up my personality, day to day life and even my relationships with people. I would probably have continued playing ice-hockey or would have spent even more time playing video games than I already have. 
Marcel (Bass): My uncle got me into Rock and Metal when I was eleven years old. Since then I started collecting CDs, Vinyl and band shirts and felt a growing wish to start a band one day. In 2014 I coincidentally met Jason over a stupid comment I left under a 9Gag post and we started chatting. He wanted to start a band and I initially wanted to join as a singer but that didn't work out as I wasn't really good, so I finally had the reason I always looked for to learn an instrument. I started to learn the bass and taught it to myself by watching YouTube videos and playing with the band. If all of this hadn't happened, I would never have started to play an instrument as I told myself that I was already too old which is non-sense. So I probably would have just studied along for a couple of years and would have become an average Joe whose life consisted of the four stages that are school, university, work, and death. 
 Dave (Drums): I started to play the guitar as grew up with my mom playing guitar around the house. I didn't really like it, so I stopped one day until I received a drum set a gift. I learned every single Metallica song there is and just had fun at home playing away. The motivation to play came since I started to play the drums, but it took a long time until the day I met the other guys in 2014 and started to jam with them in 2015. 
 Tom (Rhythm Guitar): As a kid, I met music for the first time by listening to the radio a lot and heard songs by Liquido, Toto and Bon Jovi but the moment that influenced me the most was my cousin introducing me to bands like Green Day and Sum41 which were really popular during the time. After that, I was hooked and went on to explore this by myself. In 3rd grade, I started to learn the guitar, but my parents didn't allow me to play electric guitar as they thought it was too loud around the house. After two years of playing and my guitar teacher explaining to them that you can also play soft sounds on an electric guitar and can turn down the volume on the amplifier, I got my first electric guitar. If I hadn't started this whole music thing, I probably would just have better marks at university. No, all jokes aside, I would probably be more "normal" and would focus more on university. I also wouldn't have this clear vision of what I want to achieve and what I want to become as music inspired me to strive for bigger things in life and gave me perspective. 
What do you like to do when you're not playing music and how does that influence your creativity?
 We all do different things from going to university to having a full-time job. Everybody has his own interests and hobbies and meets different kinds of people. Every member of the band has different roots and lives in a different kind of environment every day and we think that this integral to our creativity as everybody brings something different to the table and influences the others in a different kind of way.
How long has your band been around?
The band was founded in the year of 2015. Back then we were only an instrumental four-piece that was having weekly jam sessions where we got to know each other and laid the foundation for our sound. In 2017 we released an instrumental music video to our song "Curious Minds" to attract a fitting voice for the band and at the end of that year, we found our current singer Chris. Since then the project got more serious and we started to play shows around the area.
Where are you based out of and how did that influence your music?
  Our band is based out of Nuremberg, Germany. It is hard to say how our environment shaped the music we make, we can only speculate. Heavy music is very present in Germany with many high-profile festivals spread across our country such as "Wacken", "Full Force", "Rock am Ring" and "Rock im Park" that is taking place in the middle of our hometown every year. We are also very privileged that almost every major band plays multiple shows all over Germany every year. Those bands always bring fresh openers so the German scene is always keeping up with the latest trends in heavy music. Maybe even geographical factors play a role with neighbors such as the UK which produces fantastic music or Sweden and France. Loud music is just part of current German culture and we think there is no way to escape it. 
How did you come up with the name of your band and what does it mean to you.
The story of our name IMPVLSE is rather unexciting as we were just looking for something that sounded cool to us and doesn't put us in a box. We wanted a name that doesn't bind us to a certain genre or scene, that gives us freedom of what we can become. We want to give our name meaning by the music we create.
Tell me about the best and worst shows you have played.
The best show definitely was at the "Hirsch" in Nuremberg on the 23rd of November 2019. To play this stage was a pretty big deal for us as all of our idols and even Metal legends such as Ronnie James Dio stood on that stage. I think we never felt so comfortable and confident on stage and I think the people felt that. It just was a crazy where everything fell into place with an amazing crowd and amazing stage and amazing emotions. Luckily we never played one of those "awful shows" that a lot of bands talk about, at least not yet. Of course, there were shows were technical problems occur or we just don't really feel it and want to get it over with, but it was never really too bad.
Tell me about your favorite venue to play at, and do you have any places you want to play that you haven't already?
I don't think we have a favorite venue to play at, it really depends on the energy of the crowd, our state of mind and the technical circumstances. Playing in venues where you already saw some of your idols standing on stage, of course, is something special, so I think if we could decide, we would like to play in the "Backstage" in Munich and on multiple festivals we already attended to watch our favorite bands.
If you could play any show with any lineup who would be on the ticket?
That's a tough question because everybody in the band would come up with a different lineup as we listen to different stuff. But all of us would be very comfortable with a lineup like "IMPVLSE, Northlane, Architects and Bring Me the Horizon". I think we would even be comfortable with a tour like that, we would sacrifice ourselves.
What is some advice that you would give to someone who is just getting into playing in a band?
First of all, do it! You learn a lot about yourself and working in a team, which can be super fun. The second piece of advice would be, work hard. Sounds simple, but playing in a band is not just going to rehearsal once a week and playing shows from time to time, well it can be, but if you don't want to be just one of many bands, you should work hard to deliver content, that others maybe don't deliver.
If you could go back in time and give yourselves advice, what would it be?
I think it would be: Stop being so immature sometimes. Deal with the fact that you need to do better sometimes because you know you could do better. But I think learning lessons over time is important for self-development, so we think everything that happened, happened exactly the way it was meant to be. Some things just take time, so other advice would be: don't worry so much, I guess.
Of your songs which one means the most to you and why? 
This is another example where everybody would have a different opinion. Everyone would mention another song probably. But we think as a band we can agree on "Constellations". It was the first song we wrote together as a full band (after Chris joined) and our first song published as a band, so it's kind of a milestone for us. Additionally, the lyrics are very personal and writing this song helped to get along with how things are sometimes. 
Which songs are your favorite to play and which get requested the most?
The most fun song to play is Petrichor, that's for sure. The riff at the beginning is super groovy and we like the dynamic of the song. It's another personal one, so on stage, it's easier for us to feel the music the way we want to show it.
 Most requested is Vice Versa, we don't know why, since we think we wrote better songs, haha. Probably it's because it's the "title track" of our new EP or its the song that clicks the fastest with the crowd as it is the most upfront and heavy track we have.
What is the creative process for the band, and what inspires you to write your music?
Usually, our songs find their beginning on the hard drive of Jason's (lead guitar) computer. He basically writes the instrumentals of the songs at home and then presents the first demos to the band when he thinks that they are finished. At that point, the rest of the band comes into play to make that song their own with everybody adding their personal spice to the track. Most of the time the songs come with a certain atmosphere that makes it pretty obvious for what the lyrics should be about and sometimes Jason already has some patches of lyrics to lead the song's theme into a direction. But most of the hard work then goes to our singer Chris. He writes most of the lyrics as he is great with creating vocal melodies and always comes up with ideas that are more "out of the box". We leave him alone during his process so he can explore the topic for himself and add depth to the concepts. After both instrumentals and lyrics are written we just play the song a lot at the rehearsal space and live were song experiences some further tweaks and changes. The song is finished in the recording process where Jason adds more depth to the instrumental demos by adding orchestra, ambient or synthesizer parts and the whole band has a final revision of the lyrics and melodies. 
What kinds of messages do you like to get across in your music?
We try to offer the listener a new perspective. We want them to question themselves and their choices, the way they think and behave in this world, to look at their behavior or at social norms and ask whether they contribute any good to their lives or to our society. We want them to realize that taking responsibility for yourself will have a positive effect on everybody around you. 
Do you ever have disagreements in your band, and how do you get past them?
Disagreements are part of our daily business, of course. We learned to view our opinions as equally important and we trust in each other, so we don't take it personally when someone gets "outvoted" on an issue. We are a democratic band, I guess.
What are your plans for the future, and do you have anything that you want to spotlight that's coming up?
In the future, we plan to write more music, play more shows and continue to build our fan and listener base. It's hard to predict how the future will pan out as things always come differently as expected, especially in the early stages of a band. Since we just have released our EP "Vice Versa", we are currently not in the studio, but we are always working on new stuff. There will be some new Music Videos coming up soon, and the first new songs and lyrics for a new EP are already written.