Discover more from Volatile Weekly
Interviews in the music industry from around the world
Interview: Joneser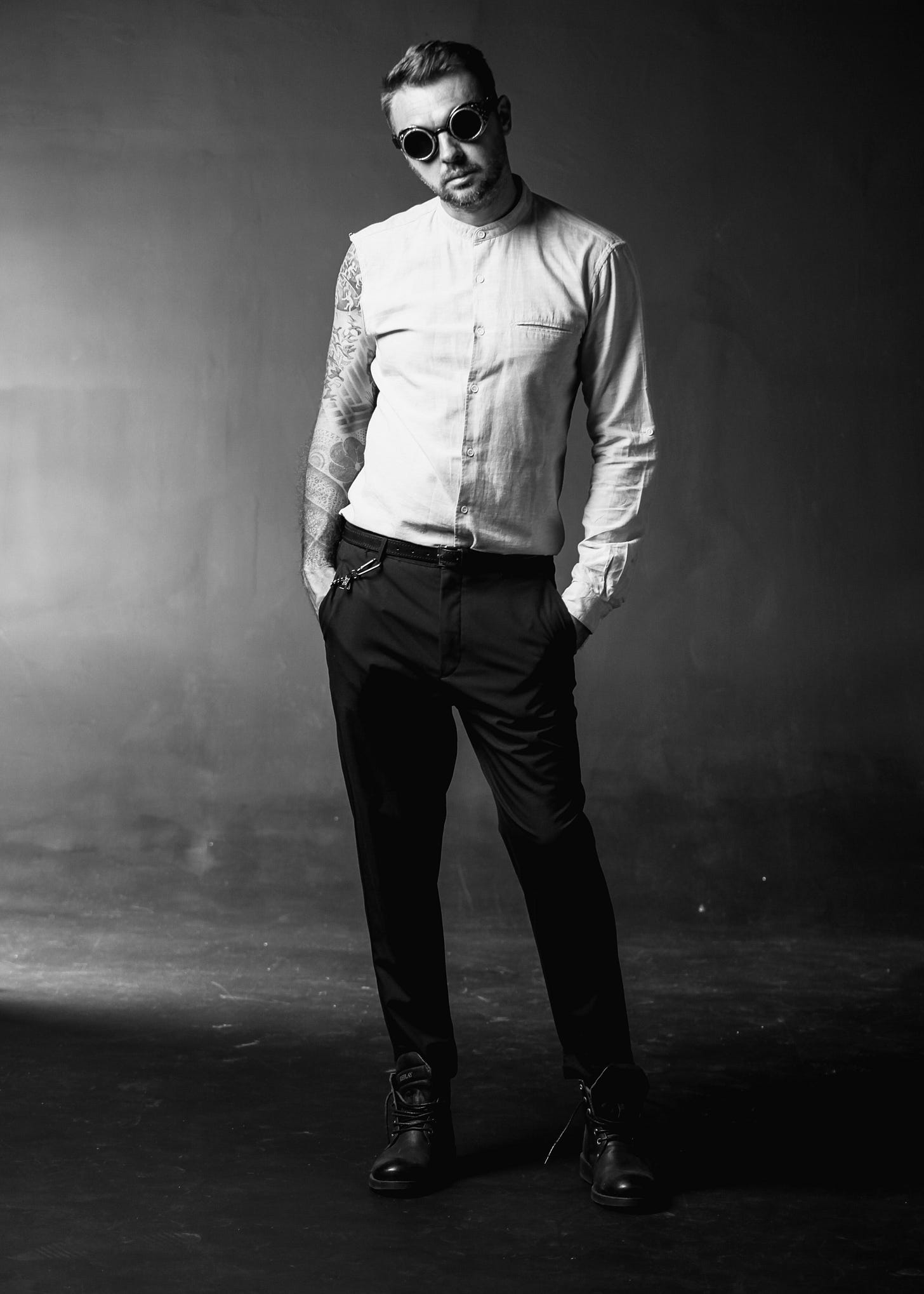 What got you into music, and if you had not gotten into music what would you be doing today?
Oh, God ? I'm 41 and I'm the real lawyer with 20 years of experience in the field of international tax planning. And I would dream that something special got me into music much earlier. Frankly speaking, it happened thanks to my yoga practicing. One day I realized that I was living not my own life. I got angry. Then I inhaled and exhaled. That's how I became a musician. 
What do you like to do when you are not playing music and how does that influence your creativity?
I am quite a versatile person. I've been studying in Ukrainian film school for 1,5 years. Late in 2019 I shot my first short movie. Now it's being edited. At this time, I'm working on my first screenplay for the full-length movie. I believe that I'll shoot movies in the nearest time. 
I love my children - 2 great boys - Yegor (12) and Stas (14) and my beautiful girlfriend Alyona. We're definitely a crazy couple. Every day I have some workouts like yoga practicing, cycling or ping-pong. The rest of my time is taken by my small legal business. 
So, I feel happy. And if I'm happy why don't I be creative? ?
How long has your band been around?
I created Joneser in 2017 in Kiev (Ukraine). Till September 2019 I was the only person in this project looking for my special sound without giving any concerts. 
In September 2019 Joneser was joined by Alexey Yuriev - guitarist of  Kryhitka and has gotten bands and the drummer Andriy Bogdanov, known for his performances at Mysteries of the Third Planet, Bahroma and Youra (Ukrainian projects).
Where are you based out of and how did that influence your music?
I live in hell for alternative music, because nobody needs it here. To be a successful musician in Kiev, you must be a clown composing and performing primitive trash. So yes, this has an impact on my music. Definitely. And so far, I have ordered clown clothes on Amazon. Waiting for delivery from day to day.
How did you come up with the name of your band and what does it mean to you.
Joneser is the one who will stop at nothing to render whatever he is "Jonesing" for. So, I'm a Joneser. It was me who created this project, who wrote all the songs and who is jonesing for taking some tiny place under our big musical sun. 
First, I named this project Ttyme but a bit later I realized that Joneser matched my ambitions much more. So, I renamed the project after releasing the 1st single in November 2017.
Tell me about the best and worst shows you have played.
We had only first gig on February 18, 2020, at PC "Masterskaya" in Kiev (Ukraine) where we presented our album "Back Two Me". We were planning to have gigs on different Ukrainian festivals this year but now we don't know at all what we'll have this year because of this terrible situation with the coronavirus. So, we have to wait.
If you could play any show with any lineup who would be on the ticket?
I'd like to play with Radiohead (in my dreams). Why not? And what about Apparat? Nirvana? No?
What is some advice that you would give to someone who is just getting into playing in a band?
Don't do this under any circumstances. Devote your life to saving the elephants. The rest is not relevant now.
If you could go back in time and give yourselves advice, what would it be?
Dude, learn to prioritize and don't be lazy. Love people, they are more important than any business and goals.
Of your songs which one means the most to you and why? 
This is a June song dedicated to my father, who died in 2016 from cancer. I'm really proud that I could write such a light and sensual song in memory of him.
You can listen to it here:
https://soundcloud.com/joneser99/june-1
Which songs are your favorite to play and which get requested the most?
I think, this is Folie. It's dedicated to my crazy girlfriend Alyona. 
You can listen to it here:
https://soundcloud.com/joneser99/folie-1
What is the creative process for the band, and what inspires you to write your music?
I was always inspired by travels and itching in the anus. All our songs are written by me and I create when I am either very good or very bad. No difference. This always leads to a result.
What kinds of messages do you like to get across in your music?
I'd like people not to stop. Go further and don't be afraid of anything. Never give up to go into yourself. That's the only thing why we are all here.   
Do you ever have disagreements in your band, and how do you get past them?
Yes, we had one such case six months ago. During rehearsal, there was a conflict with the former guitarist. I brought him to the toilet and shot him, covering his face with a pillow. We no longer had any disagreements.
What are your plans for the future, and do you have anything that you want to spotlight that's coming up?
On February 2, 2020 we released a new album "Back Two Me" in English. All 12 songs of the album are linked by one storyline. They are all about my way, my victories and defeats as well as coming back to myself. 
At the same time, we released a video for the song Miraline in the animated short film style. Please, watch it while listening Miraline. You will surely enjoy this dramatic song with appealing vocals over a slow burning instrumentation full of infectious synth lines and dreamy arrangements, with beautiful harmonies and emotional vibes.
You can listen to the album Back Two Me (2020) on all the platforms below.
Please, find all necessary links inside:
And the link to "MIRALINE" video:
[embedyt] https://www.youtube.com/watch?v=QYY66ve3MFU[/embedyt]
In the nearest time we are going to release 2 music videos in the animated short movies style for the songs June and Going (both from the album Back Two Me). It is supposed to happen in April and June 2020. Then, 3-4 singles with some music videos are going to be released till the end of 2020. We're looking forward for the possibility of touring but now the world has much bigger problems then our concerts. So, we are waiting and working on the new material. 
Thanx! And enjoy our music! 
I'm Stas Verechuk and I'm the frontman of Ukrainian indie-rock band Joneser.