Discover more from Volatile Weekly
Interviews in the music industry from around the world
Interview: Keep Up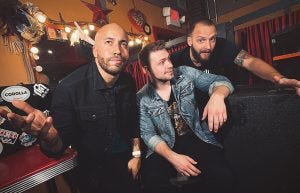 What got you into music, and if you had not gotten into music what would you be doing today
(DJ) There are a couple of key points in my life that led to making music. Growing up in a family full of musicians laid the foundation for who I am today. Outside of my family always supporting my musical endeavors, two very impactful movies inspired me to start a band and play LIVE shows group; "That Thing You Do" and "School of Rock". If it weren't for music, I'd probably be some sort of athlete. 
(Ian) Simply put, Green Day's "American Idiot" album got me into playing music, I taught myself that entire album on guitar. That's how I learned how to play guitar. I've been singing my whole life and have been in a chorus, show choir, and all-county. As far as what I'd be doing if I wasn't in music, I'd probably be spending most of my free time traveling and exploring. 
(Chris) I'd have to say listening to music with my mom. Pink Floyd is her favorite band and that inspired my love for classic rock along with other hair metal bands. Without music, I'd probably be homeless or living in a van down by the river. Music has given me a purpose. 
What do you like to do when you're not playing music and how does that influence your creativity?
(DJ) When I'm not creating music I'm finding ways to get the blood pumping. I'm a skateboarder, snowboarder, and a runner; a workout enthusiast. With that being said, it's important that my music reflects that same energy. 
(Chris) In my downtime I'll be playing video games or watching YouTube videos. I'm a sucker for rig rundowns and what's new for music gear. I'll be glued to Namm updates to see what I want next in my cart, which is probably why I have so many guitars. Each instrument is different so it helps with the writing process. 
How long has your band been around?
(DJ) Keep Up has been a group since mid 2018, however, Chris and I grew up and went to the same high school together. When Ian needed extras for a music video project he was working on in 2017, we knew at that point we should all link up and create a group that allows all of us to creatively express our musical interests. 
Where are you based out of and how did that influence your music?
(DJ) We are from Central New York; Syracuse. It's cold and snowy most months of the year, but when we have sunshine and clear skies, we always take the opportunity to play/tour. This has allowed us to get on a schedule where we write and record during the winter months and travel during the summer months. Stay tuned for more new music and shows! 
(Chris) Being from Central New York we experience a longer winter so it gives us a lot of time in the studio. 
Typically that associates with drinking so we try to keep busy with writing and recording. 
How did you come up with the name of your band and what does it mean to you.
(DJ) The band name developed into Keep Up as a reminder to ourselves and our fans that the world moves quickly with new music styles, techniques, and sounds. It's important that as we deliver new music to the world, we "Keep Up" with the modern trends while staying true to our original sound. It's also easy to say. Keep Up. We wanted a name that was hard to misspell and mispronounce. 
Tell me about the best and worst shows you have played. 
(Ian) - One of the best shows I've ever played was actually my first show with my band I had in high school. We played in front of around 400 people. My other favorite show was with Keep Up, For our album release show in 2019.
Worst show was for my solo project where we played a small show in Syracuse and had to put together a makeshift band for the show haha.
(DJ) I was in a band called Grime. Back in 2010 We played a dive bar in the middle of the woods in Fulton NY and apparently we thought it would be cool to smoke a couple blunts before load-in. We shortly realized after that, that was a bad idea. We played the first three songs to an empty bar and by the time people showed up, we decided to replay the same songs. The sound guy was confused and we were so sloppy, those listeners who originally showed up ended up walking out anyways. On the flip side, My best show was September 10th, 2019 for the Keep Up album release show. Smooth, well attended, and overall solid performance. 
Tell me about your favorite venue to play at, and do you have any places you want to play that you haven't already?
(Chris) My favorite venue was a hole-in-the-wall place called "Bandlands" on the edge of Syracuse University campus. It had one hanging light and a sink behind the bands playing. It was the place for local music and when it was time to throw some fist and get sweaty with the boys, it was the place to be. Shortly after, it rebranded as the Spark Art Contemporary Space and it continued to be the DIY show venue up until the summer of 2019. 
If you could play any show with any lineup who would be on the ticket?
(Chris) Taylor Swift, Blink-182 and State Champs hands down. 
(DJ) My Chemical Romance, Paramore and 5 Seconds of Summer. 
(Ian) Memphis May Fire, Our Last Night, and Green Day. 
What is some advice that you would give to someone who is just getting into playing in a band?
(Chris) Practice several instruments so you can be aware of how they correspond in a song and be conscious of the music being released in your current time. There's always room to improve so stay hungry but be humble. 
(Ian) GTFO, do it on your own Haha 
If you could go back in time and give yourselves advice, what would it be?
(Chris) Don't sweat the small stuff. Life will go on and at the end of the day, the only person you need to make happy is yourself. 
(DJ) If I could go back and give myself advice, I would go back to 7 year old me and tell myself to learn to play the piano at an early age. Allowing my knowledge around notes, keys and basic music theory to develop early on. 
(Ian) If this were possible, I'd probably tell myself to learn more instruments. 
Of your songs which one means the most to you and why?
(Chris) Centuries is the most meaningful song to me because it's about becoming the hero your kid self looked up to. I looked up to people who sometimes didn't live up to that expectation so it's important to stay true to being the best you can be. 
Which songs are your favorite to play and which get requested the most?
(Ian) - Honestly, I feel like it's our song "California" it's fun to play and very much a sing-along song.
(DJ) I agree with Ian. "California" is probably our top requested song off the album. However, we have a friend who has a 3 yr old daughter who's always requesting the "doggy song". The song she is referring to is our single "Life in Luxury" that came out the summer leading up to our album launch. The song has multiple "hey, hey" parts that sound similar to a dog's bark. I think that's adorable! 
What is the creative process for the band, and what inspires you to write your music?
(Chris) Songs start with a vocal melody or a guitar riff and evolve from there. Everyday events and experiences form our music into something we can reflect on. 
What kinds of messages do you like to get across in your music?
(Ian) - The go-to answer that I'm sure you'll hear from every other band, but it is very true. Is to not give up on your goals and dreams. Keep pursuing and success will come. It all starts with your mindset and how much time and dedication you choose to put into your craft.
Do you ever have disagreements in your band, and how do you get past them?
(Chris) We all joke around so there's rarely hostility. If anything we go out for a few beers and that's the end of it. 
(DJ) One time Chris gave Ian's girlfriend a pot brownie and Ian was pissed for a couple of days. But then he broke up with her and then life was good again. We laugh about it to this day. 
What are your plans for the future, and do you have anything that you want to spotlight that's coming up?
(Ian) Future plans personally are to have my own legitimate, fully functioning studio. As far as the band, we are currently nominated for the best alternative album in the Syracuse Area Music Awards (The Sammys) this year.
(DJ) With our Sammy nomination this year, it's important that we keep this train rolling with more new music and shows. Stay tuned on our social media and website. 
Keepuporshutup.com
Facebook.com/keepuporshutup
Instagram.com/keep_up_official