Discover more from Volatile Weekly
Interviews in the music industry from around the world
Interview: Know Your Enemy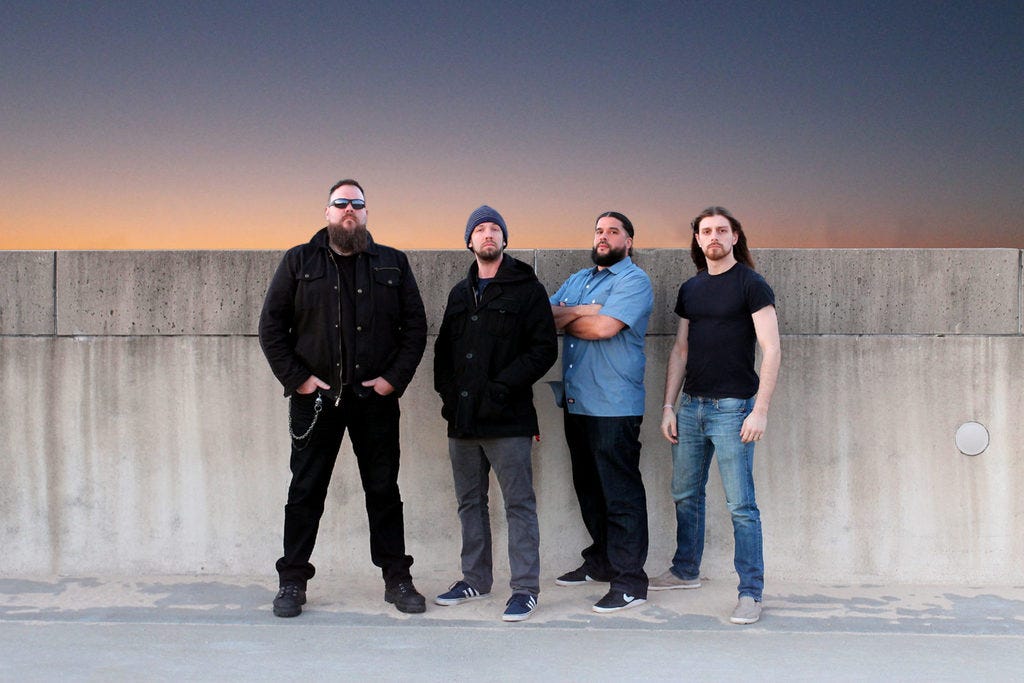 What got you into music, and if you had not gotten into music what would you be doing today? 
This seems like a four part answer. 
Jason: I got into music because my father was a guitar play, not professionally, but he would have me play with him often and that sparked my interest. I'd probably be running a company if I wasn't making music. 
Steven: I grew up with a love for music. I picked up the guitar one day and wanted to play the songs I liked. I don't know what I'd be doing if I wasn't making music.
Byron: My grandfather was a bluegrass guitarist and I'd watch him play. That's all I wanted to do as a kid, is watch him play. If I hadn't gotten into music I'd probably be locked up somewhere.
Fonz: I was always drawn to music. As a child I sang in a church band and was in choirs and plays. I started an R&B group with my neighbors at about 12 years old. It's always been part of me. If not for music I don't know where I'd be, probably bunking with Byron in a cell somewhere. 
What do you like to do when you're not playing music and how does that influence your creativity?
When we're not playing we like to obsess about music. Listen to it, watch videos of live performances, go to shows, and write our own personal songs separate from the band. All things music.
How long has your band been around?
Although we've had a couple of line-up changes, the band was originally started in 2014.
Where are you based out of and how did that influence your music?
We're based out of Central New Jersey. New Jersey isn't the easiest state to grow up in. It's fast paced, busy and very intense. We'd say our music is a testament to where we're from.
How did you come up with the name of your band and what does it mean to you.
After weeks of deliberations, we decided to go with Know Your Enemy. The name was inspired by the Rage Against the Machine's song of the same name. We felt that is was the best collective representation of the feeling and sound. 
Tell me about the best and worst shows you have played.
Our best show is a tie between our record release show for "Root of All Evil" and a show we played with "Thank You Scientists" the crowd was amazing! The worst show was an outdoor show we played in the rain. It rained so hard that we had to keep moving our equipment closer together to keep the rain off of it. It was a charity fund raiser for autism so we didn't cancel. 
Tell me about your favorite venue to play at, and do you have any places you want to play that you haven't already?
A favorite venue is hard to choose. We make the most of every show regardless of the venue. We enjoy the fans and sound as well as most of the bands we share the stage with. There are a lot of places we'd like to play like Tootsie's in Nashville or the Whiskey a Go Go in West Hollywood.
If you could play any show with any lineup who would be on the ticket?
Rage Against the Machine, He is Legend, Wu-Tang Clan, Thrice, Deftones, the list is endless. These are only a few. 
What is some advice that you would give to someone who is just getting into playing in a band?
We'd say to not listen to anyone around you. No compliments or criticisms. Just work on your craft and keep honing it so it can become what it's meant to be. 
If you could go back in time and give yourselves advice, what would it be?
Don't waste time.
Of your songs which one means the most to you and why? 
"Outlaw". It's so real and authentic. It's a true account of how the world and society affect us and changes how we see and feel about it.
Which songs are your favorite to play and which get requested the most?
Our favorite song to play is "Back to Sleep". It's so aggressive and powerful. But the song that gets requested most is our Eminem cover of "Lose Yourself"
What is the creative process for the band, and what inspires you to write your music?
It's a collaborative effort where one person introduces and idea and we all develop the idea into a song. We see things plaguing society and we try to rely that from our own perspective. 
What kinds of messages do you like to get across in your music?
For the most part, every song has a different message but if we had to sum it up; be more self aware. Find your faults and learn from them.
Do you ever have disagreements in your band, and how do you get past them?
Of course, any group of people that spend this much time together are going to have disagreements. We get past them by being honest and having respect for one another. 
What are your plans for the future, and do you have anything that you want to spotlight that's coming up?
We have 2 singles coming out in the near future. A live EP that's just about ready to release and we've been writing while we have all this free time due to the pandemic. We'd like to spotlight our newest single "Same" that was just released on July 17th. It's hot and fresh, check it out!