Discover more from Volatile Weekly
Interviews in the music industry from around the world
Interview: Kurt Riley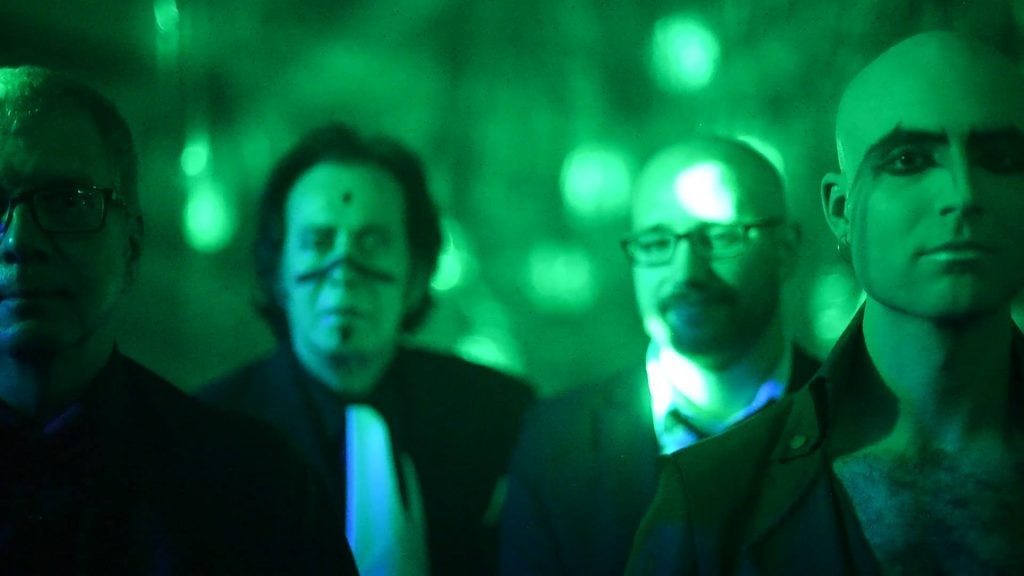 What got you into music, and if you had not gotten into music what would you be doing today?
For the entirety of my childhood, I found solace in imagination. Friends were uncommon and fleeting. I moved very often and found that the heroes I read of in comic books were truer, more constant companions. Quite quickly, and unconsciously, I was enchanted by the notion that one can adopt a disguise – an identity – and transcend the dreadfully ordinary lot so many of us are dealt. With a mask, a costume, a new name, these characters gained superhuman abilities! And frequently, they used them to the betterment of their fellow man. That was an example which struck me early as a child.
So it is quite appropriate that the musical heroes which were most impactful were, similarly, self-created identities. Stemming back to the folk legends – the arcane – you have Robert Johnson, shrouded in Southern Gothic mystery, selling his eternal soul to Satan for mastery over the six-string. The Howlin' Wolf – larger, stronger, and fiercer than his namesake, with a voice like a hurricane full of nails. And their children: the seemingly indestructible Keith Richards, a brilliant dandy pirate…Iggy Pop, the eternally rebellious Midwestern teenager…Marc Bolan, the cocksure, elfin imp, an Electric Warrior with three years of perfect singles spitting like fire from his hands…
These, and so many more were the primordial soup in which I stewed. On the perimeters. For years. Ignored, overlooked, mocked. My mother always did say I was too stubborn for my own good.
Music is truly the only thing which has kept me alive; I wouldn't be here without it, and when it goes, so shall I. There's nothing else in this world for me, nowhere else I belong. Society has made that clear.
What do you like to do when you're not playing music and how does that influence your creativity?
Comic books, juvenile and stunted as that sounds, are still a great source of warmth for my soul. The works of Alan Moore, James Robinson, Dan Jurgens, Grant Morrison – I turn to them time and time again.
Film is also a frequent enchanter. Great admiration for those who triumph in that medium – you must not command only sound, but sight, as well. I only have to dominate one force in my profession.
As a child, I dreamt regularly, with fierce intensity – I could often control the direction in which they proceeded. For a decade, I enjoyed stunningly horrific sleep paralysis, as well – that was quite the experience. I do not dream often anymore. I miss it greatly. Unlike reality, it does not have to make sense; unlike reality, anything can happen. Free of those two parameters, I have a place where I can be free.
How long has your band been around?
Akin to Prince, Bowie, and many other luminaries I should be wary to name, I'm a one-man invention; I compose and arrange all of my works. At a formative age, I taught myself how to sing, write infectious melodies, and play multiple instruments – mainly out of necessity. Finding anyone to play with was quite a bear.
That being said, my work has been brought to life by many stellar musicians – folks that I've been utterly blessed to perform with. Without them, I'd remain as I began – a basement-bound manufacturer of obscurities, a curio for morbidly curious historians.
The gentlemen whom I play with as of this writing are the best unit I've had the pleasure of performing with. Messrs. Rick Kline (bass guitar, bass synthesizer), Charlie Jones (synthesizer/keyboards), and Sesu Coleman (drums/percussion) have been performing with me for some time, and they've stuck by my side through seasons of plenty and want alike. Were it not for these gentlemen, I have no clue what I'd be doing. Not much of anything, I'm sure.
Where are you based out of and how did that influence your music?
At last count – and memory is a vague mist of lies at this vintage, haha – I've relocated over fifteen times. That being said, there are 3 main places where my genesis took place.
In Memphis, Tennessee, I was introduced to Delta blues; Sun, Chess, Motown and Stax Records…not to mention my all-time heroes, The Rolling Stones. My god – those are most of the lodestones, right there. There's a reason I find a way to inject harmonica into most of my records. (laughs) You can put waves of synthesizer behind me, gated drum effects, and I'll still play lead guitar like I'm trying to be Chuck Berry or Muddy Waters.
Fort Lauderdale, Florida – here, I was introduced to two somewhat disparate sounds – electronic music and post-punk. And they both shaped my songwriting – my vision – tremendously. I nicked a copy of Vangelis's Blade Runner soundtrack, several years before I saw the film…used to listen to it every evening as I drifted off into electric dreams. And the post-punk came from a group I was part of for about 30 seconds called Champagne Days, full of many gifted musicians. That brought me to Killing Joke, Siouxsie and the Banshees, PIL, Joy Division. A new kind of darkness and power, which I fell in love with quite deeply.
Ithaca, New York – where I finally completed my college education, many years after all of my contemporaries had done so. The city didn't influence me sonically, but it was the very first place where anything I did was given a semblance of legitimacy. I will forever be grateful for the journalists, DJs, and booking agents who first took a chance on this weird fellow.
How did you come up with the name of your band and what does it mean to you.
Kurt is my given name – German for "wise counselor," I believe. (In retrospect, I should have taken my own advice more often! Haha.) Riley is an adopted surname, as in "living the life of Riley" (which sounds, admittedly, like quite a life to live). A bit of The Who's "Baba O'Riley" is in there, too – exodus from the wasteland of my teenage years. That was music for me in a nutshell.
Tell me about the best and worst shows you have played.
It's bad form to name any specific show that one doesn't care to remember – there've been rough nights, but they're all stepping stones on the path to mastery, so I choose not to relive them.
The best shows, for me, have been those with audiences who are really engaged. It's been everything from people running onstage to voyeuristic housewives in the balcony. No matter to me; I'm here to give you a show, darling.
Tell me about your favorite venue to play at, and do you have any places you want to play that you haven't already?
One of my favorite places to perform is Buffalo, New York; there are several venues there which have welcomed us enthusiastically, and the audiences really dig what we're doing.
We're working to break into the festival market, though it is difficult at this time without a multicolored beard or a trumpet player.
Many people have noted that we'd do quite well in Europe and Japan. That's something I'd really like to pursue. The Ramones and Blondie had to leave to return, as well.
If you could play any show with any lineup who would be on the ticket?
It would be the highest of honors to open for Mr. Bryan Ferry.
What is some advice that you would give to someone who is just getting into playing in a band?
Trust your instincts. Destroy cowardice. Never give up.
If you could go back in time and give yourselves advice, what would it be?
Fear will be your ruin. Run towards your dream.
Of your songs which one means the most to you and why?
Dispensing with the tired (and accurate) bit about choosing between children and all that, I'd have to say one of my latest crop is my favorite – a number called "Free." It encapsulates everything I see and feel as a member of the generation which bridges what was to be and what shall be.
Which songs are your favorite to play and which get requested the most?
A number called "Century" is quite popular. And folks are already taking a shine to "Free", as well, which warms the old heart.
What is the creative process for the band, and what inspires you to write your music?
I create the songs from whole cloth, and fully arrange them in demos, with all of the instrumentation worked out. The group gives them the human touch – creating a hybrid of my machine-like crafting and actual musicianship. They throw in surprises I never could have dreamt of.
What kinds of messages do you like to get across in your music?
There were many years – about a decade – where I wanted to bring hope and joy. I really did. And I fought hard to do so.
I don't see that in the world anymore. Now I'm just a mirror. It's less charitable but more honest. And people respect the truth more than Hallmark sentiments, to be frank.
I do miss hope, though. I miss the future very much.
Do you ever have disagreements in your band, and how do you get past them?
The fellas are incredibly patient with my demands upon their time, their bodies, their psyches. We rarely argue about anything – there's a great degree of trust. I work diligently to honor their faith in me. One of the greatest moments of my life will be the day I can introduce them to thousands.
Social:
facebook/instagram/twitter: kurtrileymusic