Discover more from Volatile Weekly
Interviews in the music industry from around the world
Interview: Leon Marshall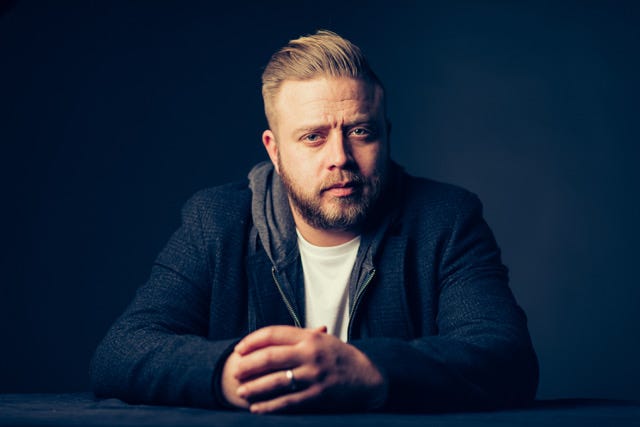 What got you into music, and if you had not gotten into music what would you be doing today?
Well, the simple answer would be Elvis. I started playing guitar when I was about 6 (not that you can tell from my skill level today!) there had been an Elvis Presley special on Stars In Their Eyes and I wanted to go on it & meet Matthew Kelly! I was playing and singing all the time until I started studying Art & Sculpture where my focus stayed for a few years before returning to music, so I expect if I wasn't into music, I'd probably be a struggling sculptor! 
What do you like to do when you're not playing music and how does that influence your creativity?
I enjoy being outdoors, walking, either out in the middle of nowhere where I can be alone with my thoughts, or somewhere busier where I can people watch. I take a lot of influence from the people I meet and see day to day, strangers. From a woman walking past me laughing on the phone to a guy in front of me in the queue at the local shop shouting at the cashier, I like to give them a back story and sometimes it'll spark an idea for a song.
How long has your band been around?
I started writing and performing to an audience when I was about 16, but I've only been recording and releasing my music for around 3 years.
Where are you based out of and how did that influence your music?
I am based in North Yorkshire, and the music scene up here is pretty cool, there are some great venues and also some incredible artists. There's also lots of open space, you're never far away from the countryside, which is perfect for some writing time, and has definitely influenced my sound. 
How did you come up with the name of your band and what does it mean to you?
I play under the name Leon Marshall. Marshall is my middle name, my surname Denison doesn't quite sound as apt!
Tell me about the best and worst shows you have played.
The best shows are always the ones where people join in, especially with my songs. The worst show I've played is easier to pinpoint! I was booked to play for a 60th birthday party, I'd had good correspondence with the customer in the lead up and everything was sorted, but a vital piece of information had been left out…it was a surprise party. I arrived at the venue early to get set up, but the car park was already full and I had to park a fair distance from the door. I loaded my shoulders with speakers and bags trying to take as much as I could to reduce the trips back and forth. I clumsily pushed the door open with my gear and stumbled into the room, dripping with sweat and hair all over the place, and as I did,  the lights turned on, the DJ played "Celebration" by Kool & The Gang and the whole room unloaded their party poppers on me. It was like a bad film; I was so embarrassed. The birthday boy arrived shortly after and thankfully found it quite amusing.  
Tell me about your favorite venue to play at, and do you have any places you want to play that you haven't already?
It would have to be my local venue The Blues Bar, it's got such a great atmosphere and the sound guy is brilliant. 
If you could play any show with any lineup who would be on the ticket?
The Barenaked Ladies, I love their energy.
What is some advice that you would give to someone who is just getting into playing in a band?
Keep going, keep pushing and step outside your comfort zone. 
If you could go back in time and give yourselves advice, what would it be?
Don't shave off the dreadlocks! 
Of your songs which one means the most to you and why? 
Probably "Chainsmoking" at the moment, I wrote it after playing a proposal gig in Edinburgh at the top of Arthur's Seat. I drove 4 hours to get there, climbed to the top, hid behind a rock (like a real plonker) waiting for the signal to start playing, played the song, he popped the question, I drove home. I was exhausted and trying to stay awake, I came up with the song on the drive home. I sang it over and over again so I wouldn't forget the lyrics. 
Which songs are your favorite to play and which get requested the most?
"Hold On" gets requested the most I think, and I love to play it because of that, people usually join in on the chorus.
What is the creative process for the band, and what inspires you to write your music?
I often start a song when I'm out and about, a lyric will come to me and I'll save it on my phone, and then I'll sit in my home studio to finish it. I've recently adopted a new rule that if I've started a song, I have to finish it, as soon as it's finished, I can go back and amend it as many times that I like but I have to complete the song first. I found when looking back through my song book that nearly every other page was a chorus that I hadn't finished.
What kinds of messages do you like to get across in your music?
I write in the hope that each of my songs means something different to each person, and I enjoy that. For instance with my song "Feel The Rain" (often mistakenly heard for "Feel Lorraine" but that's another story!) people have told me that it makes them think of so many different things, from relationships to loss. It's nice to hear how others have perceived my lyrics.  
Do you ever have disagreements in your band, and how do you get past them?
As a solo performer the biggest disagreements I have are with my comfort zone, I know what needs to be done, but when it's something outside my comfort zone, it can often be quite a battle with my mind! You've just got to leap sometimes! 
What are your plans for the future, and do you have anything that you want to spotlight that's coming up?
My plan is to keep writing and keep trying to better my writing, and of course to get back out as soon as I can playing to big crowds again. I've just released my latest single "Going Nowhere" which is about an old flame who came back into my life, it's an upbeat feel good sort of tune, and I feel really positive about the track.