Discover more from Volatile Weekly
Interviews in the music industry from around the world
Interview: Let The Wolves Speak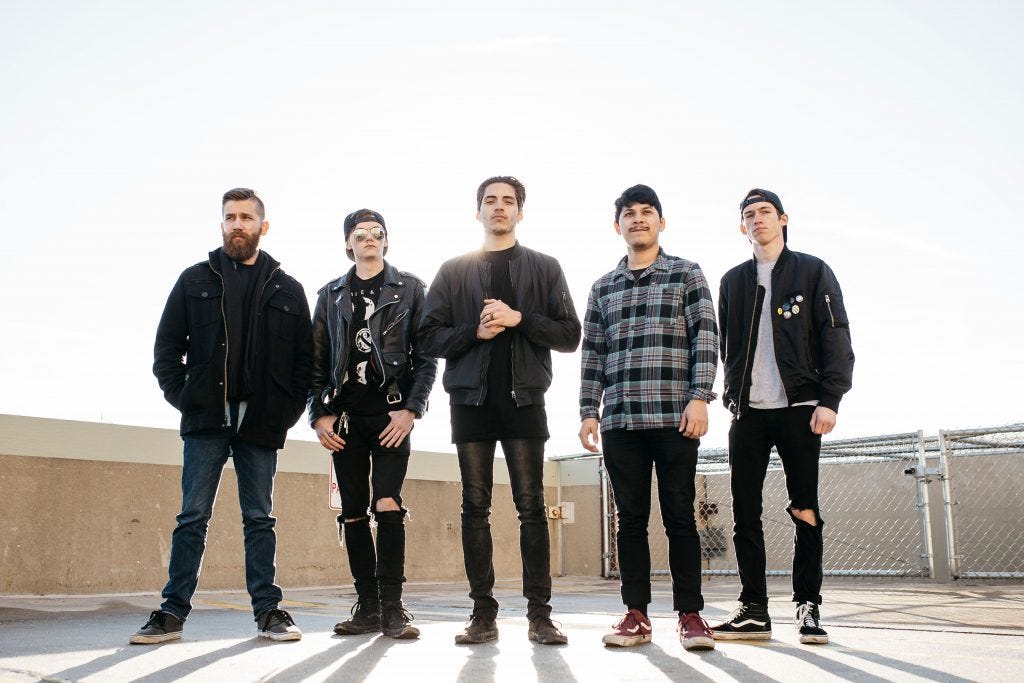 What got you into music, and if you had not gotten into music what would you be doing today? Probably the first time hearing the background music on a video game, then on TV. It really grasped my attention to discover more music from thereon. Probably getting into sports
What do you like to do when you're not playing music and how does that influence your creativity? Things like cleaning our house's, walking our dogs, or reading really get our creative juices flowing.
How long has your band been around? We started in August of 2015. 
Where are you based out of and how did that influence your music? We're based out of Milwaukee, Wisconsin. Most of us shared a great passion for music, and it showed by meeting other people who shared the same passion and gravitating towards good vibes in one another. 
How did you come up with the name of your band and what does it mean to you.
Me and Eric our drummer were in my bedroom, and my father had gotten me these giant dream catchers that have an image of native people surrounded by wolves. I wanted to put in some meaning in our band name by using the idea and concept of a band freely using music to express themselves. 
To me the name means that most wolves travel in packs, and stick together. I use that in similarity to a band sticking together, expressing our music to anyone who feels alone, outcasted, trapt.  
Tell me about the best and worst shows you have played. Laughs* our worst show would have to be some of our early shows of when we started out. Of course, anyone would expect that if you're just starting out. Our best show was playing at this venue called 'Shorty's Hall' it was a very hot sweaty intimate show. But we all had the best time playing.
Tell me about your favorite venue to play at, and do you have any places you want to play that you haven't already? Our favorite venue we've played at so far would be the 'X-ray arcade' it's good venue for lots of bands to play. We'd love to play anywhere as long as we're having a good time. 
If you could play any show with any lineup who would be on the ticket? That's tough, but I'd have to say Slipknot, Coheed and Cambria, and August Burns Red.
What is some advice that you would give to someone who is just getting into playing in a band? My advice is, be in a band if you generally love it and have that real admiration for it. Also, my advice is to get through those rough times where you feel temporarily discouraged, stick through it. 
If you could go back in time and give yourselves advice, what would it be? To get through those temporary time of discouragement, and get past it.
Of your songs which one means the most to you and why? Our song called Soul purpose, it holds a very memorable time of when we musically created it and talking about it.
Which songs are your favorite to play and which get requested the most? My personal favorite is a song called 'Disloyalty' and the song that gets requested the most is a song called 'Regiment' 
What is the creative process for the band, and what inspires you to write your music? Usually, it starts off with me riffing around to a click, then I and Eric will jam out stuff together for a rough structure of a song. Then we record it, listen to it as if it's finished, go back to it with layers and transitions. Then the others layer on top of the song's core. From listening to different music to reading, and even looking at any forms of art.
What kinds of messages do you like to get across in your music? To let others know, we have gone through the same thing in our own personal lives.
Do you ever have disagreements in your band, and how do you get past them? Absolutely, we try and convert disagreements into more so improvements to where everyone can be satisfied. 
What are your plans for the future, and do you have anything that you want to spotlight that's coming up? For sure be on the lookout for our EP coming out real soon! Along with a single that's been released from that called 'Soul purpose'.