Interview: LifeCycle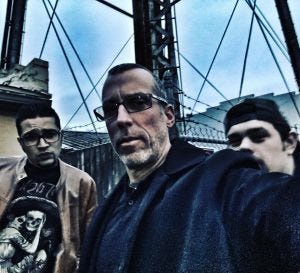 I would like to thank Asim Rizvi (Lead Vocals) for taking some time out for this!
What got you into music, and if you had not gotten into music what would you be doing today?
Women & money. Seriously though, I think for everyone in the band, music is a type of therapy. We all need it or we go nuts! The infatuation was always there for all of us. For me personally, hearing the giant grunge rush of the 90's with bands like Nirvana & Soundgarden was a huge influence. I specifically remember when Greenday's "Dookie" dropped as well. Music, wanting to play it, wanting to write it... it all really started there. If we didn't have music in our lives, we all would probably be in a mental asylum banging our heads against the walls making sick beats.
What do you like to do when you are not playing music and how does that influence your creativity?
When we are not playing music, we all work our normal 9-5 jobs or we're filming our YouTube series, "A Day in the LifeCycle." The reality is our lives are split between our jobs, our families, our music and our film and art. When we aren't devoting time to one, its going to one of the others. It all helps with creativity though. We take influences from our everyday life and infuse it into our music. We take all the emotion we got bottled up inside and we let it out through our songs.
3. How long has your band been around?
It was the glorious month of March, in the year 2019. I walked into a studio in East Bumbletown, NJ after answering a "singer wanted" ad. The stare down was intense. It suddenly got 10 degrees hotter in the room and then... magic happened. LifeCycle was born! I can never disclose what happened in that room because I had to sign a non-disclosure agreement, but what I can tell you is that the guys sent me what eventually became our newly released single, "Lifecycle." I put some words together, showed up and the rest is history. Make sure you check out "Lifecycle" on all digital media platforms!
Where are you based out of and how did that influence your music?
We are based out of Jackson, NJ. All of us came from Central / South Jersey so we all bring that "Jersey" attitude but we are a pretty diverse group. Having such diverse cultural backgrounds definitely helps when you throw it into the mix with other musicians. Everyone has their influences and tastes, but when you combine them, it morphs into something else. That "something else" in this case is "LifeCycle."
How did you come up with the name of your band and what does it mean to you.
We actually had the song title "LifeCycle" picked out before we named the band, "LifeCycle".  A Black Sabbath - "Black Sabbath" kind of deal. As we wrote more music, we realized a lot of what we were writing focused around aspects of life itself. When we realized the motto of that song was on point with what we generally write about, a light bulb went off.
Tell me about the best and worst shows you have played.
The best show we have played was at Bar XIII in Wilmington, DE. It was one of those nights were everyone was hitting on all cylinders and we put on a heck of a show! The worst had to have been a show we played at Brighton Bar in Long Branch, NJ. Don Jamison was hosting the event and he was a pretty cool, humble dude. He wasn't the issue. Let's just say, we had some sound issues. LOL. It was a fun, but rough night!
Tell me about your favorite venue to play at, and do you have any places you want to play that you haven't already?
Wembly Stadium, Madison Square Garden, Japan... We want you! Our favorite venue we played was the TLA in Philadelphia. The venue is in the heart of South Street and the stage was beautiful! If you're lucky, you might find a youtube clip of it. Did we mention we want to play in Japan?
If you could play any show with any lineup who would be on the ticket?
That's tough.. living and dead artists? I'm going to be presumptuous and say living and dead, so my answer is:
NIRVANA
KAJAGOOGOO
PRINCE
QUEEN
That's literally the toughest act to follow in history. I'm might be too shy, shy...
What is some advice that you would give to someone who is just getting into playing in a band?
Don't be a moron. And if they tell you something once, don't mess up and make them get the stick. Seriously though, find people who are on the same path as you. What I mean is, I'm sure music has its place on your list of priorities, try to find people who have similar priorities. Also, there is a lot more that goes into making a band successful other than writing and playing good music. Be prepared to work, its part of the art.
If you could go back in time and give yourselves advice, what would it be?
To invest in Microsoft, Apple and Disney and to make sure I show up to that audition in East Bumbletown, NJ.
Of your songs which one means the most to you and why?
"LifeCycle" was the first song we wrote together as a band which is why I would say it means the most to me. Its the start of a path I've waited to take for a long time.
Which songs are your favorite to play and which get requested the most?
"LifeCycle" is requested quite a bit because it was recently released on Spotify, Apple Music and all digital media platforms. It's definitely a fun one to play. Another I particularly enjoy playing is "Burnout." It's an "In your face" kind of song. It is also dropping soon so keep an eye out at: www.lifecycleband.com.
What is the creative process for the band, and what inspires you to write your music?
The band is riff based, probably like a lot of other bands.  Typically , for us, its music first and then the lyrics.  Kevin(Guitar) and Joe(Guitar) have a million riffs....literally.  The band starts to jam the riff and then it takes shape.  Once we have a framework, I (Asim) take over and write the lyrics to that framework.  The song literally keeps growing until we record it.
What kinds of messages do you like to get across in your music?
A lot of what we write centers around aspects of life itself. Love, lust, greed, vulnerability, purpose and ultimately death are all common themes, served with a slice of metal.
15. Do you ever have disagreements in your band, and how do you get past them? 
Whiskey and bear hugs. We are a very open band. When something bothers us, we say it and talk it out right then. I think everyone in this band understands that the music and songs come before anyone's ego. We always respect everyone's ideas and try them out. Then we usually vote on what works best. Its a fair system, and if all else fails, plan "whiskey bear" goes into motion.
What are your plans for the future, and do you have anything that you want to spotlight that's coming up?
In the immediate future, by the end of February, the band will release an acoustic version of our brand new single "Lifecycle".  Once that drops, we have another single called "Burnout" that will hit all digital stores in April.  Our road map is new content every other month!  We also drop our YouTube series episodes "A Day in the LifeCycle" every other week.  Non-Stop New Content!