Discover more from Volatile Weekly
Interviews in the music industry from around the world
Interview: Little King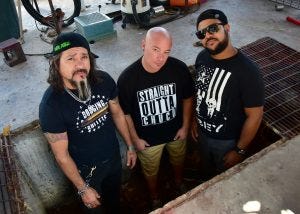 What got you into music, and if you had not gotten into music what would you be doing today?
Good morning!  I was into music very early, as when we moved from LA to London in 1975, I was just 3 years old and those are my first real memories of hearing songs that caught my ear.  My dad wasn't a musician, but he loved the Beatles and Stones, so I basically heard all of that from an early age.  My older brother really upped the ante and started bringing home Zeppelin and Floyd and Iron Maiden albums in the early 80's, and that really did me in!
I was a pretty damn good athlete, but I'm not a big dude, so music suited me better.  Not too many 5'7" half-Jewish dudes hooping in the NBA!  But I was definitely very skilled at basketball and baseball, so I probably would have pursued that as far as I could have and then ended up coaching somewhere.
What do you like to do when your not playing music and how does that influence your creativity?
I am an avid gym rat, so I spend an hour or so 6 days a week working out.  That keeps me centered and fit, as rock and roll is sort of a young man's game...I feel like I could run circles around a lot of those lads, though!  I ride a Kawasaki Ninja and drive an older Corvette, and since I live on the beach in Delaware, there's a lot of chance to enjoy those things. I am also an sports junkie and follow the major sports in the US pretty closely, particularly my Oakland (I'll never ever say "Las Vegas") Raiders.
Finally, I am a dad to a 23 year old daughter who lives in Texas and a 13 year old son who lives with me about half the time.  He is a huge influence on everything I do...work, music, life. He's my best friend and often my muse.  I'm very invested in making sure he doesn't grow up without male guidance, however solid or askew that may be!
How long has your band been around?
Little King was formed in 1996 in El Paso, Texas.  I grew up in Seattle, but I eventually followed girl down to El Paso (just like the Marty Robbins  song, really!)  EP is where I have recorded all 6 Little King Records, both of my kids were born, was where I was married twice, and graduated from college.
Where are you based out of and how did that influence your music?
As I said, I raised in Seattle, spent a ton of time in Texas, with stops in LA and the San Francisco Bay Area in between.  Now I live in coastal Delaware, which is an odd place to end up and wasn't part of the plan...but here I am.
All of those places have had a profound impact on my writing and playing.  El Paso brings a bit of a southwestern flavor, as it is on the Mexican border.  I have played all over the country, and pound for pound the best players I have jammed with come from there.  Seattle gave me grunge, Hendrix, and Queensryche; California gave me the Grateful Dead, Sublime, Santana, Jane's Addiction, and so much more.  Delaware?  I have some local friends here (particularly Lower Case Blues, Kyle Offidani, and Melissa Alesi) who all inspire me to be better.
How did you come up with the name of your band and what does it mean to you.
My first name, "Ryan," is translated to "Little King" in Gaelic.  Once my previous band dissolved, I decided that I wanted to try my hand at finishing the bits and pieces of songs that I had put together with the caveat that I was going to do it MY WAY!  So it was a play on that...sort of an inside joke...Little Ruler or Tyrant may have been better.  Who knew all these years later I would have 6 albums under my belt and have gone through 4 bassists, 4 drummers, a ton of backing vocalists and assorted specialists.  But here I am.
Tell me about the best and worst shows you have played.
Best show I ever played was on tour with a band called Butane at the famous Viper Room in Los Angeles...the place where River Phoenix died in the parking lot, a club owned by Johnny Depp.  We were on the road and had played some pretty crappy shows before that, so it was nice to play a great club with an awesome sound system and audio engineer.  We CRUSHED IT!  And it was especially cool because we were just 3 guys from El Paso who very few people knew about.  They knew who we were after that set.
Worst show was at the end of another tour in the bustling urban metropolis of Socorro, New Mexico.  We had been fighting internally (not we, really, but I'll take my 1/3of the blame in a 3-piece band.)  Anyway, we lost money, the band was tired and hungry and possibly on drugs, and at that show it was a terrible little club with no PA.  The drummer had anger issues and didn't like the bass player at all, but I bore the brunt of it that day.  I missed a cue that I had missed before in the song "Peacemaker" (Virus Divine, 2004), and he snapped.  Kicked his bass drum in my general direction right in the middle of the song.  Now the drummer, Wes Kahalekulu, was about 6'2" and 230 pounds. I'm feisty, but I ain't stupid!  So we smoothed it over after the show at a house party with a 10 foot bong and a lawnmower gone awry...and then we fired him when we got home.  Or perhaps he quit?  Been a long time, man.
Tell me about your favorite venue to play at, and do you have any places you want to play that you haven't already?
The aforementioned Viper Room was awesome. We loved a place in El Paso called The Attic that just had so much mojo.  Also have the Whisky A Go Go in LA coming up soon, which is exciting.  I like playing outdoor festivals, too...and we should have a decent schedule of those this summer.
I have said this in a few other interviews...WE WANT TO TOUR EUROPE!  Passports are in hand.  Someone who reads this, please contact me.  We sell well and do well with fans there online.  I can guarantee we will bring the goods!
If you could play any show with any lineup who would be on the ticket?
Wow...great question. I think we would do well with Tool's audience.  Maybe Porcupine Tree, too.  Alice in Chains with the new singer would be fun.  Hell...anyone with some rock bona fides would be cool.  I think we can hold our own with anyone.
What is some advice that you would give to someone who is just getting into playing in a band?
Make sure you get an education on the business side of things. What is publishing, mechanical rights, a 360 deal, what does a publicist do, how do you get distribution, and more.  Have some background and a mentor to help you through it.  Also, you have virtually no chance of getting rich through downloads...maybe licensing, maybe touring, but not through sales.  So get your live show together and focus on being great as much as you focus on getting the word out.  One should help take care of the other.
If you could go back in time and give yourselves advice, what would it be?
Play more shows. I've played plenty, but I wish I had done more. It's so enjoyable, and it's really the best way to sell your vision and win "real" fans.  Anyone can make a record, but you connect with someone for life when you lay it down live.  Those are the ones who stay with you forever.  So yeah...tour more!
Of your songs which one means the most to you and why?
I would point to "Happy Home" from OD1 (2014) and it's followup song, "The Skin that I'm In," which is on the new record, Occam's Foil (2019).  The former is reflection of going through period of turmoil in my life...relocating to a place 2500 miles away from California, a place I'd never been, and walking into a proverbial lion's den of impending divorce and isolation.  I felt it coming, and I did it anyway.  That song moves me every time I sing it and hear it.
"The Skin That I'm In" is my response to "Happy Home" in a place far better 5 years later.  I won!  I'm a productive, happy, and settled person. I overcame some significant person trials and tribulations, and that song tells the story of that triumph. Also, I LOVE the string arrangement in the middle of that song and I think I cut the best guitar solo of my life...in one take, I might add!  If you listen to those songs back-to-back and don't like Little King, I am pretty sure we are not for you!
Which songs are your favorite to play and which get requested the most?
We haven't played much since those 2 were released, but we will see. I love playing them in rehearsal!  I would say my favorites from the new setlist are "Collateral Damage" from Legacy of Fools (2008), "Bloodline" from Time Extension (1998), and maybe "Nerve #8" from Occam's Foil (2019) because it's an instrumental and I can concentrate on shredding rather than vocals.
What is the creative process for the band, and what inspires you to write your music?
I write all of the music first and then bring it to Manny (Tejeda, bass) and Eddy (Garcia, drums and engineering) to put their eyebrows on the arrangements and make necessary changes.  Once they've had their musical say, I take the demos back and write the words. Since we are a power trio and I am the lead singer, I have to make sure I can sing over the music we've written, regardless of what key it's in or what odd signature we are playing in.  Little King songs are challenging like that!
My inspiration comes from current events, literature, parenthood, and my hopes for the future and dreams of the past. More than anything, I want to make people think a little more deeply...while they tap their feet and sing along, of course!  So I spend an inordinate amount of time writing the words.  Alliteration, imagery, avoiding cliches, avoiding redundancy - all things I used to preach as a high school English teacher in Texas in 2006-08 - are important to me as a writer.  Words LAST, and I want to be pleased with myself in 23 years, as I am when I listen to MOST of my output from 23 years ago.
What kinds of messages do you like to get across in your music?
Yeah, that's a thing, for sure.  I could go all day on just this one question, but every album I've released has a theme, so I'm just gonna quickly summarize each of them and then leave it to the listener to dive deeper:
Transmountain - The Arc of young love and a relationship, and the extent which one will go to pursue it when the demise of said relationship is clearly imminent.  Beginnings of the affect of car travel, too...I was and still am a voracious DRIVER.
Time Extension - The intro is a man who is found in the desert and is now back in the ER in critical condition.  The entire album is the protagonist reflecting back on his life and thinking about what he might change, and he is granted a "Time Extension" for one hour to go back and make those changes.  Each song is a different point on that journey.
Virus Divine - A loose concept, but the intro is a very apathetic American sitting on his couch and watching the horrors of the shooting of students in Columbine, Colorado on 4/20/1999/  My daughter was 2 at the time, and that incident affected me profoundly. Like I could see where we were heading as a society, and that was a watershed moment!  So he is essentially awoken from his apathetic slumber and infected with the Virus of Love and to go out and prove what a difference one person can make.
Legacy of Fools - Tongue in Cheek...who is the fool here?  Me!  But as new father again at that time in 2008, I was very keen on focusing on what my legacy would be. What will I leave behind to my children and their kids' kids' kids?  I think the lyrics on this record are certainly among my best. Was really pissed at us as a country over the Iraq war, so "Collateral Damage" is as much of a protest song as I've ever written (Maybe "Hate Counter" from the new album as well.)
OD1 - Just 3 songs on this EP, was not really thematic. Just wanted to stay in the game, and "Happy Home" was a catharsis for me.  The instrumental is super-fun to drive fast to, and I wrote "Black Hole" in homage to the good times I've had at Raiders football games. REALLY good times!
Occam's Foil - Ah yes...current album here. I argue that the simplest answer is NOT always the correct one, as is theorized in the famous "Occam's Razor" philosophy. Think more deeply, challenge common assumptions, do some research.  The masses do not always flow in the direction of righteousness, and simplicity can be useful, but it can also lead to group-think and disaster.
Do you ever have disagreements in your band, and how do you get past them?
No!  Not really...we get along so very well.  Eddy is in Texas and Manny and I are in Delaware, so we don't see each other that much.  I love those guys, and we all have so much mutual respect that there's never been one legit disagreement. We are grown-ups.  We communicate.  And at the end of the day it's Little "King" and not "Kings," so it's my fucking call, anyway!  Kiddddddding 
What are your plans for the future, and do you have anything that you want to spotlight that's coming up?
We are hitting the road and making up for lost time this year.  Time to play shows and see how we can reproduce a great record on stage. I can't wait.  I also have some new songs in the works...I have typically waiting a few years between releases, but I am motivated to start releasing EP's every year or two for the foreseeable future. I have too much to say to wait another 5 years!